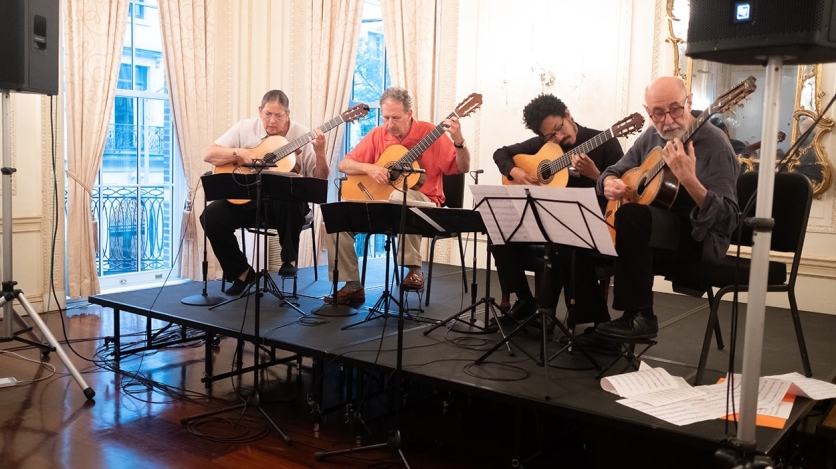 Laura Oltman, Michael Newman, João Luiz, Paulo Bellinati. (Image: Roey Yohai Studios)
New York Guitar Seminar: Paulo Bellinati
The acclaimed Brazilian guitarist appears for the first time on our stage. 
Overview
This event will take place in front of a live audience, and virtual tickets are free.   
Registration is CLOSED for this event as tickets are SOLD OUT.
Video of this concert will be available on this page at a later date.
For the fifteenth consecutive year, Americas Society will host the New York Guitar Seminar at Mannes' faculty concert. This year, we present a legendary Brazilian guitarist and composer Paulo Bellinati who makes his Music of the Americas debut with a concert dedicated to his music and arrangements. He will perform solo and alongside the Newman-Oltman Guitar Duo and João Luiz. 
Program 
Fairy Fantasy (2022) *
Leo Brouwer (b. 1939) 
Dedicated to Jeff Nissim - Commissioned by Raritan River Music 
 

Laura Oltman

Gente Humilde (1986) 
Garoto (1915-1955)
Singeleza Nº1 (2023) *
 

Paulo Bellinati

 

 
Bom partido (Samba de partido alto)
 

Paulo Bellinati with João Luiz

Maracatu da Pipa (2004) 
 

Paulo Bellinati with Newman & Oltman

Um Amor de Valsa (2020) 
 
 Baião de Gude (1997) 
 
A Furiosa (Maxixe) (1997) 
 

Paulo Bellinati, João Luiz, Newman & Oltman
And João Luiz* World Premiere
All compositions by Paulo Bellinati, except where noted. 
Coming from a long and rich tradition of guitar composers from Brazil, Bellinati (born in São Paulo in 1950) is a true ambassador for the guitar in his country. His work as a composer, guitarist, and researcher has been crucial to the global promotion of Brazilian music. Bellinati graduated from the Conservatório Dramático e Musical de São Paulo, where he studied with Isaias Sávio. He later continued his studies in Switzerland at the Conservatory of Geneva, and he subsequently taught at the conservatory of Lausanne. 
In the 1980s, he became a member of Pau Brasil, recording five albums with them. Bellinati has composed dozens of works for solo guitar and guitar ensembles, which have been performed and recorded by John Williams, Badi Assad, Cristina Azurna, The Assad Duo, Newman & Oltman Guitar Duo, Eduardo Isaac, Ricardo Cobo, The Los Angeles Guitar Quartet, and Carlos Barbosa-Lima. Bellinati's active international career has taken him to Europe, Asia, and the Americas. Besides performing solo concerts and giving masterclasses in many international guitar festivals, he tours with American bassist Steve Swallow, Brazilian singer Mônica Salmaso, Brazilian flutist Antonio Carrasqueira, and many top European musicians. In 1994, he won the Premio Sharp, Brazil's equivalent of a Grammy, for arranging the selections on Gal Costa's CD 'O Sorriso do Gato de Alice.' In addition to being a performer and arranger, Bellinati is also a respected musical scholar, having rediscovered, transcribed, and recorded the music of the great Brazilian guitarist-composer Garoto.
Additional Bellinati events (master class, hands-on workshop, guitar orchestra performance)
In collaboration with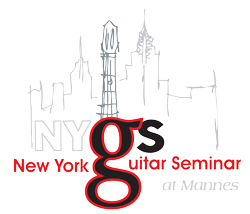 Funders
The MetLife Foundation Music of the Americas concert series is made possible by the generous support of Presenting Sponsor MetLife Foundation.
The Spring 2023 Music program is also supported, in part, by the Howard Gilman Foundation, public funds from the New York City Department of Cultural Affairs in partnership with the City Council, by the New York State Council on the Arts with the support of the Office of the Governor and the New York State Legislature, and by and The Fan Fox and Leslie R. Samuels Foundation.
Additional support for this concert comes from the Augustine Foundation.