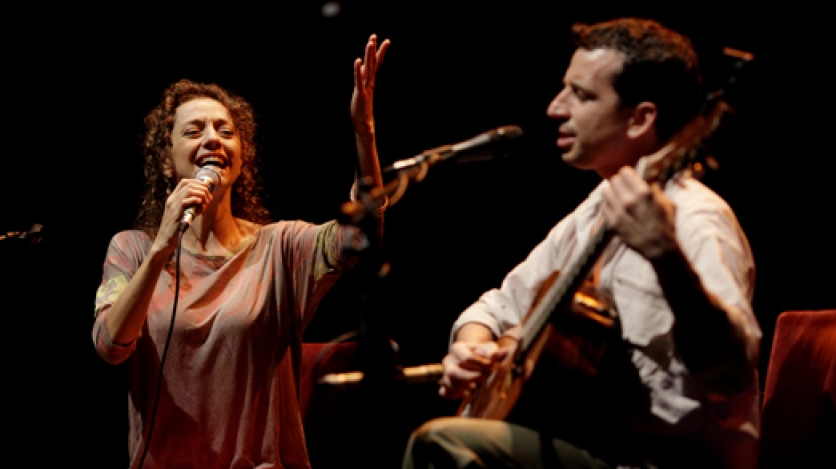 (Image: Courtesy of the artists.)
New York Debut: Luna Monti and Juan Quintero
Music of the Americas presents Argentinean duo Luna Monti and Juan Quintero in concert.
Overview
Pre-registration for this event is now closed. Box office will open at 6:15 PM, cash and all credit cards accepted.
Admission: FREE for AS and YPA Members; $20 for non-members. No additional fees will be charged when purchasing online. $10 tickets will be available for purchase at the door for students and seniors with ID.
Not yet a member? Learn how to become an AS member or a YPA member to access this event.
Music of the Americas will present the New York City debut of Argentine singer-songwriter duo Luna Monti and Juan Quintero with special guest Puerto Rican saxophonist Miguel Zenón.
This event is part of "The Americas in New York" series.
Luna Monti and Juan Quintero perfrom Jorge Biagosch's Chacarerita Mchiporodoble with Koki and Pajarin Saavedra
About the artists
These folk singers began their collaboration 12 years ago and recently released their fifth album, Después de usted. Composer Quintero creates an intimate dialogue between his guitar and Monti's vocals with original compositions. They operate beyond the romantic clichés and desperate grief of most "folk" artists of their generation with their own sound and style that is infused by popular Argentine music. Their subtle use of vocal counterpoint intermixed with Quintero's unusual instrumental arrangements is utterly unique, and they frequently interweave classic songs with more recent compositions.
Multiple Grammy Nominee and Guggenheim and MacArthur Fellow Miguel Zenón represents a select group of musicians who have masterfully balanced and blended the often contradictory poles of innovation and tradition. Born and raised in San Juan, Puerto Rico, Zenón has released seven recordings as a leader including Oye!!! Live In Puerto Rico (2013) and the Grammy-nominated Alma Adentro (2011). In 2011 he founded Caravana Cultural, a program which presents free Jazz concerts in rural areas of Puerto Rico. He has received a fellowship from the Guggenheim Foundation, and received a MacArthur Fellowship in 2008.