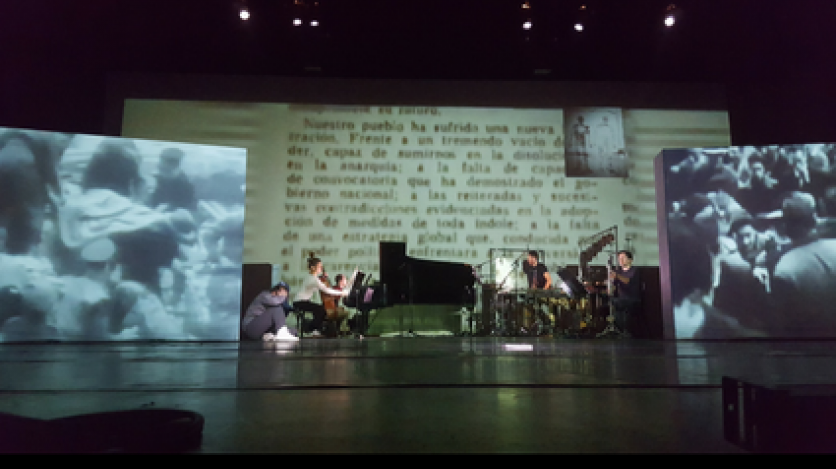 New Opera: Kamchatka
In collaboration with the Centro de Experimentación del Teatro Colón, Americas Society presents the U.S. premiere production of Daniel D'Adamo's first opera, Kamchatka, at Dixon Place.
Overview
Location: Enter the theater on Chrystie Street, between Rivington and Delancey.
Admission: FREE for a limited time. Please email Martha Cargo at mcargo@as-coa.org to register and please indicate your chosen date of performance.
Not yet a member? Learn how to become an Americas Society member to access this event.
In collaboration with the Centro de Experimentación del Teatro Colón, Americas Society presents the U.S. premiere production of Daniel D'Adamo's first opera, Kamchatka,​ at Dixon Place (Lower East Side).
This production is part of the New York Opera Fest 2018.
Based on the eponymous novel by Marcelo Figueras, Kamchatka recounts the story of a child whose life changes after the 1976 coup in Argentina, when he suddenly has to leave his house and daily life to live clandestinely and soon to see his parents disappear. Figueras prepared the adaptation of his text and entrusted it to the France-based Argentinean composer Daniel D'Adamo. The composer wrote: "Composing the music of the chamber opera Kamchatka was a real challenge. From the start of the project, it had to be accessible and interesting to all audiences, including young people. The question of the accessibility of the discourse was consequently posed from the outset, and this issue was present throughout the composition process. It allowed me to get to the point, to the heart of the story." Director Marc Baylet-Delperier places singers and musicians in the center of the space. "Another element of the text took all its meaning in my eyes," adds Baylet-Delperier. "It is the notion of the 'disappeared,' the disappeared [whom] Marcelo Figueras prefers to call 'los aparecidos' or 'the appeared,' because to [talk about] them amounted to reinventing them."
With Ezequiel Spucches (musical and artistic direction) and singers Johanne Cassar (soprano), Julien Clément (baritone), and Fabien Hyon (tenor).
Read a review of the opera in Clarín (in Spanish).
Ensemble Almaviva, Daniel D'Adamo's Kamchatka (2016).
About the composer
Composer Daniel D'Adamo began his music training in his native city of Buenos Aires. In 1992, he joined Philippe Manoury's composition class at the Conservatoire National Supérieur de Musique in Lyon. He studied with Tristan Murail and Brian Ferneyhough at IRCAM in Paris, and completed his doctorate in musicology in Paris in 2002. He co-founded Ensemble XXI in Dijon in 2004. In 2017, he composed a series of five studies for double bass—Ombres Portées—for Florentin Ginot for Radio France's Alla Brève. He is currently working on a new piece for string quintet, commissioned by the Béla Quartet. D'Adamo's music is performed regularly throughout the world by numerous soloists and ensembles, including Ensemble Court Circuit, Les Percussions de Strasbourg, Ensemble XXI, Nouvel Ensemble Moderne, l'Instant Donné, Sillages, and Ensemble Orchestral Contemporain. He is currently a tenured professor of composition at the Conservatory of Strasbourg and the Haute École des Arts (Rhin). Last year, he directed the composition academy Philippe Manoury: Festival Musica in Strasbourg. In 2006, he received the Boucourechliev Prize and, in 2009, the SACEM Spring Prize for his play Dream of Bells, composed for Radio France. The recording Plier/Déplier, for string quartet with electronics, received the Prix de l'Académie Charles Cros.
About Ensemble Almaviva
Founded in 2003 by pianist Ezequiel Spucches, guitarist Pablo Márquez and flutist Mónica Taragano, Ensemble Almaviva is an instrumental that specializes in classical and contemporary repertoire from Latin America. The ensemble's mission is multi-part: to explore the richness of the musical heritage of the Americas, propose fresh interpretations of major works, and actively contribute to the creation of contemporary works through commissions of living composers; to promote the intersection of various artistic disciplines to lead audiences in discovering new works by emerging and established composers; and to inspire enthusiasm for contemporary music through a diverse range of cultural projects and workshops.
In collaboration with: