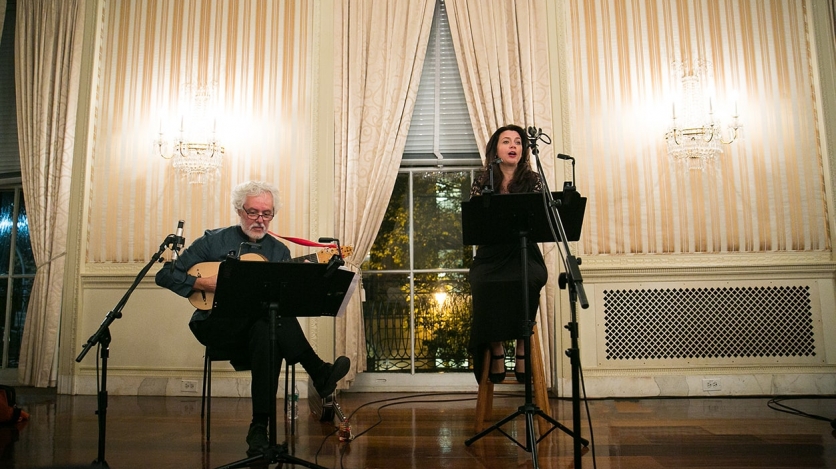 Eduardo Egüez, Nell Snaidas. (Image: Gary Payne, Roey Yohai for Americas Society)
Nell Snaidas & Eduardo Egüez: ¡Vaya de Fiesta!
Nell Snaidas, soprano, and Eduardo Egüez, vihuela and Baroque guitar, present "¡Vaya de Fiesta!", an evening of music from Renaissance Spain and the Baroque era of Latin America.
Overview
Pre-registration for this event is now closed. The box office will open in the lobby of Americas Society at 6:15 PM tonight.
Admission: FREE for AS and YPA Members, and Hunter College students; $20 for non-members. (No additional fees will be charged when purchasing online.) $10 tickets will be available for purchase at the door for students and seniors with ID.
Not yet a member? Learn how to become a Cultural Circle member to access this event.
Nell Snaidas, soprano, and Eduardo Egüez, vihuela and Baroque guitar, present "¡Vaya de Fiesta!", evening of music from Renaissance Spain and the Baroque era of Latin America, with music by Mudarra, Narváez, Martínez de Arce, and more.
This concert is part of GEMS, a project of Americas Society and Gotham Early Music Scene devoted to early music of the Americas.

Egüez performs Entrée from L'infidèle by Silvius Leopold Weiss at Americas Society (2014).
About the artists
American-Uruguayan soprano Nell Snaidas has been praised by the New York Times for her "beautiful soprano voice, melting passion," and "vocally ravishing" performances. Her voice has also been described as "remarkably pure with glints of rich sensuality" (Vancouver Sun); and she has been called "a model of luminous timbre and emotional intensity" (Cleveland Plain Dealer). Snaidas began her career singing leading roles in zarzuelas at New York City's Repertorio Español. Specialization in Latin American and Spanish baroque music has taken her all over Europe, and North and Latin America. She has been invited to join many leading early music ensembles in the capacity of soloist, guitarist, and Iberian/New World language and repertoire consultant. These groups include Apollo's Fire, The Seattle Baroque Orchestra, Ex Umbris, Ensemble Viscera, El Mundo, Chatham Baroque and at Music Festivals from the United States, Canada, Mexico, and Italy, to Germany, Austria, and Switzerland. She has recorded for Sony Classical, Koch, Naxos and Dorian (for whom she served as language coach and soloist on 3 Spanish/new world baroque CDs). Her latest CD as a featured soloist with El Mundo in this same repertoire has been nominated for a Grammy in the Best Small Ensemble category.
Born in Buenos Aires, Eduardo Egüez belongs to the new generation of Argentine lutenists. He first studied guitar with Miguel Angel Girollet and Eduardo Fernández. His studies in composition were conducted at the Universidad Católica Argentina, after which he obtained his diploma in lute from the Schola Cantorum Basiliensis under Hopkinson Smith. Egüez has given many solo concerts throughout Australia, Europe, Japan, and South America. He has received awards from the following international competitions: Promociones Musicales (Buenos Aires, 1984); Círculo Guitarrístico Argentino (Buenos Aires, 1984); Concours International de Guitare (Radio France, Paris, 1986); and Quinto Concurso Internacional de Guitarra from the Jacinto and Inocencio Guerrero Foundation (Madrid, 1989). He has given numerous international courses and seminars, including: Camping Musical Bariloche (Argentina); Universidad Católica Argentina; Universidad Católica de Santiago de Chile; Instituto para las Artes (Uruguay); Musikhochschule Wuppertal (Germany); Conservatoire Populaire de Musique (Geneva); Fundación La Caixa (Murcia, Spain); Conservatorio di Musica V. Bellini (Palermo, Italy); Fondation Royaumont (France); Académie Baroque Européenne d'Ambronay (France); Festival de Guitarra de Gran Canaria (Spain); Tokyo Lute Society (Japan); Lute Society of Sydney (Australia); Early Music Festival (Gijón, Spain); High School of Music, Salvador de Bahia (Brazil). Egüez teaches lute and basso continuo at Zürcher Hochschule der Künste in Switzerland.
In collaboration with: