Registration: 6:30 p.m. to 7:00 p.m.
Scene Reading & Panel: 7:00 p.m. to 8...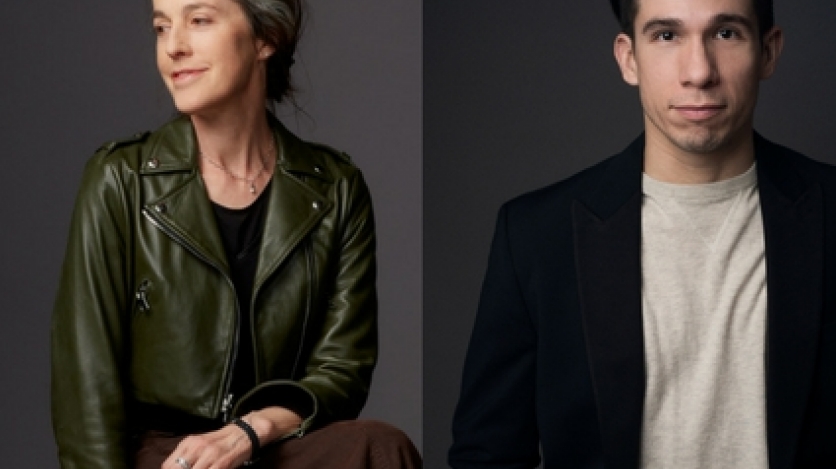 Naomi Wallace, Jon Rua (Images: Gregory Costanzo, Luke Fontana).
Naomi Wallace's The War Boys
Jon Rua from Broadway's Hamilton reads key scenes from Naomi Wallace's The War Boys, followed by a panel discussion on immigration, xenophobia, and the arts.
Overview
Admission: FREE for AS and YPA Members, and Hunter College students; $10 for non-members. (No additional fees will be charged when purchasing online.) 
Not yet a member? Learn how to become an AS member or a YPA member to access this event.
Jon Rua (Broadway's Hamilton) reads scenes from Naomi Wallace's The War Boys. In Wallace's first play, three young Texans spend their nights patrolling the Mexican border to earn a $10 bounty for every Mexican they catch crossing it. Every night they swap boasts and banter. But on this evening, they each enter confessional mode, seeking a repeat performance of the night before, and they reveal themselves as deeply damaged. The company The Artist's Crossing is mounting a fully staged production of The War Boys—its New York City premiere—at the Access Theater from March 23 to April 9, 2017.
The panel discussion following the reading will feature director James McBride in conversation with historian Sal Acosta, author Rigoberto González, journalist Gustavo Martínez, and playwright Catherine Rodríguez about the way art and artists can change audience perception of immigration and xenophobia.
Official cinematic trailer for The War Boys (2009).
About the playwright
Naomi Wallace is a playwright from Kentucky. Her plays—which have been produced in the United Kingdom, Europe, the United States, and the Middle East—include In the Heart of America, Slaughter City, One Flea Spare, The Trestle at Pope Lick Creek, Things of Dry Hours, The Fever Chart: Three Vision of the Middle East, And I and Silence, The Hard Weather Boating Party, and The Liquid Plain. Her stage adaptation of William Wharton's novel Birdy was produced on the West End in London. In 2009, One Flea Spare was incorporated in the permanent repertoire of the French national theater, La Comédie Francaise. Only two American playwrights have been added to La Comédie's repertoire in 300 years; several of her plays have been produced into film: Lawn Dogs, The War Boys, Flying Blind (co-written with Bruce McLeod). She received the Susan Smith Blackburn Prize twice, as well as the Joseph Kesselring Prize, the Fellowship of Southern Writers Drama Award, an Obie Award, and the 2012 Horton Foote Award for most promising new American play. She is also a recipient of the MacArthur Fellowship and a National Endowment for the Arts development grant. In 2013, Wallace received the inaugural Windham Campbell prize for drama, and in 2015 an Arts and Letters Award in Literature.
The Off Broadway company Signature Theater produced three of Wallace's plays in 2014-2015: And I and Silence, The Liquid Plain, and the world premiere of Night Is a Room. Wallace has recently been commissioned by The Public Theater (New York) and Birmingham Repertory (UK).
About the actor
Jon Rua is an actor, singer, and choreographer. Born to a family of Colombian immigrants, he was most recently part of the original cast of Broadway's mega-hit Hamilton. Other Broadway credits include Hands on a Hardbody and In the Heights. As an actor, he has also appeared Off-Broadway in Hamilton (The Public Theater), Kung Fu (Signature Theater), Elaborate Entrance of Chad Deity, and Damn Yankees (Encores! series). As a choreographer, he has contributed to Broadway's Hamilton, On Your Feet, Bring It On: The Musical, Hands on a Hardbody, In the Heights, and NYCC's The Wiz. He is a creative consultant on Spongebob the Musical.
About the director
James Will McBride's theatrical directing credits include A House of Glass, Tauris, War Prayer, Superhero Celebrity Rehab, and The Little Ghost. He's directed Naomi Wallace's The Retreating World in two different productions, one at Loyola University New Orleans and another as part of the New Orleans Peace Week. McBride has conceived and produced concerts and cabaret at 54 Below (New York) as well as venues in Houston, New Orleans, and Hartford. He directs and writes The No Rules Show, hosted by Joshua Morgan. He served as resident assistant director at Hartford Stage for two seasons and is a former directing candidate in The American Theatre Wing's SpringBoardNYC program. He has assisted directors Darko Tresnjak, Kent Thompson, Mark Lamos, Michael Wilson, and Giovanna Sardelli. 
About the panelists
Dr. Sal Acosta is associate professor of history at Fordham University. He focuses on the social impact of the development of the Southwest and on the social and cultural experiences of Latinos since 1846. His book, Sanctioning Matrimony: Western Expansion and Interethnic Marriage in the Arizona Borderlands, was published by the University of Arizona Press in early 2016. His work reevaluates the perception that intermarriages in the Southwest occurred primarily among enterprising white men and the daughters of the old Mexican elites. Dr. Acosta teaches courses in Latino History, US immigration and race, and US-Latin America relations.
Rigoberto González is the author of 17 books, including Unpeopled Eden, which won the Lambda Literary Award and the Lenore Marshall Prize from the Academy of American Poets; two bilingual children's books; three young adult novels; the story collection Men Without Bliss; and three books of nonfiction, including Butterfly Boy: Memories of a Chicano Mariposa, which received the American Book Award from the Before Columbus Foundation. He also edited Camino del Sol: Fifteen Years of Latina and Latino Writing, as well as Alurista's new and selected volume Xicano Duende: A Select Anthology. The recipient of multiple awards and fellowships, González is a contributing editor for Poets & Writers Magazine and professor of English at Rutgers University (Newark). He serves as critic-at-large with the Los Angeles Times.
Gustavo Martínez Contreras was born in Texas, brewed in Mexico City, fermented at the Mexico-United States border, primed walking the streets of Philadelphia, and aged eating grits, fried chicken, and peaches in Atlanta. He later became a béisbol and fútbol writer for El Diario de Nueva York. He has written about Latinos and immigrant communities in English, Spanish, and Spanglish. His work has appeared in MSNBC, New York Public Radio, NPR's Latino USA, Remezcla, Reforma, Proceso, El Diario de Nueva York, the Dallas Morning News, and Philadelphia Weekly, among others. He is currently pursuing a master's degree at the CUNY Graduate School of Journalism.
Catherine María Rodríguez is a bilingual freelance dramaturg with roots in New Orleans and Nicaragua. An advocate for parity and inclusion, she serves as both a Steering Committee and Board member of the Latina/o Theatre Commons and Literary Managers & Dramaturgs of the Americas. She is currently pursuing her MFA at Yale School of Drama. Credits include productions in Baltimore, Mexico, Tucson, Chicago (Steppenwolf), The NOLA Project, and Northwestern University.
In collaboration with:
The Artist's Crossing and
Joshua Morgan