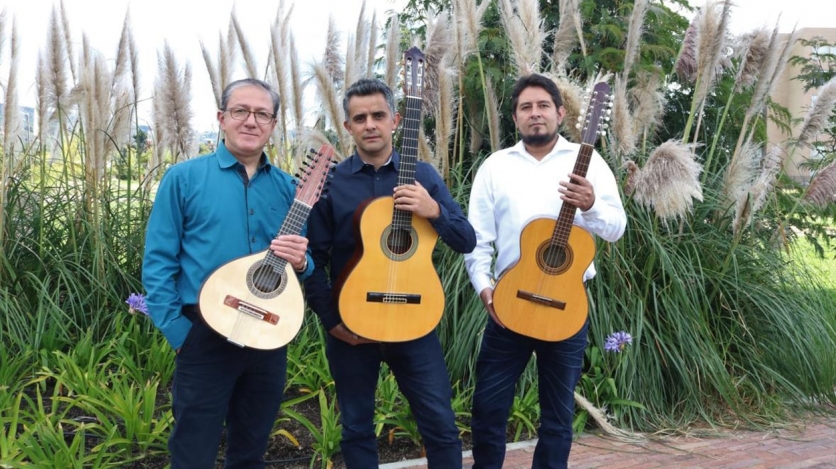 Fabián Forero Valderrama, Alex Parra, and Jean Carlo Espíndola. (Image courtesy of the artists)
Music of the Americas: Fabián Forero Trio
The ensemble brings their take on Colombian traditional music in a virtual concert recorded in Bogotá.
Overview
This will be a virtual concert, available on this page at 7 p.m. ET on May 20.
The Fabián Forero Trio (Alex Parra, Jean Carlo Espíndola, and Fabián Forero Valderrama) combines traditional and current instrumental, harmonic, and contrapuntal musical techniques. The trio includes guitar and two traditional Colombian instruments, the bandola and the tiple. The trio has released the albums Colombian Music, Andean Region, and Volver, in collaboration with Colombian tenor César Gutiérrez, tiple player Cindy Gómez, and guitarist Raúl Walteros. Fabián Forero Trío is part of a project that involves concerts, pedagogical research, arranging, and compositional initiatives. The current repertoire centers on the music of guitarist and composer Gentil Montaña, one of the most transcendental figures in the history of the instrument in Latin America and teacher of trio member Parra.
Program
| | |
| --- | --- |
| "Alejandro" | Gentil Montaña |
| "Omaira" | Gentil Montaña |
| "Trébol agorero" | Luis Antonio Calvo (arr.: Fernando León) |
| "Ricaurte" | Luis Antonio Calvo (arr.: Fernando León) |
| "Ofrenda" | León Cardona |
| "Collage" | Fabian Forero |
| "Invocación" | Fabian Forero |
| "El estilista" | Álvaro Romero |
| "María Karito" | Pedro Nel Martínez |
| "Sebastián" | Gentil Montaña |
Forero (bandola) has toured Europe, Asia, and America and produced recordings with other trios. His pedagogical works on the bandurria and Colombian Andean music have been published in Colombia and Spain. He has been invited as a soloist by the Orquesta Filarmónica de Bogotá, the Colombian National and Barranquilla symphonies, and L'empurdam in Spain.
Espíndola (tiple) studied at the Universidad Nacional de Colombia and Universidad El Bosque de Bogotá, where he currently teaches. He has received awards as a soloist and as member of the Cuarteto Gentil Montaña and Dúo de Guitarras Jacarandá. He has performed in Argentina, Chile, and the United States. He is currently working on an album of Colombian guitar music with Jacarandá.
Parra (guitar) studied with Gentil Montaña at the Academia Luis A. Calvo in Bogotá and graduated from the Universidad Nacional de Colombia, where he studied with Sonia Díaz, and from the Universidad El Bosque. He has played in leading festivals in Colombia and around the world. He is a member of Dúo de Guitarras Jacarandá alongside Espíndola.
Funders
The MetLife Foundation Music of the Americas concert series is made possible by the generous support of Presenting Sponsor MetLife Foundation. The Fall 2021 Music program is also supported, in part, by public funds from the New York City Department of Cultural Affairs in partnership with the City Council, and by the Howard Gilman Foundation. Additional support for this concert comes from the Augustine Foundation.