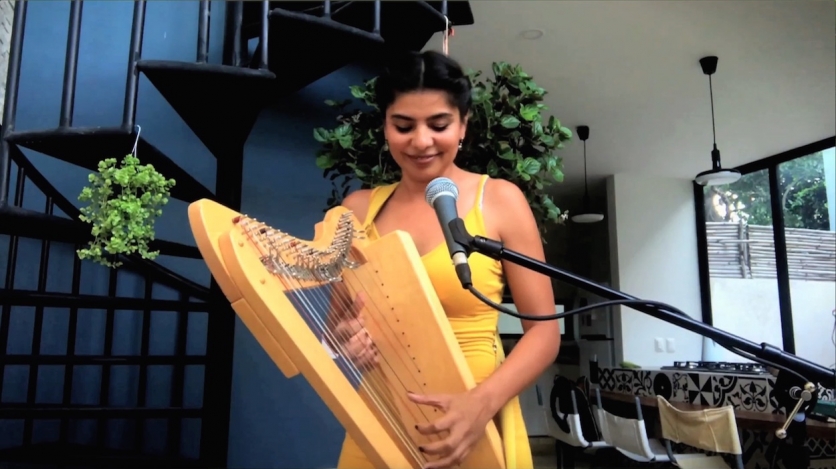 Verónica Valerio (Courtesy of the artist.)
Overview
Music of the Americas continues its online video series En Casa (At Home), featuring original daily performances with musicians from around the Americas. This week, the performances will be selected by our friend Magos Herrera. For her turn as guest curator, she picked artists from Brazil, Mexico, and Argentina, in a mix of traditional and new music.
Our Recuerdos series takes a brief hiatus as we dedicate this week to focus on our En Casa series highlighting a few talented musicians.
Follow Music of the Americas on Instagram, YouTube, Facebook, and Twitter to watch and receive notifications of all the performances. We also publish weekly calendars here on our website, including all the videos, so you can return to this page to catch up on any performances you might have missed.
Monday, September 28, 10 a.m.
En Casa: Vanessa Moreno and Fi Maróstica
Facebook
The singer from São Bernardo, is widely recognized as one of the recent revelations of Brazilian popular music. She has collaborated with leading figures of Brazilian music, including Gilberto Gil, Rosa Passos, and Monica Salmaso, and has appeared at jazz festivals around the world. In 2017 and 2018, Moreno won the Music Professionals Award and recorded her first solo album entitled Em Movimento, with arrangements and production by Fi Maróstica. This unusual pairing of voice and bass focuses on Brazilian regional music with touches of jazz and chamber music. They sent us their original, ebullient version of "Caxangá" by Milton Nascimento and Fernando Brant.
En Casa: Vanessa Moreno & Fi Maróstica - "Caxangá" (Nascimento & Brant)
Tuesday, September 29, 10 a.m.
En Casa: Emilio Teubal
Facebook
Based in New York, Emilio Teubal is a pianist, composer, and arranger from Argentina who has recorded over twenty albums including Vigor Tanguero which won the 2018 Latin Grammy. His latest solo record, Tides, is a compilation of improvised and composed pieces for solo piano, released in 2020. His music explores the music of Latin America, even as it continually pushes its boundaries. Teubal has performed in some of the most prestigious venues and theaters in the United States and has toured Japan on several occasions. He has received numerous commissions, including a piece titled "Unity" for St. Peter's Church to commemorate the 500th anniversary of the Lutheran reform, and a solo piece for the virtuoso guitarist Dan Lippel, among others. He sent us a version of his piece "Rio" for our series.
En Casa: Emilio Teubal – "Rio" (Teubal)
Wednesday, September 30, 10 a.m.
En Casa: Celso Duarte
Facebook
Celso Duarte is a virtuoso of Paraguayan harp and Mexican jarocho harp, arranger, singer, and multi-talented instrumentalist. Duarte has performed and recorded with Lila Downs since 1998 and has also accompanied and collaborated with other artists, including Susana Baca, Celso Piña, Mariza, Ramón Vargas, Julieta Venegas, and Wynton Marsalis, The Chieftains and Ry Cooder. As a solo artist, he has performed with his band at Carnegie Hall, the Kennedy Center, Joe's Pub and other historic venues. His first solo album, De Sur a Sur (From South to South), was released in 2006.
En Casa: Celso Duarte -"Cascada" (Duarte)
Thursday, October 1, 10 a.m.
En Casa: Verónica Valerio
Facebook
Verónica Valerio was born into a family of harp players in Veracruz, Mexico. Her professional music career initiated at the age of nineteen while singing boleros in the band "Juventud Sonera." In 2003, she moved to the United States to study voice and harp at the University of New Orleans and later at the Harbor Conservatory in New York City.  In 2006, the Anthropology Department at New York University shared her story as a musician and immigrant in the documentary Arpa Viajera. Valerio's original compositions and arrangements, such as her "Canción Enaguas" she sent for our series, combine folklore tales and with different styles of music including son jarocho, jazz, gospel, and blues.
En Casa: Verónica Valerio - "Canción Enaguas" (Valerio)
Friday, October 2, 10 a.m.
En Casa: Alex Kautz
Facebook
Known for his musicality, groove, and a clear knowledge of a variety of styles, percussionist, educator and composer Alex Kautz has been an important part of the New York music scene for the last decade and has played and recorded with some of the top artists in the industry today including John Patittucci, Nilson Matta, Steve Willson, Lenny Andrade, Helio Alves, and Victor Prieto. In addition to working on his first solo album, Kautz is an active educator, teaching private lessons and master classes in the Americas and India since 2001, and been guest professor at the Souza Lima Conservatory and College of Music in São Paulo, JAZZUV School of Music in Veracruz, and Swarnabhomi School of Music and Global Music Institute in India. With his trio, including Vinicius Gomes on guitar and Benjamin Garcia on bass, Kautz recorded an original composition at the beautiful Teatro Angela Peralta in San Miguel de Allende.
En Casa: Alex Kautz Trio – "Elvin da Bahla" (Kautz)