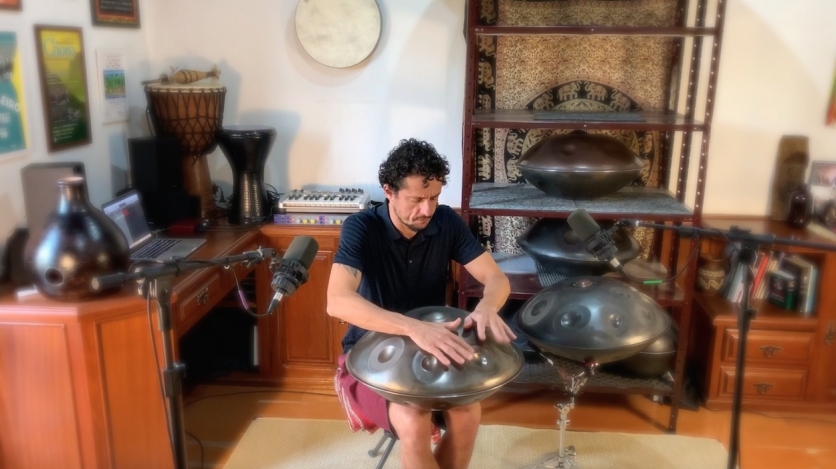 Alexandre Lora (Courtesy of the artist.)
Overview
Music of the Americas continues its online video series En Casa (At Home), featuring original daily performances with musicians from around the Americas, and Recuerdos (Memories), weekly releases of memorable past performances at the Americas Society, some available for the first time.
Our Recuerdos series takes a brief hiatus as we dedicate this week to focus on our En Casa series highlighting a few talented musicians.
Follow Music of the Americas on Instagram, YouTube, Facebook, and Twitter to watch and receive notifications of all the performances. We also publish weekly calendars here on our website, including all the videos, so you can return to this page to catch up on any performances you might have missed.
Monday, September 21, 10 a.m.
En Casa: Douglas Lora
Facebook
Grammy nominee guitarist and composer Douglas Lora's moves easily through the universes of Classical and Popular Music. He has collaborated with artists such as YoYo Ma, Paquito d'Rivera, and the Assad Brothers, among others. He is also a member of the Brasil Guitar Duo with which he has performed extensively at the most important theaters and concert halls worldwide. He has been a soloist with the Dallas, Houston, and Delaware Symphonies in the US, and with the OSESP in Brazil. He has recorded the complete works for two guitars by Mario Castelnuovo-Tedesco and Leo Brouwer (Naxos), and the Brasil Guitar Duo's latest album with Delaware Symphony conducted by David Amado was nominated for a Latin Grammy in 2018. From his isolation in rural São Paulo State, he sent us a beautiful version of the first movement from J.S. Bach's Violin Sonata No. 1 in G Minor.
En Casa: Douglas Lora - Sonata No. 1 in G Minor: 1. Adagio (J.S. Bach)
Tuesday, September 22, 10 a.m.
En Casa: Manu Sija
Facebook
The Argentine multi-instrumentalist, born in Tucuman, has played and recorded with artists such as Marta Gomez (Colombia), Carlos Vives (Colombia), Juan Falu (Argentina), Raul Carnota (Argentina), Divididos (Argentina), and Quique Sinesi (Argentina). This version of Cuchi Leguizamón's "El avenido", was recorded on his multi-instrumentalist set for live looping called CHANGOSOLO, which allows him to play guitar, bass, synth, percussion, and violin.
En Casa: Manu Sija- "El avenido" (Leguizamón)
Wednesday, September 23, 10 a.m.
En Casa: Cliff Korman and Beth Dau
Facebook: Korman
Pianist, educator and researcher of jazz, Brazilian music, and improvisation, Cliff Korman has developed numerous projects involving Brazilian and American musicians. He serves as musical coordinator of the Instituto Paulo Moura and teaches at UNIRIO. He has recorded several albums featuring his music and arrangements. Beth Dau was a member of the Itiberê Orquestra Família, directed by bassist and composer Itiberê Zwarg. She has recorded with Zwarg as well as with Hermeto Paschoal and Yuri Popoff. She is currently a member of the Bernardo Ramos Quintet, with whom she recently released the album Cangaço (2019), and the Jonas Hocherman Octeto, which released the EP Livro de Cabeceira (2019). She also participates in Cliff Korman's project "Empatia". They recorded Korman's "Migrations," a composition inspired by the work of Brazilian photographer Sebastian Salgado. Published in 2000, it documents the journeys of people moving from their home in search of another, often for reasons imposed on them; war, hunger, fear. It is so disturbing that twenty years later, so very little has changed.
En Casa: Cliff Korman and Beth Dau- "Migrations" (Korman)
Thursday, September 24, 10 a.m.
En Casa: Julio Mendívil
Facebook
Julio Mendívil is a Peruvian author, musician, and ethnomusicologist living between Germany and Austria. He has published books and articles in musicological publications in Europe and Latin America. Between 2012 and March 2016, Mendívil was Chair of the Association for the Study of Popular Music, Latin American Branch and between 2013 and 2015 director of the Center for World Music at the University of Hildesheim, in Germany. Currently he is Professor for Ethnomusicology at the University of Vienna. Julio sent us an instrumental version of a huayño from the region of Puno, Peru. The lyrics speak of the five-stringed instrument called charango as a friend accompanying the musician's sorrows. The style is mestizo, it has indigenous elements such as the pentatonic scale and Western elements such as modal harmony.
En Casa: Julio Mendívil – "Charanguito de nogal"
Friday, September 25, 10 a.m.
En Casa: Alexandre Lora
Facebook
Grammy nominated artist in 2017, running for "Best World Music Album" category with Anat Cohen and Trio Brasileiro: Rosa dos Ventos, and member of Trio Brasileiro, Caraivana group and Irmãos Lora project, Alexandre, in a COVID-free world, travels frequently to perform and teach internationally and in Brazil as solo Handpan artist. He has collaborated with accomplished musicians such as Anat Cohen and Jovino Santos Neto, among others. In 2015, he released his first handpan solo CD, with all original compositions, entitled Oriente.
En Casa: Alexandre Lora- "Oasis"
Saturday, September 26, 7:30 p.m.
Jeporeka: "Pytû Mimbi" (Online Premiere)
Facebook
Berta Rojas is one of the great guitarists of her generation, but if that were not enough, she is a tireless creator of cultural opportunities for her fellow Paraguayan musicians. Jeporeka is her latest project, thanks to which ten young composers from different parts of the country attended a series of virtual seminars and classes last July and subsequently wrote and recorded original compositions. While we expect to be able to give the live premieres of the pieces as soon as it is safe to gather in our concert hall, we are delighted to share the results of the project, "Pytû Mimbi" (Glow in the Darkness), in one event on September 26, and independently over a couple of weeks in our daily video series En Casa. Thank you, Berta, for generating this opportunity and for inviting us to participate.
Preview: Jeporeka: "Pytû Mimbi" (Glow in the Darkness)
Jeporeka: "Pytû Mimbi" (Glow in the Darkness)
Online Premiere