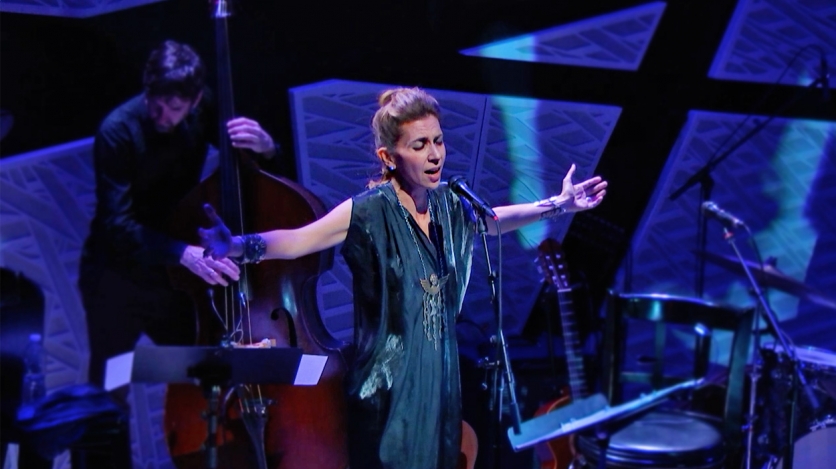 Magos Herrera (Courtesy of the artist.)
Overview
Music of the Americas continues its online video series En Casa (At Home), featuring original daily performances with musicians from around the Americas, and Recuerdos (Memories), weekly releases of memorable past performances at the Americas Society, some available for the first time.
Follow Music of the Americas on Instagram, YouTube, Facebook, and Twitter to watch and receive notifications of all the performances. We also publish weekly calendars here on our website, including all the videos, so you can return to this page to catch up on any performances you might have missed.
This week is Magos Herrera all week at Music of the Americas. The Mexican singer and composer (she just got a grant from CMA for a new jazz composition that we look forward to premiering in the future!) has been on our physical and virtual stages several times. This week's Recuerdos brings three new clips from the concert she put together to celebrate the memory of Argentinean superstar Mercedes Sosa in 2017 at National Sawdust. Magos designed the evening and invited Pedro Aznar and the Ed Simon Trio to share the stage in a program that revisited some of songs that Mercedes transformed into international hits.
For En Casa, we are delighted to present the premiere of a new collaboration of Magos, the string quartet Brooklyn Rider, and percussionist Mathias Kunzli, this time with a very special guest: multi Grammy-nominated Brazilian singer and composer Dori Caymmi. While we are at it, we also remember the first video of our earlier collaboration: Magos, Brooklyn Rider, Kunzli, and Mônica Salmaso performing the Uruguayan classic "A redoblar," which we released in June.
Monday, September 14, 10 a.m.
Recuerdos: "A redoblar"
Facebook: Brooklyn Rider, Digital Island Studios, Kunzli, Magos, Olivera, Salmaso, Tillmann, Ubal, Zampol Productions
This song of hope by Rubén Olivera and Mauricio Ubal became an anthem of resistance in the bitter years of Uruguay's last dictatorship, in the 1970s. This collaboration between Magos, Brooklyn Rider, Mathias Kunzli, and Mônica Salmaso, which we launched in June, was the first of two videos directed by Adrien Tillmann that we set out to do as the pandemic started to upend all our lives. The second premieres later in the week.
En Casa:"A redoblar"
Tuesday, September 15, 10 a.m.
Recuerdos: "Deja la vida volar"
Facebook: Aznar, Magos
Pedro Aznar joins Magos in "Deja la vida volar," by the tragically murdered Victor Jara in this clip from their 2017 concert. After hearing the song in one of Aznar's records, Mercedes Sosa called him up to ask about it and invite him to record it together, which they did in what was her last album.
Recuerdos: Magos Herrera & Pedro Aznar "Deja la vida volar" 
Wednesday, September 16, 10 a.m.
Recuerdos: "Alfonsina y el mar"
Facebook: Magos, National Sawdust
This classic zamba by Ariel Ramírez and Félix Luna, is one of the songs that became inextricably associated with Mercedes Sosa, who first recorded it in 1969. Magos is joined by the Ed Simon Trio in this version recorded at National Sawdust.
Recuerdos: "Alfonsina y el mar"- Magos Herrera, Ed Simon Trio
(National Sawdust)
Thursday, September 17, 7 p.m.
En Casa: "Samba em prelúdio"
Facebook: Brooklyn Rider, Caymmi, Digital Island Studios, Gandelsman, Kunzli, Magos, Morelenbaum, Tillmann
This new video directed by Adrien Tillmann, revisits Baden Powell and Vinícius de Moraes' 1962 classic "Samba em prelúdio," which was one of the several classics they composed during a three-month songwriting marathon in Moraes' apartment in Rio. Joining Magos, Mathias Kunzli, and Brooklyn Rider (who, given the evolution of the pandemic in New York, were able to get together in a studio and record while maintaining social distance), is Brazilian singer Dori Caymmi, who sent his collaboration from Rio. The arrangement was done by the master of all things strings in Brazilian popular music, Jaques Morelenbaum.
En Casa: Samba em Preludio: Magos Herrera, Dori Caymmi, Brooklyn Rider
Friday, September 18, 10 a.m.
Recuerdos: "Gracias a la vida"
"Gracias a la vida," written by Chilean composer Violeta Parra in 1966, is one of the most well-known songs in the world. Ed Simon and his trio join Magos to close our Magos week. "El canto de todos, que es mi propio canto," indeed. Thank you, Magos!
Recuerdos: Magos Herrera & Ed Simon Trio-"Gracias a la vida" (Parra)