Music of the Americas: En Casa, May 11–16
Americas Society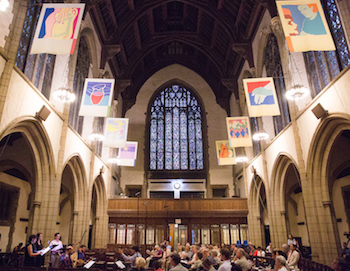 Music of the Americas continues its online video series En Casa  (At Home), featuring original daily performances with musicians from around the Americas, and Recuerdos (Memories), weekly releases of memorable past performances at the Americas Society, some for the first time.
Follow Music of the Americas on  Instagram,  YouTube,  Facebook, and Twitter  to watch and receive notifications of all the performances. We will also be publishing weekly calendars here on our website, including all the videos, so you can catch up on any performances you might have missed.
 
---
Saturday, May 16, 7:30 p.m.
Meridionalis at Raritan River Music Festival
Facebook: @RaritanRiverMusic
Live Broadcast Link
Meridionalis, Americas Society's critically acclaimed vocal ensemble, has been performing early and contemporary music for a decade. This past spring, they were invited to return to the Raritan River Music Festival with a program of music from the remarkable collection of the Hispanic Society, where they have performed several times. The festival moved online, so the program revisits the group's latest performance of material from the Hispanic Society's repository, which took place in December 2019. There are motets and a Palestrina Mass, guitar music, and realizations of musical "enigmas" included in Pietro Cerone's "El melopeo y maestro"—a classic theory book published in 1613, performed by Momenta Quartet. Zubieta, the conductor of Meridionalis, illustrates the program and the music while answering audience questions during the concert.
For the live broadcast, please come back to this webpage as well as Raritan River Music Festival's Website.
Program notes can be found at this link. 
Meridionalis: Selva Musical
 
---
Monday, May 11, 10 a.m.
En Casa: Jorge Caballero
Facebook: @jorgecaballeroguitar
Peruvian guitarist Jorge Caballero has a symphonic approach to his instrument. For example, he played Mussorgsky's Pictures for Music of the Americas a few years ago. He sent us "Danza negra" from Antonio Lauro's Suite Venezolana, which the composer wrote in exile in the 1940s.
En Casa: Jorge Caballero "Danza negra" (Antonio Lauro)
Tuesday, May 12, 10 a.m.
En Casa: Gustavo Casenave
Facebook: @GustavoCasenave
Grammy-winning Uruguayan pianist and composer Gustavo Casenave is the first artist in the En Casa series who has not previously appeared live on our stage. His compositions, as Music Director Sebastián Zubieta pointed out in his review of Casenave's 2019 album Balance in Americas Quarterly (full article here), are vertiginous and focused, and his original "Personajes Familiares" will reveal to the attentive listener the three musical torrents that feed his artistry: classical, jazz, and tango.
En Casa: Gustavo Casenave: "Personajes Familiares"
Wednesday, May 13, 10 a.m.
En Casa: Eloy Cruz
Facebook: @elroy.cruz.779
Mexican baroque guitarist Eloy Cruz is one of the leading performers of baroque guitar music. From his home in Mexico, he sent us Santiago de Murcia's version of the Gigue from Arcangelo Corelli's Violin Sonata, Op.5. Transcribing music for other instruments was common practice in baroque times, and Murcia wrote a couple rather famous collections that survived in Mexico and Chile, although it is not clear that he ever visited the Americas. Most recently, he has been in our series with his incredible Mexican early music ensemble Tembembe.
En Casa: Eloy Cruz- Gigue from Violin Sonata, Op.5. (Arcangelo Corelli)
Thursday, May 14, 10 a.m.
En Casa: Edward Ramírez
Facebook: @Edward4Ramirez
For En Casa, Edward Ramírez sent us a version of this joropo tuyero ("tuyero" is the demonym for someone from the Tuy Valley in northern Venezuela), in which he interprets the sound of the traditional harp in his playing of the cuatro.
We are happy to have a video by the third of the cuatro players from C4 Trío. Since Jorge Glem and Héctor Molina sent us their videos in recent weeks, now it is time for a virtual C4 track!
En Casa: Edward Ramírez – "El Golpe" (E. Ramírez)
Friday, May 15, 10 a.m.
En Casa: Nell Snaidas and Jon Wasserman
Facebook: @nell.snaidas @JonWassermanMusic
Nell Snaidas specializes in Latin American and Spanish baroque music, having sung throughout the United States and the world. She is also co-curator of Americas Society's early music series, GEMAS, and performs with our ensemble Meridionalis. A few years ago, Meridionalis toured Cuba and Ecuador, collaborating with Ars Longa de La Habana and Ensemble Lipzodes. During that trip, Snaidas and guitarist Jon Wasserman sang this beautiful song from the archives of the cathedral in Ibarra, a city in northern Ecuador, at the Festival de Música Sacra de Quito. While we wait for her to record a new video for En Casa, we share the anonymous "Una tonadilla nueba."
En Casa: Nell Snaidas & Jon Wasserman – "Una Tonadilla Nueba" (2017)