Music of the Americas: En Casa, April 20–24
Americas Society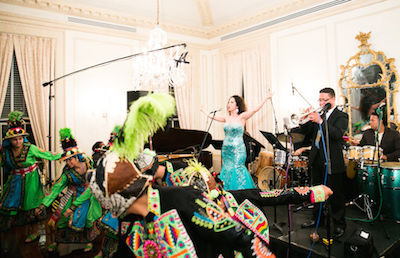 Music of the Americas continues its online video series En Casa (At Home), featuring original daily performances with musicians from around the Americas, and Recuerdos (Memories), weekly releases of memorable past performances at the Americas Society, some for the first time.
Follow Music of the Americas on  Instagram,  YouTube,  Facebook, and Twitter  to watch and receive notifications of all the performances. We will also be publishing weekly calendars here on our website, including all the videos, so you can catch up on any performances you might have missed.
Monday, April 20, 10 a.m.
En Casa: Miguel Zenón
@miguelzenon
Puerto Rican saxophonist and composer (and MacArthur Fellow) Miguel Zenón sent us a solo improvisation on the traditional Seis Villarán boricua. This is typically a vocal musical genre, in which the voice is accompanied by the Puerto Rican cuatro (a guitar-like folk instrument not to be confused with the homonymous Venezuelan/Colombian instrument played by Jorge Glem last week in this video. Miguel's solo version is as swinging as the original while it adds a generous dose of lyricism.  
En Casa: Miguel Zenón - Solo improvisation on the traditional Seis Villarán 
Tuesday, April 21, 10 a.m.
En Casa: Solange and Sami Merdinian
@solangemerdinianofficial
The Merdinian siblings, from Córdoba, Argentina, moved to New York to study over twenty years ago. Among the many things they do is the New Docta Festival, a yearly festival that takes place in Argentina every August, which they direct in collaboration with cellist Yves Dharamraj. The project presents concerts and educational activities for thousands in both their native city and Buenos Aires. Their video features the siblings in a virtual performance with Yves. 
En Casa: Solange, Sami Merdinian,​ and Yves​ Dharamraj- "You'll Never Walk Alone" (Rogers & Hammerstein)
Wednesday, April 22, 10 a.m.
En Casa: Pedro Giraudo
@giraudotango
Pedro Giraudo, Grammy-winning bassist, composer and bandleader plays several kinds of music, but he focuses his effort on the tango, to which he dedicates his Big Band. For his En Casa video, however, he chose to play the Prelude from Bach's D minor Cello Suite. He recorded in his basement, not because of his daughters, who understand their dad's need for silence from time to time, but because of his Yorkie, who doesn't understand its dad is occasionally unavailable. 
En Casa: Giraudo - Suite No.2 in D minor (Bach)
Thursday, April 23, 10 a.m.
En Casa: Manuel Vilas
@miguel.vilasrodriguez
Galician historical harpist Manuel Vilas is one of the leading specialists of his instrument and a scholar dedicated to the research dissemination of baroque music from the Spanish world. Recently, he reconstructed a harp used in Oruro from the seventeenth century, which he plays in the baroque piece he sent us: Marionas, by Lucas Ruiz de Ribayaz, a Spanish composer who made a career in Lima at the end of the seventeenth century.
En Casa: Manuel Vilas - Marionas (Lucas Ruiz de Ribayaz)
Thursday, April 23, 6:30 p.m.
Recuerdos: Bolivian Celebration
@giancarla.tisera  @momentaquartet
We dig through our archives and uncover Bolivian gems from past performances at Americas Society including exciting artists like Momenta Quartet and Gian-Carla Tisera.
Recuerdos: Bolivia! – Piraí Vaca, Momenta Quartet, & Gian-Carla Tisera  
Friday, April 24, 10 a.m.
En Casa: Franco Pinna
@francopinnamusic
Franco Pinna, Argentinean percussionist based in New York, sent us One Day at a Time, his musing on the hard times that we are all going through. The piece features his unique instrumental setup, which includes a variety of unconventional instruments, including the "arpa legüera," a percussion/string instrument that evokes the sounds of a Charango, African Kora, and Asian Koto. He created it in 2013 and named it after the materials used in its construction, which include guitar strings and a traditional Bombo Legüero as a resonator.
En Casa: Franco Pinna – "One Day at a Time"