Live broadcast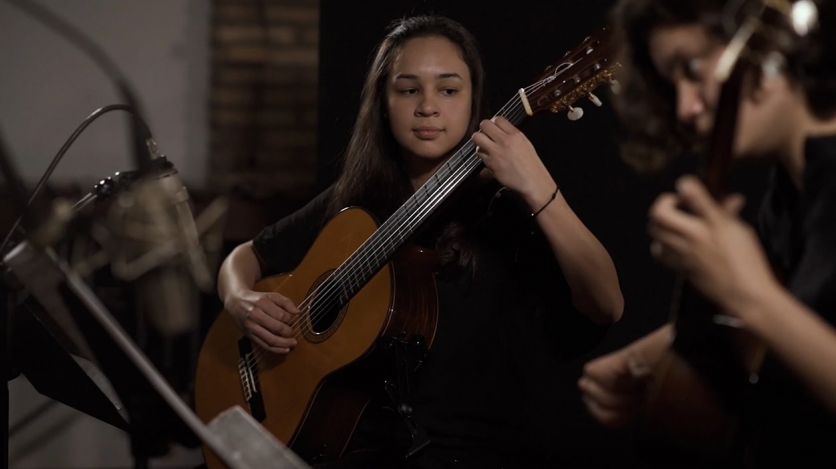 Dúo Takua. (Courtesy image)
Overview
Music of the Americas continues its online video series En Casa (At Home), featuring original daily performances with musicians from around the Americas, and Recuerdos (Memories), weekly releases of memorable past performances at the Americas Society, some for the first time.
Follow us on Instagram, YouTube, Facebook, and Twitter to watch and receive notifications of all the performances. 
This week we share the second group of compositions created during the online music project Jeporeka, generated by our friend Berta Rojas, in support of Paraguayan music. The virtual musical meetings took place from May to July, and offered ten young Paraguayan musicians the opportunity to work on their compositions and arrangements with Popi Spatocco, Carlos "Negro" Aguirre, and Pinchi Cardozo Ocampo. The fellows attended six days of seminars, presentations, and individual classes. The result of this project was the creation of "Pytû mimbi" (Light in the Darkness), a collection of ten brief pieces that were professionally recorded in Asunción. Each composer described their work in prose.
Agenda
Monday, October 19, 10 a.m.
En Casa: Eduardo Martínez
"Kambuchi pyahu"
Martínez writes,
To shape ourselves from within
As craftsmen of tomorrow
To give to the mud of the present
The lucky drawing
Of the future vessel
Jeporeka: "Kambuchi pyahu" (Eduardo Martínez)
Tuesday, October 20, 10 a.m.
En Casa: Alex Cubilla
"Valentía"
Cubilla writes, 
Bravery contains an ostinato that ebbs and flows and is at times hidden, but always present. In the midst of uncertainty, the music does not stop, it continues and advances like the conflict itself. Persevere is the path that leads to the exit. 
Jeporeka: "Valentía" (Alex Cubilla)
Wednesday, October 21, 10 a.m.
En Casa: Franco Pinazzo
"Girar"
Pinazzo writes,
How was I going to learn how much I like being at home. I, who lived fast and did three things when one could do only one. However, sometimes learning is as forced as it is necessary. Learning the meaning of home, time, family, and many other values. 
Jeporeka: "Girar" (Franco Pinazzo)
Thursday, October 22, 10 a.m.
En Casa: Liz Martínez
"Sintonía"
Martínez writes,
It is necessary to listen to the voices of those who are vulnerable and face exclusion, since there are many and diverse songs that flourish from our land and echo infinitely.
 
Jeporeka: "Sintonía" (Liz Martínez)
Thursday, October 22, 6:30 p.m.
Recuerdos: Berta Rojas
"Run" by Byeong Woo Lee
For the twelfth consecutive year, Americas Society hosted the New York Guitar Seminar at Mannes' opening concert. This year, we were fortunate to have Berta Rojas, one of today's foremost classical guitarists, who welcomed us into her "Home Session" for this beautiful and poignant virtual concert. Recuerdos this week revisits "Run" by Byeong Woo Lee which is one of our favorites from this concert.
When surgery left North Korean guitarist, Byeong Woo Lee physically debilitated, the accomplished composer found freedom and a way to finally run through his music. We hope you enjoy Berta's breathtaking performance!
Recuerdos: Berta Rojas "Run" (Byeong Woo Lee)
Friday, October 23, 10 a.m.
En Casa: Gonzalo Cattivelli
"Amparo"
Cattivelli writes,
Murky moments that fall on loved ones, which at the same time fall on your shoulders with greater force. But there is a superior force that arises from the pure essence of the human being, which makes you a refuge of peace.
Jeporeka: "Amparo" (Gonzalo Cattivelli)
Funders
The MetLife Foundation Music of the Americas concert series is made possible by the generous support of Presenting Sponsor MetLife Foundation. The Fall 2020 Music program is also supported, in part, by public funds from the New York City Department of Cultural Affairs in partnership with the City Council. Additional support provided by The Augustine Foundation