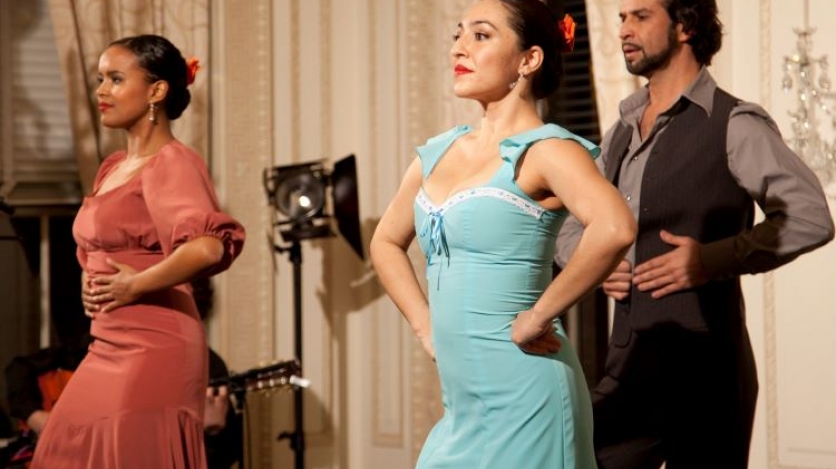 Flamenco Vivo Carlota Santana. (Image: Arturo Sánchez)
Overview
Music of the Americas continues its online video series En Casa (At Home), featuring original daily performances with musicians from around the Americas, and Recuerdos (Memories), weekly releases of memorable past performances at the Americas Society, some available for the first time.
Follow Music of the Americas on Instagram, YouTube, Facebook, and Twitter to watch and receive notifications of all the performances. We also publish weekly calendars here on our website, including all the videos, so you can return to this page to catch up on any performances you might have missed.
Tuesday, July 14, 10 a.m.
En Casa: Yuri Juárez (Facebook)
Peruvian guitarist Yuri Juárez is back this week with Carlos Gamarra's "El Parisién," one of the foundational pieces of the Peruvian waltz genre. We all wish we could travel right now, and this song (although Yuri does a beautiful instrumental version) takes us to Paris, the City of Love.
En Casa: Yuri Juárez- "El Parisién" (Gamarra)
Wednesday, July 15, 10 a.m.
En Casa: Sergio Reyes and Emilio Teubal
(Facebook: Reyes, Teubal)
Guatemalan violinist Sergio Reyes and Argentine pianist Emilio Teubal are the members of Romancero Latinoamericano Duo, with which they recreate the greatest classics of the region. From their homes in New York City, they sent us their take on Ángel Villoldo's tango "El Choclo."
En Casa: Sergio Reyes and Emilio Teubal - "El Choclo" (Villoldo)
Thursday, July 16, 10 a.m.
Recuerdos: Flamenco Vivo Carlota Santana (Facebook)
Carlota Santana's adventurous flamenco group was on our stage a few years ago with a program of amazing Flamenco-Latin American musical fusion. We remember their visit with their first piece, the classic "La pollera colorá."
Recuerdos: Flamenco Vivo Carlota Santana -"La pollera colorá"
Friday, July 17, 10 a.m.
En Casa: Clarice Assad (Facebook)
Multi-talented Brazilian artist Clarice Assad and her music have graced on our stage several times over the past seasons. From her home in Chicago, she sent us her version of Claude Debussy's "Doctor Gradus Ad Parnassum," which departs from the original in delightful ways.
En Casa: Clarice Assad - "Gradus Ad Parnassum" (Debussy)