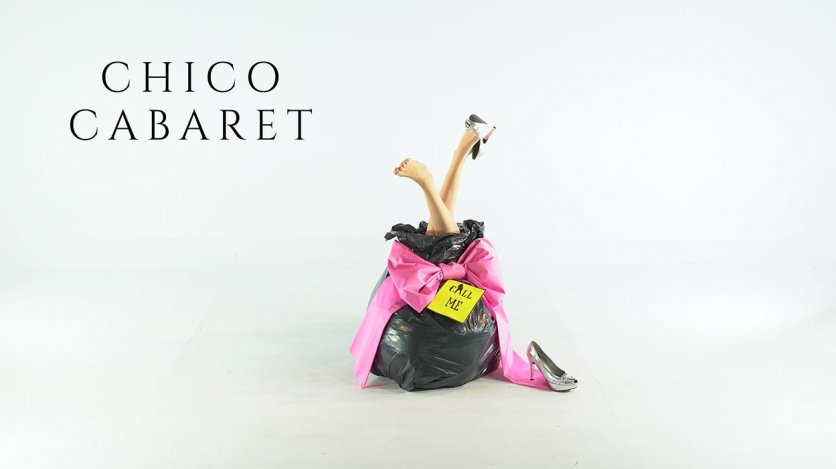 (Image by Mariana Ciolfi)
Music of the Americas: Chico Cabaret
The production offers a new take on the songs and story of Buarque's Opera do malandro. 
Overview
*This video is intended for mature audiences only. It contains scenes of a sexual nature and scenes that some viewers may find disturbing. Viewer discretion is advised.
Singer, composer, and writer Chico Buarque (b. Rio de Janeiro, 1944) is one of Brazil's living legends. Over a five-decade career, the first two of which took place under his country's last dictatorship, he has created some of the most enduring anthems of música popular brasileira (MPB). Buarque developed a unique poetic voice that cleverly evaded military censorship by setting protest lyrics to celebratory-sounding music, using ingenious wordplay, or even creating a character (Julinho da Adelaide), complete with personal history, who "wrote" a few great songs before being ousted by a newspaper.
In 1978, Buarque wrote Ópera do malandro, a musical play inspired by John Gay's eighteenth-century Beggar's Opera and the Threepenny Opera by Bertolt Brecht and Kurt Weill. Luiz Antônio Martinez Corrêa directed the premiere in Rio. The story is a scathing denunciation of gender violence, corruption, and hypocrisy.
Chico Cabaret is a re-imagining of the Ópera by Argentine director Mariana Ciolfi, sung by Mônica Salmaso and Júlia Vargas. Ciolfi builds on Buarque's condemnation through a story told from the first-person perspective of the women that suffer at the hands of an exploitative system, woven through seven of the Ópera's songs.
The arrangements were made and recorded by an international cast of musicians including Paquito D'Rivera, João Luiz, Rita Payés, Adrián Iaies, Magos Herrera, Bianca Gismonti, and Clarice Assad. Most of the video was filmed in Buenos Aires, while the audio was recorded there and in New York, Rio, São Paulo, Barcelona, Sarapuí, Chicago, and San Miguel de Allende.
About the artists
Director Mariana Ciolfi's productions have been produced in Argentina's main stages, including Teatro Colón, Centro Cultural Kirchner, Usina del Arte, and Centro Cultural Recoleta, as well as at the Ópera Metropolitana de Medellín in Colombia. She was the first Latin American woman to participate in the Women Opera Makers, working with Katie Mitchell at the Royal Opera House. In 2018, Ciolfi received a grant from Argentina's Fondo Nacional de las Artes to develop a program on the expressive and physical education of opera singers. During the pandemic, she created and directed the video series Casas de Opera for the Teatro Colón. She holds degrees in stage direction from the Instituto Superior de Arte del Teatro Colón, Universidad de San Martín, and Escuela de Teatro de Buenos Aires, and studied theatrical anthropology at Odin Teatret in Denmark with Eugenio Barba. She teaches operatic stage direction at the Instituto Superior de Arte del Teatro Colón.
Singer Júlia Vargas was born in Cabo Frio, a coastal city a hundred miles east of Rio de Janeiro, into a family of musicians, with whom she started learning music. She started her artistic career as a dancer, studying at the Teatro Municipal do Rio de Janeiro and the Centro de Movimento Deborah Colker. At 18 she joined the company Mulungo, directed by Oswaldo Montenegro, and started singing. She has collaborated with leading Brazilian musicians including Milton Nascimento, Zélia Duncan, Geraldo Azevedo, Ivan Lins, Alceu Valença, and Ney Matogrosso, among others. In 2015 she released Júlia Vargas & Os Barnabés ao vivo em Niterói, which was followed by Pop Banana and Iara Ira, with Duda Brack and Juliana Linhares. Her latest album is D'Água, which she also produced.
Singer Mônica Salmaso was born in São Paulo in 1971. She has recorded and performed with noteworthy Brazilian artists including Edu Lobo, Eduardo Gudin, José Miguel Wisnik, Marlui Miranda, Guinga, Nelson Ayres, and the Jazz Symphonic Orchestra of São Paulo. Her discography includes 10 CDs and DVDs released since 1995 and dedicated to a variety of Brazilian styles and genres, from children's music to samba and MPB classics. Salmaso has received numerous awards in Brazil for her albums and concerts. Her upcoming album, Japan Tour, was recorded in that country with Guinga, Teco Cardoso, and Nailor Proveta and will be released in 2021. Since 1998, Salmaso also has sung with the Orquestra Popular de Câmara, a 12-piece band that blends the Brazilian musical heritage with the personal contributions of each of the soloists in the group. Since the start of the pandemic, Salmaso has been producing Ô, DE CASAS, a series of videos featuring a large number of Brazilian and Latin America musicians, including established and emerging artists, that are available in her social media channels.
Personnel, Video
Iara Kuschevatzky, Rocío Fernández, Gustavo Comini: actors
Mariana Ciolfi: libretto and direction
Fabricio Ballarati: cinematography and lighting design
Wen Li Adam Kohei: cinematography, camera, and video editing
Stella Maris Müller: costumes and sets
Jesica Marucci: makeup and characterization
Yaco Weiman: lighting assistant
Manuel Baraldo: graphic design and titles
Personnel, Music
O malandro, arranged by Paquito D'Rivera, sung by Júlia Vargas and Mônica Salmaso
Paquito D'Rivera: clarinet, Juan Ruiz: sax, Diego Urcola: trombone, Daniel Freiberg: piano, João Luiz: cavaquinho, Oscar Stagnaro: bass, Juan Chiavassa: drums, Paulo Stagnaro and Taka Nikaido: percussion
Folhetim, arranged by Adrián Iaies, sung by Mônica Salmaso
Adrián Iaies: piano, Mariano Loiácono: trumpet
Doze anos, arranged by João Luiz, sung by Júlia Vargas and Mônica Salmaso
João Luiz: guitars, bass, percussion
O casamento dos pequenos burgueses, arranged by Rita Payés and group, sung by Mônica Salmaso
Rita Payés: trombone, Elisabeth Roma: guitar, Horacio Fumero: bass, Juan Rodríguez Berbín: drums
Se eu fosse o teu patrão, arranged by Magos Herrera, sung by Júlia Vargas and Mônica Salmaso
Michael Nicholas: cello, Vinícius Gomes: guitars, Rogério Boccato: percussion, Alexandre Kautz: drums
Teresinha, arranged by Bianca Gismonti, sung by Júlia Vargas
Bianca Gismonti: piano, Ana Karina Sebastião: bass, Lan Lanh: percussion, Bianca Gismonti, Ana Karina, Julia Vargas: voices
Pedaço de mim, arranged by Clarice Assad, sung by Júlia Vargas
Clarice Assad: piano, Natalie Lin-Douglas: violin
Mixed by Bill Siegmund, except for Teresinha, which was mixed by Gustavo Krebs
Produced by Sebastián Zubieta
This event is part of Carnegie Hall's Voices of Hope festival.
Funders
The MetLife Foundation Music of the Americas concert series is made possible by the generous support of Presenting Sponsor MetLife Foundation. The Spring 2021 Music program is also supported, in part, by public funds from the New York City Department of Cultural Affairs in partnership with the City Council. This performance is made possible, in part, by the New York State Council on the Arts with the support of Governor Andrew M. Cuomo and the New York State Legislature.