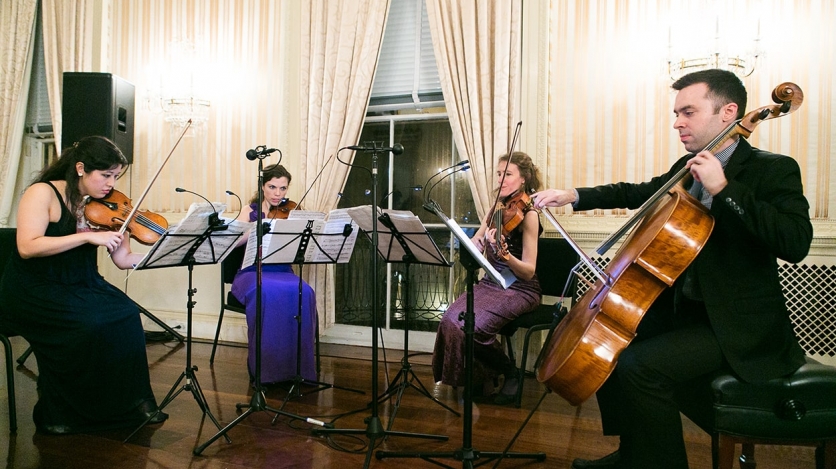 Momenta Quartet. (Image: Roey Yohai Studios)
Momenta Quartet: Julián Carrillo
Music of the Americas presents Momenta Quartet in a performance of the string quartets of Mexican modernist Julián Carrillo at Americas Society.
Overview
Pre-registration is now closed. Box office will open at 6:15 PM.
Admission: FREE for AS and YPA Members; $20 for non-members. No additional fees will be charged when purchasing online. $10 tickets will be available for purchase at the door for students and seniors with ID.
Not yet a member? Learn how to become an AS member or a YPA member to access this event.
Music of the Americas presents Momenta Quartet in a performance of the string quartets of Mexican modernist Julián Carrillo. Dr. Alejandro Madrid, associate professor of musicology and ethnomusicology at Cornell University, recently published In Search of Julián Carrillo and Sonido 13 (Oxford University Press), a study of Carrillo and the microtonal music system he developed in the 1920s, "El Sonido 13" (The 13th Sound). NYC-based Momenta Quartet is already familiar with Carrillo's unique style and his use of microtones and special techniques in the strings, and they return to Americas Society with his string quartets.
About the book
In Search of Julián Carrillo and Sonido 13 explores Carrillo's music and ideas not only in relation to the historical context of their inception but also in relation to the various cultural projects that kept them alive and resignified them through the beginning of the 21st century. This is a transhistorical project, emphasizing the dialogue between Sonido 13 as the expression of an imaginary future for Carrillo and his followers at the moment of its inception, and Sonido 13 as imaginary past for artists and musicians to validate a variety of alternative cultural projects throughout the twentieth century. By placing at the center of the research project Madrid's affective response to this music and to Carrillo and Sonido 13 as cultural symbols in Mexican popular culture, this project embraces the unavoidable subjectivity of any research project in the humanities. The author argues that exploring these moments along a critical study of the composer's rhetoric, a detailed analysis of his music scores, a serious assessment of how and why the Mexican musical mainstream has largely neglected his ideas, the resignification of these ideas by contemporary alternative cultural projects, and by reading these aspects in a continuous contrapuntal dialogue, one can better understand their profound cultural meaning.
About Julián Carrillo
Born in 1875 in the small town of Ahualulco (now Ahualulco del Sonido 13), near San Luis Potosí, Julián Carrillo grew from a promising classical violinist into a thoroughly individual composer and the creator of a self-sufficient musical system that he dubbed "Sonido 13" (13th Sound). Studying in Mexico and Europe, he spent much of his life actively involved with the international musical community as an educator and conductor. Carrillo's music was frequently performed during his lifetime by artists such as Leopold Stokowski and Nicolas Slonimsky, but quickly fell out of the regular concert repertoire upon the composer's death. This concert will offer rare performances of string music spanning almost 40 years of the composer's creative career.
About Momenta Quartet
Momenta Quartet has been described by Time Out New York as a "striking new-music quartet," but the quartet's range goes far beyond a single form of music. With over 40 world premieres by both established and up-and-coming composers, the ensemble's repertoire includes classical standards, contemporary masterworks, and consort music of the Renaissance. Momenta approaches all of this music with equal passion and commitment; a new work by a young composer is given as much attention as a revered mainstay of the classical canon. Some of these emerging composers have received important grants, Rhodes scholarships, invitations to Darmstadt, as well as commercial recording contracts as a direct result of their work with the Quartet.
Read about microtonality in NewMusicBox and explore the microtonal piano, patented by Carrillo in 1940 and awarded a gold medal at the World's Fair in Brussels in 1958.
Momenta Quartet performs "Meditación" from 2 Bosquejos en 4to de tono.