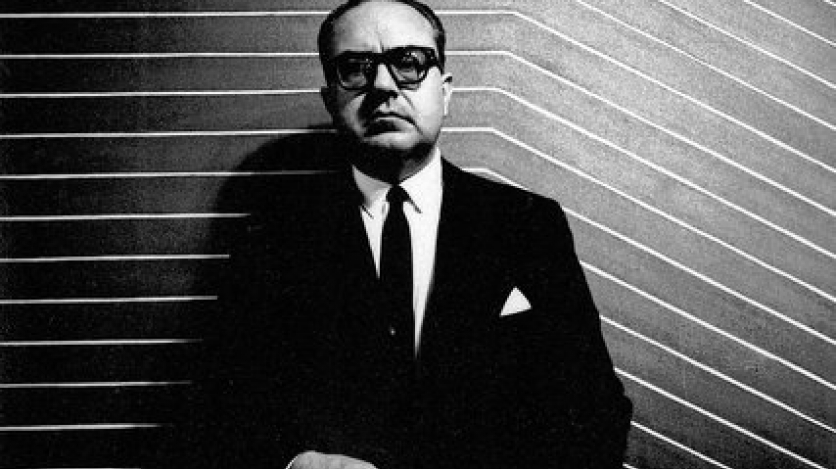 Alberto Ginastera (Image: Boosey & Hawkes).
Momenta Quartet: Ginastera & His Contemporaries
We continue our Alberto Ginastera centenary celebration this year with a performance of the Argentine luminary's piano quintet from 1963, as well as works for string quartet by two of Ginastera's students at the time, Mesías Maiguashca and Joaquín Orellana.
Overview
Pre-registration is now closed. Box office opens in the Americas Society lobby at 6:15 PM.
Admission: FREE for AS and YPA Members, and Hunter College students; $20 for non-members. (No additional fees will be charged when purchasing online.) $10 tickets will be available for purchase at the door for students and seniors with ID.
Not yet a member? Learn how to become a Cultural Circle member to access this event.
We continue our Alberto Ginastera centenary celebration with a performance of his Piano Quintet, written in 1963 while the composer directed the Centro Latinoamericano de Altos Estudios Musicales in Buenos Aires (CLAEM), which played a fundamental role in the development of a generation of composers from the region. The Quintet will be accompanied by two contemporaneous pieces written by two of Ginastera's students at the time, Mesías Maiguashca and Joaquín Orellana. These rarely-performed quartets are a testament to the creative environment created at the CLAEM. Momenta Quartet, who recently presented a program of Mexican microtonalist Julián Carrillo's music at Americas Society, will be joined by pianist Vicky Chow.
Read more about the global celebration of Alberto Ginastera's centenary (via The New York Times).
Joaquín Orellana demonstrates his instruments. Courtesy Pajaro Jaguar Records.
Momenta Quartet performs Julián Carrillo at Americas Society, 2015.
Program
| | |
| --- | --- |
| Ginastera | Piano Quintet, op. 25 (1963) |
| Mesías Maiguashca | String Quartet no. 1 (1964), dedicated to Ginastera |
| Joaquín Orellana | String Quartet no. 2 (1967) |
The score for Joaquín Orellana's quartet graciously provided by the Instituto Nacional de Musicología "Carlos Vega".
About the artists
The Momenta Quartet has been described by Time Out New York as a "striking new-music quartet," but the quartet's range goes far beyond a single form of music. Including over 40 world premieres by both established and up-and-coming composers, the ensemble's repertoire includes classical standards, contemporary masterworks, and consort music of the Renaissance. Momenta approaches all of this music with equal passion and commitment; a new work by a young composer is given as much attention as a revered mainstay of the classical canon. Some of these emerging composers have received important grants, Rhodes scholarships, invitations to Darmstadt, as well as commercial recording contracts as a direct result of their work with the Quartet. 
Canadian pianist Vicky Chow has been described as "brilliant" (New York Times), "a monster pianist" (Time Out New York), "virtuostic" (New Jersey Star Ledger), and "one of the new stars of new music" (Los Angeles Times). She is the pianist for the New York-based sextet Bang on a Can All-Stars and is also a founding member of DUO X88, a piano duo with Dutch pianist Saskia Lankhoorn and GRANDBAND, a six keyboard ensemble with pianists Lisa Moore, Blair McMillen, David Friend, Isabelle O'Connell and Paul Kerekes. Most recently she gave the North American premiere of Steve Reich's work Piano Counterpoint and also the world premiere of a new evening length work by artist/composer Tristan Perich for solo piano and 40 channel 1-bit electronics entitled Surface Image. Her forthcoming solo projects include commissions from American composers Chris Cerrone, Neil Rolnick, and Canadian composer Adam Basanta and releases on the New Amsterdam and Nonesuch labels. 
About the composers
Alberto Ginastera was the leading Argentine composer of the 20th century. Born in Buenos Aires in 1916, he studied music privately as a child, later enrolling at the Conservatorio Williams. In 1945–47, Ginastera traveled to the United States, where he studied with Aaron Copland at Tanglewood. Upon his return to Argentina, he embarked in a successful teaching career, founding and directing the Music School at the Universidad Católica Argentina and the CLAEM, among other institutions. He returned to the US in 1968 and settled permanently in Switzerland in 1970. He died in Geneva in 1983. He wrote 55 works for a variety of ensembles and solo instruments and voices, as well as a number of film scores.  
Joaquín Orellana (b. 1937, Guatemala City) began his musical studies at the National Conservatory in Guatemala. He later traveled to the CLAEM in the late '60s, where he worked with Ginastera, Gerardo Gandini, and Franciso Kroepfl. Upon returning to Guatemala, he began to build his own electronic instruments to provide a unique sonic contrast to traditional instruments. 
Mesias Miguashca (b. 1938, Quito) studied composition in Quito, and in Rochester at the Eastman School of Music, the CLAEM, and the Hochschule für Musik und Tanz (Cologne). His music has been produced at the Studio for Electronic Music WDR (Cologne), the Centre Européen pour la Recherche Musicale (Metz), IRCAM (Paris), Acroe (Grenoble), and ZKM (Karlsruhe). He taught electronic music for 15 years in Freiburg, where he established the K.O. Studio Freiburg, a private initiative for the practice of experimental music in 1998.