Join us every evening this week at 7 pm ET, Monday through Friday.

Live broadcast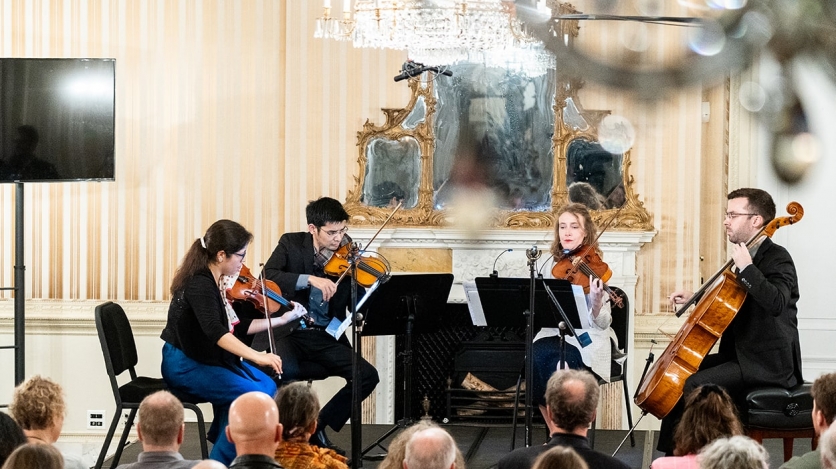 Momenta Quartet. (Image by Roey Yohai Photography for Americas Society)
Momenta Festival June 21–25
Momenta Quartet is back with a week of imaginative string music. 
Overview
To start the summer, the sixth iteration of the Momenta Festival will take place at Americas Society. Since 2015, the adventurous ensemble has presented four programs during the one-week festival, each curated by a different member of the ensemble, resulting in "intriguing programming" (The New York Times) acclaimed by critics and fans alike. After taking a hiatus in 2020, we are delighted to welcome them back on our virtual stage.
Please come back to this page to watch the events.
Monday, June 21, 7 p.m.
"Forward to the Past," curated by Alex Shiozaki
Pablo Furman (b. 1955): Sureña: Memorias Australes, for violin and electronics (2005)
Ludwig van Beethoven (1770–1827): Grosse Fuge, Op. 133 (1826)
Tuesday, June 22, 7 p.m.
"Secret Desires," curated by Stephanie Griffin
Alvin Singleton (b. 1940): Secret Desire to be Black (1988) for string quartet
Alba Potes (b. 1954): Apacible for solo viola (2004)
Julián Carrillo (1875–1965): String Quartet no. 6 (1937)
Wednesday, June 23, 7 p.m. 
A conversation with Momenta Quartet including:
Stephanie Griffin, viola
Emilie-Anne Gendron, violin
Alex Shiozaki, violin
Michael Haas, cello
Pablo Furman, composer
José Luis Greco, composer
Alba Potes, composer
Alvin Singleton, composer
Sebastián Zubieta, Americas Society Music Director and the evening's moderator
Thursday, June 24, 7 p.m.
"Endings and Beginnings," curated by Emilie-Anne Gendron
Juan Gutiérrez de Padilla (ca. 1590–1664): Velum templi scissum est (ca. 1628), motet adapted for string quartet
José Luis Greco (b. 1953): String Quartet No. 4 "The Intruder" (2020) (world premiere)
Francisco López Capillas (ca. 1615–1673): Cui luna, sol et omnia (ca. 1650s), motet adapted for string quartet
Alejandro García Caturla (1906–1940): Piezas para cuarteto de cuerdas (1926–1927)

I. Preludio
II. Gigue
III. Pieza en Forma de Vals
IV. Danza a la Cubana
Friday, June 25, 7 p.m.
"Snapshots," curated by Michael Haas
John Patitucci (b. 1959): Snapshots for string quartet (2002)
Mario Lavista (b. 1943): cuaderno de viaje (1989/rev. 2002) for solo cello

I. Come un canto in lontananza, flessible
II. Volatil, sempre delicato e come da lontano

Sergei Prokofiev (1891–1953): String Quartet No. 2 in F Major, Op. 92 "Kabardinian" (1941)

I. Allegro sostenuto
II. Adagio
III. Allegro
Funders
The MetLife Foundation Music of the Americas concert series is made possible by the generous support of Presenting Sponsor MetLife Foundation. The Fall 2020 Music program is also supported, in part, by public funds from the New York City Department of Cultural Affairs in partnership with the City Council. Additional support for this concert comes from The Amphion Foundation, Inc., the Aaron Copland Fund for Music, and the Alice M. Ditson Fund.