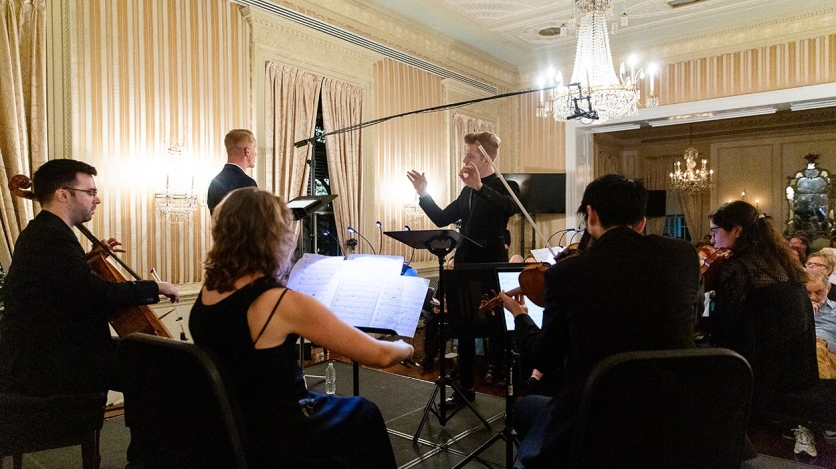 Momenta Quartet with Nathaniel Sullivan and David Bloom. (Image Roey Yohai Studios)
Momenta Festival 2
The quartet is back on our stage for the second night of their 2023 Festival. 
Overview
On October 5, we will host this concert in person, and tickets are free. 
Please register online to reserve your seat.   
Video of the concert will be released at a later date. Remember to follow us to watch this and other exciting performances.  
 
Momenta Quartet (Emilie-Anne Gendron, Alex Shiozaki, Stephanie Griffin, Michael Haas) is back on our stage for two nights of their Momenta Festival, during which each quartet member selects a program of adventurous string music. This evening's program, "Szene am Bach," is curated by Alex Shiozaki. 
Program: 
Eugène Ysaÿe (1858-1931): Sonata No. 2 "Obsession" (1923) 
Ileana Perez Velázquez (b. 1964): River of Life (2019) 
Somei Satoh (b. 1947): A White Heron (1987) 
Ludwig van Beethoven (1770-1827): String Quartet Op. 18 No. 6 (1801)
Funders
The MetLife Foundation Music of the Americas concert series is made possible by the generous support of Presenting Sponsor MetLife Foundation.
The Spring 2023 Music program is also supported, in part, by the Howard Gilman Foundation, and by public funds from the New York City Department of Cultural Affairs in partnership with the City Council and from the New York State Council on the Arts with the support of the Office of the Governor and the New York State Legislature.
Additional support comes from the National Endowment for the Arts, the Association of Performing Arts Professionals' ArtsForward program, made possible through support from The Andrew W. Mellon Foundation, New Music USA's Organizational Development Fund in 2022-23, the Alice M. Ditson Fund of Columbia University, The Aaron Copland Fund for Music, and The Amphion Foundation, Inc.