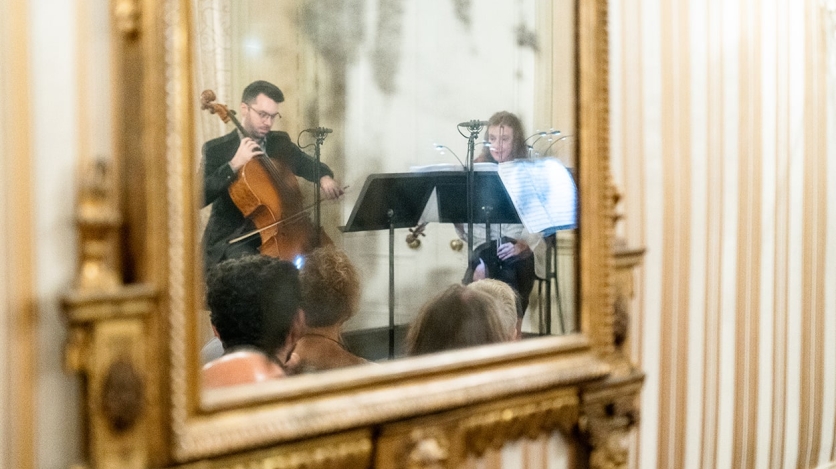 Michael Haas and Stephanie Griffin. (Image: Roey Yohai Studios)
Overview
On October 4, we will host this concert in person, and tickets are free. Please register online to reserve your seat.   
Video of the concert will be released at a later date. Remember to follow us to watch this and other exciting performances.  
 
Momenta Quartet (Emilie-Anne Gendron, Alex Shiozaki, Stephanie Griffin, Michael Haas) is back on our stage for two nights of their Momenta Festival. This evening, curated by violist Stephanie Griffin, is titled "Momenta à la Mode." 
Griffin says about the program: 
"Practice your scales! Modes are the building blocks for so many types of music in numerous world traditions. This program celebrates composers for whom modes are a veritable obsession, moving beyond building blocks to be the actual subject matter of their compositions. Sebastian Zubieta solved Renaissance-Italian-music-theorist, singer, and priest Pietro Cerone's Enigma de la escala, realizing it for violin, two violas, and cello, with everything weaving around a simple scale in the second viola part. Mexican composer Julián Carrillo took a deep dive into whole-tone scales in his String Quartet No. 2 à Debussy, and American composer Robert Morris' lifelong obsession with South Indian Carnatic music is expressed in his monumental Carnatic String Quartet (2020), which artfully employs all 72 fundamental "melakarta" musical scales as set forth by Venkatamakhin in his treatise Chaturdandi Prakaasikaa as amended by Govindhacharya in the 17th-century. These scales include all western scales and modes and are well-known to every musician in South India." 
Program: 
Pietro Cerone (1556-1625): Enigma de la escala (transcribed by Sebastian Zubieta) 
Julián Carrillo: String Quartet no. 2 
Robert Morris: Carnatic String Quartet (2020)
Funders
The MetLife Foundation Music of the Americas concert series is made possible by the generous support of Presenting Sponsor MetLife Foundation.
The Fall 2023 Music program is also supported, in part, by the Howard Gilman Foundation, by public funds from the New York City Department of Cultural Affairs in partnership with the City Council, by the New York State Council on the Arts with the support of the Office of the Governor and the New York State Legislature, and by The Fan Fox and Leslie R. Samuels Foundation.
Additional support comes from the Alice M. Ditson Fund of Columbia University, The Aaron Copland Fund for Music, and The Amphion Foundation, Inc.