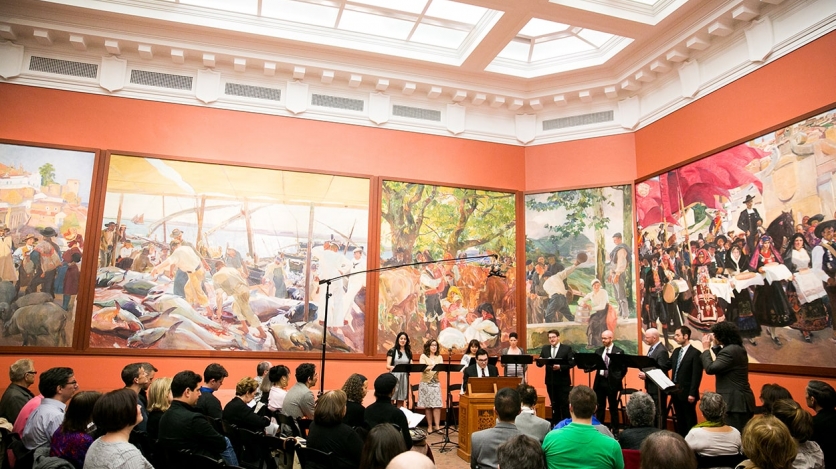 Meridionalis at The Hispanic Society. (Image: Roey Yohai Studios)
Meridionalis: Music of Francisco López Capillas
Americas Society's ensemble, Meridionalis, led by Sebastián Zubieta, presents a concert featuring music by 17th century Mexican composer Francisco Lópe
Overview
Pre-registration for this event is now closed. Tickets will be available for purchase at the box office beginning at 6:15 PM.
For ticketholders: Hispanic Society's visitor entrance is located on Audubon Terrace at Broadway between 155th and 156th Streets. Click here for visitor information.
Admission: FREE for Americas Society, YPA, and Hispanic Society of America Members; $20 for non-members. $10 tickets will be available for purchase at the door for students and seniors with ID.
Not yet a member? Join NOW!
Americas Society's ensemble, Meridionalis, led by Sebastián Zubieta, presents a concert featuring sacred choral music by Mexican composer Francisco López Capillas (ca. 1615-1673). Born in Mexico City, López Capillas was one of the earliest polyphonic composers of renown born in the Americas; his works are known for their expressivity and contrapuntal splendor. He was kappelmeister at Puebla and Mexico City, and several of his compositions have survived in archives in Mexico and Spain. 
This program was prepared by musicologist Bernardo Illari from manuscripts held in Mexico City.
This concert is part of GEMAS, a project of Americas Society and Gotham Early Music Scene devoted to early music of the Americas with Nell Snaidas and Sebastián Zubieta as co-artistic directors.
Program
| | |
| --- | --- |
| Aufer a nobis |   |
| Cum iucunditate navitatem Beatae Mariae |   |
| Cui luna, sol, et omnia |   |
| In horrore visionis nocturnae |   |
| Missa Aufer a nobis |   |
Read more about the repertoire in the printed program (PDF).
Ensemble
Melanie Russell, Elaine Lachica, Amanda Sidebottom, sopranos
Kirsten Sollek, Timothy Parsons altos
Timothy Hodges tenor
Thomas McCargar, Steven Hrycelak basses
Jeffrey Grossman organ
Sebastián Zubieta conductor
Meridionalis performs Judas mercator pessimus by José Maurício Nunes Garcia (2012).
In collaboration with: