Member Webex: Stop Apologizing, Learn to Lead with Confidence
Americas Society
/
Council of the Americas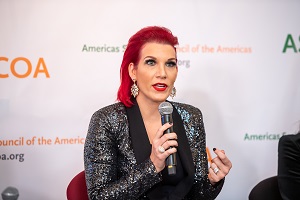 Do you find yourself apologizing for no good reason? Are you a perfectionist or people-pleaser? Tired of saying "yes" to everyone else's demands of your time? Do you feel like your confidence is perceived as cockiness? Are you wondering how men can be part of the solution too? If this sounds like you, then this program will motivate you to get out of your comfort zone!
Members of AS/COA's Women's Hemispheric Network and Young Professionals of the Americas are invited to a participate in a virtual workshop on confidence and communication with Professor Maja. A sociologist, author, and confidence-researcher, Professor Maja was also a highlight of our 2019 WHN conference in New York when she spoke on the importance of persistence.
Member registration: ccaponi@as-coa.org
YPA Membership Inquiries: ypany@as-coa.org
Professor Maja
Professor, Sociologist, Confidence-Researcher, McMaster University
Professor Maja is a sociologist, professor, author and confidence-researcher. Her TEDx Talk "How Apologies Kill our Confidence" was featured by TED IDEAS in their 2019 article "Do you say 'Sorry' too Much?" She is also a regular guest expert on television. Maja authored two books ("Hey Ladies, Stop Apologizing…and other career mistakes women make" and "Hey Ladies, Stop Apologizing, THE WORKBOOK".) Professor Maja runs a leadership organization that trains women to improve their confidence, communication, and mindset.
Read More