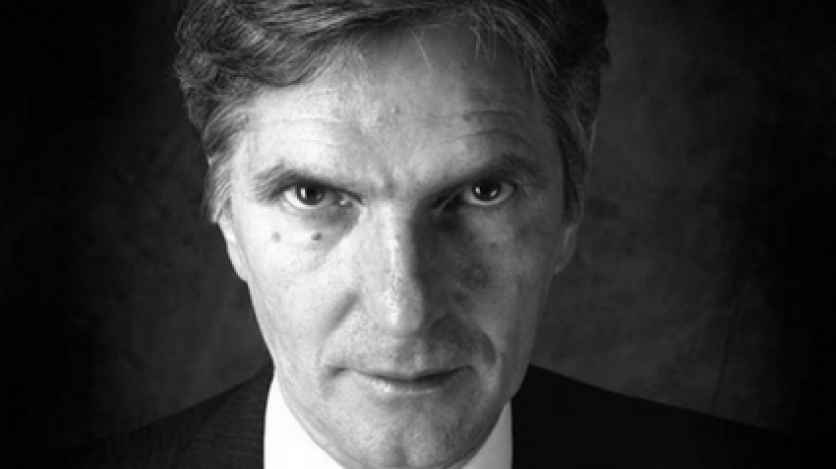 Mario Lavista, courtesy of Peermusic.
Maithuna: Portrait of Mario Lavista
In collaboration with the Centro de Experimentación del Teatro Colón, Music of the Americas presents the U.S. premiere of Mexican composer Mario Lavista's Maithuna, among other works.
Overview
Pre registration for this event is now closed. Box office will open at 6:15 PM in the lobby of Americas Society.
Admission: FREE for AS and YPA members, and Hunter College students; $20 for non-members. (No additional fees will be charged when purchasing online.) $10 tickets will be available for purchase at the door for students and seniors with ID.
Not yet a member? Learn how to become a Cultural Circle member to access this event.
In collaboration with the Centro de Experimentación del Teatro Colón, Music of the Americas presents the U.S. premiere of Mexican composer Mario Lavista's Maithuna, after the eponymous poem of Octavio Paz, as well as his Salmo for soprano and double bass, and other works.
Program
| | |
| --- | --- |
| Game (1973) | Laura Cocks, Katie Cox, Anne Dearth, Isabel Gleicher, Alice Jones, Aawa White, flutes |
| Dusk (1980) | Evan Runyon, contrabass |
| Salmo (2006, ed. 2007) | Sarah Brailey, soprano, four crotales and Evan Runyon, contrabass |
| Maithuna (2016) *US premiere | Meridionalis (Lucy Fitz Gibbon, Sarah Brailey, sopranos; Luthien Brackett, Kirsten Sollek, altos) |
Lavista's Música para mi Vecino (1995), performed by FACHA String Quartet. 
Octavio Paz reads "Maithuna."
About Mario Lavista
Mario Lavista is one of the most important Latin American composers of his generation. He was born on April 3, 1943, in Mexico City. He studied composition with Carlos Chávez and Héctor Quintanar and musical analysis with Rodolfo Halffter at the Conservatorio Nacional de Música. In 1967, he received a scholarship to study with Jean-Étienne Marie at the Schola Cantorum (Paris) and attended new music seminars with Henri Pousseur. In 1969, he participated in Karlheinz Stockhausen's seminars in Cologne and in international summer courses in Darmstadt. In 1970, he founded the Quanta improvisation group, which focused on creation and spontaneous interpretation, as well as the relationship between live performance and electroacoustic music. In 1991, he received the Premio Nacional de Ciencias y Artes in ​​Fine Arts and the Mozart Medal (Mexico), and in 1998 was inducted into the Colegio Nacional.
He is an honorary member of the Seminario de Cultural Mexicano, and has taught courses and seminars at universities throughout North America and as part of the Cursos Latinoamericanos de Música Contemporánea. He is currently head of analysis and twentieth-century musical language at the Conservatorio Nacional de Música and directs the magazine Pauta, Cuadernos de teoría y crítica musical. He composed music for the films Cabeza de Vaca and Vivir Mata.
About Octavio Paz
Mexican poet Octavio Paz (1914-1998), thanks to his grandfather's extensive library, came into early contact with literature. Like his grandfather, his father was also an active political journalist who, together with other progressive intellectuals, joined the agrarian uprisings led by Emiliano Zapata. Paz began to write at an early age, and, in 1937, traveled to Valencia, Spain, to participate in the Second International Congress of Anti-Fascist Writers. Upon his return to Mexico, he became one of the founders of the journal Taller (Workshop), which signaled the emergence of not only a new generation of writers in Mexico, but also a new literary sensibility. In the 1940s, he traveled to the United States on a Guggenheim Fellowship, where he became immersed in Anglo-American modernist poetry; two years later, he entered the Mexican diplomatic service and was dispatched to France, where he wrote his fundamental study of Mexican identity, El laberinto de la soledad (The Labyrinth of Solitude), and actively participated - together with Breton and Peret - in various activities and publications organized by the Surrealists. In 1962, he was appointed Mexican ambassador to India, which marked an important moment for the poet, as witnessed in various books written during his stay, especially The Grammarian Monkey and East Slope. In 1968, however, he resigned from the diplomatic service in protest against the government's suppression of student demonstrations in Tlatelolco during the Olympic Games in Mexico. He continued his work as an editor and publisher thereafter after having founded two important magazines dedicated to the arts and politics: Plural and Vuelta. In 1980, he was awarded an honorary doctorate from Harvard. He won the Cervantes award in 1981 - the most important award in the Spanish-speaking world - and the American Neustadt Prize in 1982.
Paz is a poet and an essayist. His poetic oeuvre is nourished by the belief that poetry constitutes "the secret religion of the modern age." Eliot Weinberger wrote that, for Paz, "The revolution of the word is the revolution of the world, and that both cannot exist without the revolution of the body: life as art, a return to the mythic lost unity of thought and body, man and nature, I and the other." His is a poetry written within the perpetual motion and transparencies of the eternal present tense. Paz's poetry has been collected in Poemas 1935-1975 (1981) and Collected Poems, 1957-1987 (1987). A remarkable prose stylist, Paz published a prolific body of essays, including several book-length studies, in poetics, literary, and art criticism, as well as on Mexican history, politics, and culture.
In collaboration with: