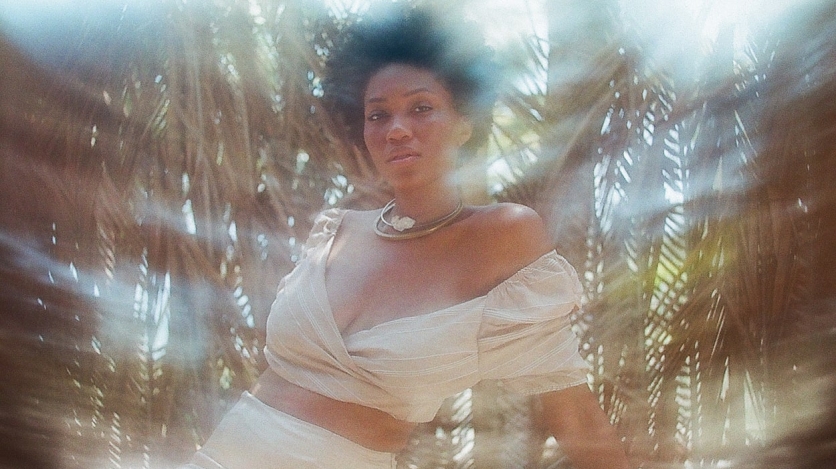 Luedji Luna. (Image courtesy of the artist)
Luedji Luna: Bom mesmo é estar debaixo d'água
The Brazilian singer and composer presents a new video of her latest album. 
Overview
This virtual concert will be available on this page at 7 p.m. ET on March 25.
Brazilian singer and composer Luedji Luna was born in Bahia, the center of Afro-Brazilian culture. In addition to concerts in Brazil, Luna has performed in Europe, the United States, and Canada. Her music combines Brazilian sounds with African rhythms and jazz, and her lyrics deal with social issues, in particular related to Black identity. She released her critically acclaimed debut record, Um Corpo no Mundo (A Body in the World), in 2017. Three years later, she released the audiovisual album Bom Mesmo é Estar Debaixo D'água (What's Really Good Is Being Underwater). The album was recorded in Kenya and co-produced by Luna and Kenyan guitarist Kato Change. The album opens a new chapter in the singer's life and career—maternity—and is essentially Luna: lightness and strength. The songs traverse jazz and African rhythms, and they are like a dip in the warm waters of Bahia. The album is political without being partisan and romantic without falling into clichés. It was nominated for a 2021 Latin Grammy.
Luna is co-founder of Palavra Preta, an exhibition that brings together black female composers and poets from all over Brazil, which has taken place in Salvador and Brasília. She was a member of Bando Cumate, a collective engaged in research, dissemination, and promotion of the traditional artistic manifestations of Brazilian culture, where he participated in the "Alimacanta" singing workshop given by Argentine singer and songwriter Mariana Pereiro, which incorporates elements of Chi Kung and Yoga.
Funders
The MetLife Foundation Music of the Americas concert series is made possible by the generous support of Presenting Sponsor MetLife Foundation. The Spring 2022 Music program is also supported, in part, by public funds from the New York City Department of Cultural Affairs in partnership with the City Council, the Howard Gilman Foundation, and the New York State Council on the Arts.