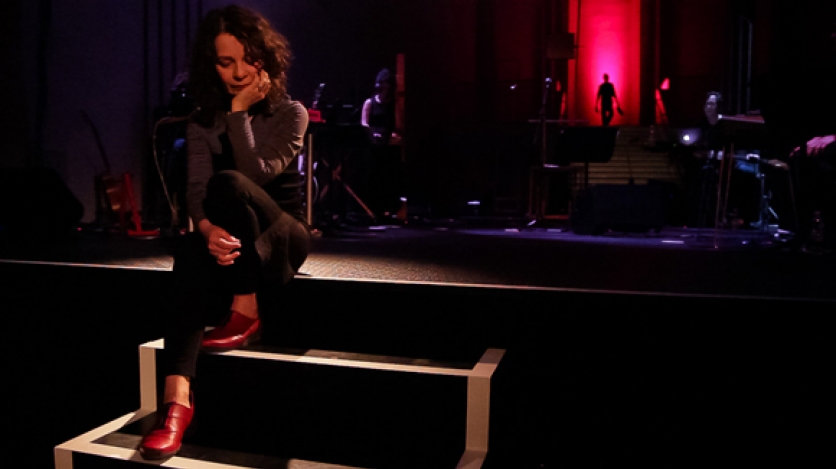 (Image: Courtesy of Dei Festival)
Lucía Pulido: Canciones de Despecho
Music of the Americas presents Colombian vocalist Lucía Pulido in a program of popular Latin American love songs.
Overview
Preregistration for this event is now closed. Tickets will be available for purchase at the door beginning at 6:15 PM. 
Admission: FREE for AS and YPA Members; $20 for non-members. No additional fees will be charged when purchasing online. $10 tickets will be available for purchase at the door for students with ID and seniors. YPA Members who wish to register for this event should email Martha Cargo at mcargo@as-coa.org.
Not yet an AS Member? Join NOW!
Music of the Americas presents Colombian vocalist Lucía Pulido in "Canciones de Despecho" (Songs of Broken Love), a program of Latin American love songs made popular from the 1930s to the 1960s by Julio Jaramillo and Cuco Sanchez, among others. The central motif of this set of boleros and waltzes is the intense pain produced by unrequited love. 
This event is part of "The Americas in New York" series.
Performers
Lucía Pulido, voice
Sergio Reyes, violin and melodica
Sebastian Cruz, guitar
Pedro Giraudo, bass
Lucía Pulido performs Etelvina Maldonado's "Por Qué Me Pegas" at Lincoln Center
About the artist
Colombian singer Lucía Pulido has an experimental style marked with a distinct sophistication and has participated in a diverse range of projects, from traditional Colombian music to jazz and world music. The New York Times raved: "Ms. Pulido holds on to the rawness of the original melodies while giving them a sophisticated new context." From traditional genres such as cumbia and bullerengue from the Atlantic coast, currulaos from the Pacific coast, to joropos from the Colombian eastern plains, Pulido's repertoire extends to herding songs (cantos de vaquería), funeral laments (alabaos), and harvest chants (cantos de zafra), enabling her to explore her full range of expression.
She is currently at work on several projects in New York City and Latin America, including her New York-based quintet and trio, which perform experimental arrangements of Colombian traditional music as well as newly composed songs; an experimental project based on Latin American traditional songs with Argentinean guitarist Fernando Tarrés; "América Contemporánea - um Outro Centro" alongside Brazilian pianist Benjamim Taubkin and several other Latin American musicians; and New York-based cellist Erik Friedlander's "Colombiana" project. 
Pulido has recorded with jazz greats Ed Simon, Dave Binney, and Erik Friedlander, and with experimental and electronic musicians such as Christian Fennez and Burkhard Stangl (Vienna). She has performed at venues throughout New York City, including at the Carnegie Hall Neighborhood concert series, and received a grant from the Lower Manhattan Cultural Council. She was also Artist-in-Residence in Krems, Austria for two consecutive summers. Her discography includes Lucía (Sonolux), Dolor de Ausencia (FM), Songbook I, II and III with guitarist Fernando Tarrés (BAU Records), and Waning Moon - Luna Menguante (Adventure Music). Prior to her arrival in New York City, she was part of the Colombian duo Iván y Lucía with singer/songwriter Iván Benavides, with whom she performed for 10 years, recording three LPs in the late 1980s and touring Europe and Latin America.