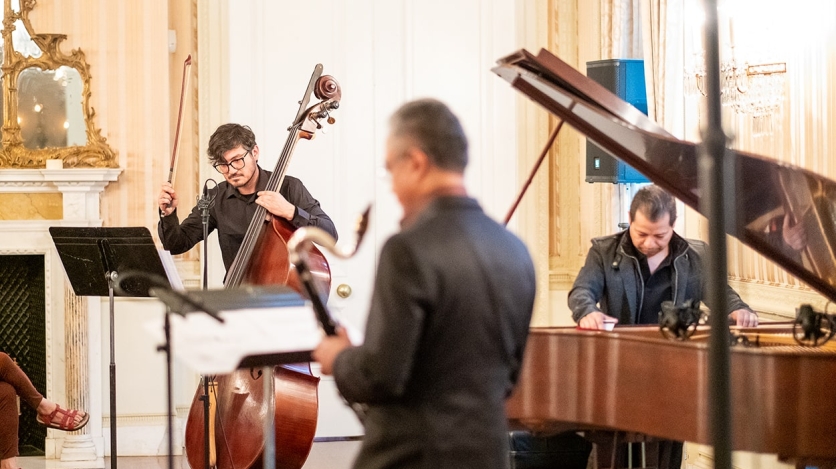 Low Frequency Trio. (Image: Roey Yohai Studios)
Low Frequency Trio: Nuevas Músicas Latinoamericanas
Join Music of the Americas for a program of new pieces by Latin American female composers.
Overview
On April 21, we will host this event in person, and tickets are free. 
Registration is CLOSED for this event, but walk-ins are welcome as seats are still available.  
Video of the concert will be released at a later date. Remember to follow us to watch this and other exciting performances. 
LOW FREQUENCY TRIO (José Luis Hurtado, Antonio Rosales, Juan José García) is one of the few ensembles in the world that plays music exclusively composed for them. Its members are highly active in the international contemporary music scene and as a trio they have performed and held residencies at the Centro Mexicano para la Música y las Artes Sonoras, Centro de las Artes of San Luis Potosí, Conservatorio de las Rosas in Morelia, Festival Ecos y Sonidos, Festival Internacional Cervantino, the Museo Universitario de Arte Contemporáneo MUAC UNAM, and the Palacio de Bellas Artes in Mexico, the University of Texas UTRGV, and the University of New Mexico in the United States, as well as the Universidad Nacional de Quilmes and the Conservatorio Manuel de Falla in Argentina. Their CD debut is available on Bandcamp. Since 2016, the trio has collaborated with more than 50 young and established composers in the creation and performance of fresh and innovative new works for this unique instrumentation whose collective sound has yet to be discovered and repertoire, until now, has been practically nonexistent.
Program
Susan Campos (Costa Rica, 1975) Abismo blanco (2022) 
Gabriel Salcedo (Mexico, 1985) Return of the son of "Superficies II" (2017) 
Sofía Scheps (Uruguay, 1987) La velocidad del azul (2022) 
María Laura Disandro (Argentina, 1985) Lit little cyrstal houses (2022) 
Michel Soto (Mexico, 1993) Bug Core (2019) 
Aldo Lombera (Mexico, 1990) Mezcolanzas (2017)
Composer and pianist José Luis Hurtado's music has been performed across continents by performers such as the Boston Modern Orchestra Project, International Contemporary Ensemble, Talea Ensemble, Garth Knox, Le Nouvel Ensemble Moderne, and the Arditti Quartet, among many others. His works have won competitions in Austria, Canada, the United States, and Mexico. Hurtado holds a Ph.D. from Harvard University where he studied under Mario Davidovsky, Chaya Czernowin, Magnus Lindberg, Brian Ferneyhough, and Helmut Lachenmann.
Clarinetist Antonio Rosales has performed in Europe and the Americas, and has performed the Mexican premieres of works by Lachenmann, Pascal Dusapin, Iannis Xenakis, and Mauricio Kagel, among others. Has performed as a soloist with the Orquesta de Cámara de Bellas Artes, the Camerata de Coahuila, and the Ensamble Tempus Fugit. He is a member and artistic director of the Umbratono and Quartz Ensembles. He did his graduate studies at the Conservatory of Amsterdam under the guidance of Harry Sparnaay. He is currently a professor of bass clarinet at the Universidad Nacional Autónoma de México. 
Bassist Juan José García is a member of the ensemble CEPROMUSIC, the foremost new music group in Mexico. Disciple of Pauline Oliveros, García also studied with Dennis Whittaker at the University of Houston and with Catalin Rotaru at Arizona State University. An avid music improviser, he has collaborated with figures and groups such as Radu Malfatti, John Butcher, the Scottish dance theatre, Cooper, Chris Cogburn, and Tarek Atoui.
Low Frequency Trio is currently collaborating with 11 young female composers from 11 Latin American countries in the creation of new works for the trio that will be premiered in the second half of 2022. The project includes the production of individual video and audio of each piece for their corresponding virtual premiere, virtual interviews of each composer, as well as the production and release of a CD album. The new works will be the base of LF3's repertory for their 2022 and 2023 seasons.