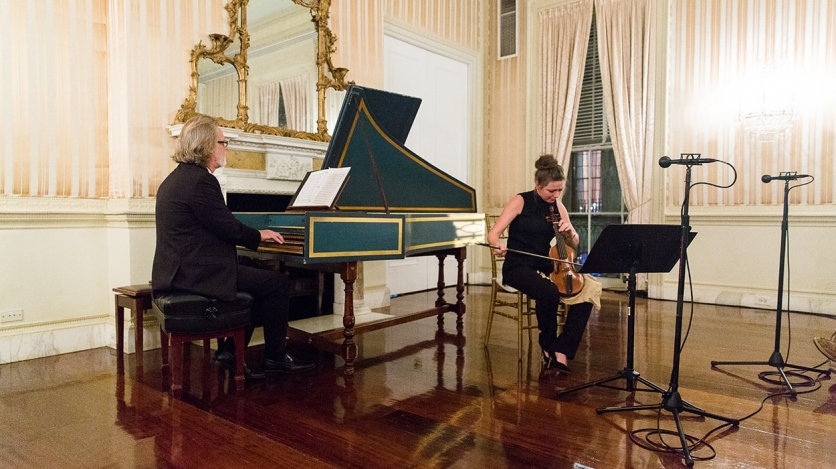 L'Harmonie des saisons at Americas Society. (Image: Roey Yohai Studios)
L'Harmonie des saisons
Canadian ensemble L'Harmonie des saisons has their New York City debut in a duo concert spotlighting rarely heard music for the pardessus de viole.
Overview
Pre-registration for this event is now closed. The box office will open in the lobby beginning at 6:15 PM.
Admission: FREE for AS and YPA Members, and Hunter College students; $20 for non-members. (No additional fees will be charged when purchasing online.) $10 tickets will be available for purchase at the door for students and seniors with ID.
Not yet a member? Learn how to become a Cultural Circle member to access this event.
In their New York City debut, Canadian ensemble L'Harmonie des saisons presents a program of rarely heard eighteenth-century French music for the pardessus de viole, the crowning glory of the viola da gamba family. The duo, comprising Mélisande Corriveau and harpsichordist Eric Milnes, has been praised for the virtuosity and imagination, and the set draws from Corriveau's extensive research into the instrument's repertoire. The duo's 2016 release Pardessus de viole (ATMA Classique) was awarded the 2017 OPUS prize for Album of the Year (Medieval, Renaissance, and Baroque music) from the Conseil Québecois de la Musique.
Read a review of the album in Gramophone.
This concert is part of GEMAS, a project of Americas Society and Gotham Early Music Scene devoted to early music of the Americas.

About the artists
Mélisande Corriveau is as distinguished a performer on the baroque cello and recorder as on the viola da gamba. In 2014 she received a doctoral degree with honors from Université de Montréal in performance of pardessus de viole, becoming one of the few performers in the world specializing on the instrument. Her expertise is sought on both sides of the Atlantic, where she plays with numerous ensembles, including Les Voix Humaines viol consort, La Bande Montreal Baroque, New York Baroque, Capriccio Stravagante, and Ensemble Masques. She is artistic director of L'Harmonie des Saisons, which she founded in Québec in 2010. Corriveau has performed at numerous international festivals, and recent tours have taken her to New York, San Francisco, Vancouver, Bolivia, Belgium, The Netherlands, France, Switzerland, Spain, Great Britain, Austria, Poland, and Germany. Her discography numbers over 40 recordings for ATMA Classique, Analekta, Harmonia Mundi, Paradizo, Zig-Zag Territories, and Alpha.
Eric Milnes has received critical acclaim as conductor and keyboard artist in North and South America, Europe, and Asia, renowned as one of the most creative and dynamic early music performers of his generation. In recent seasons he conducts L'Harmonie des Saisons (of which he is co-founder), La Bande Montréal Baroque, The Seattle Baroque Orchestra, New York Baroque, The Portland Baroque Orchestra, The New York Collegium, and The Philharmonic Orchestra of Santiago, Chile. He has appeared as conductor or harpsichordist at the Utrecht Festival, The Regensburg Festival, The Potsdam Festival, The Bruge Festival, The Montreal Baroque Festival, New York's Mostly Mozart Festival, and the Boston Early Music Festival. His discography counts more than 50 recordings, and he is the director of Montréal Baroque's recordings of the complete Bach sacred cantatas for ATMA Classique, of which seven volumes have been completed. He has taught at The Juilliard School, Hofsra University, and the Conservatory of Music in Oslo, Norway.
In collaboration with: