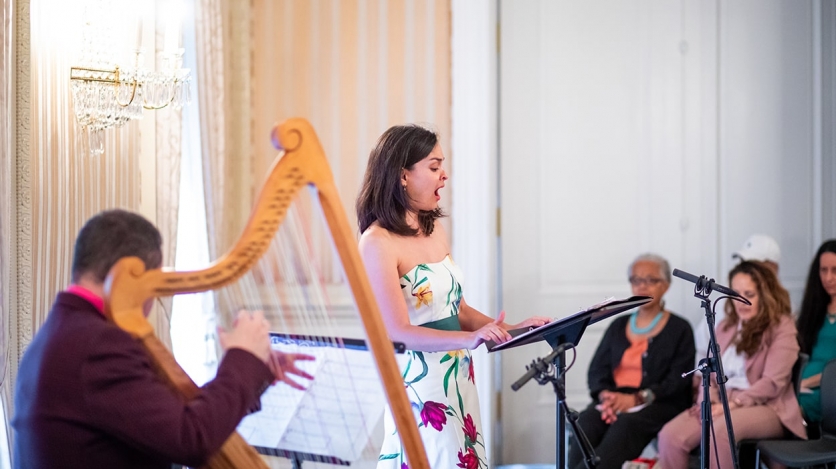 Manuel Vilas and Rocío de Frutos at Americas Society. (Image: Roey Yohai Studios)
From Latin to Quechua: Songs with Harp
Soprano Rocío de Frutos and harpist Manuel Vilas present a program on the origins of the notable hymns from Cuzco and other Quechua-speaking areas.
Overview
Admission: Free for AS and YPA members; $20 for non-members. 
For those COA members interested in this event, please email Mila Fontana to secure free tickets.
Not yet a member? Learn how to become an Americas Society member to access this event.
Soprano, Rocío de Frutos, is joined by harpist Manuel Vilas through a musical journey of ancient Peru. They explore the origin of Catholic hymns in Cuzco and other Quechua-speaking areas, beginning in the 16th century with Latin songs introduced by the Spanish, and culminating in the 19th century, with the explosion of the Catholic devotional songs in Quechua.
This concert is part of GEMAS, a project of Americas Society and Gotham Early Music Scene, devoted to early music of the Americas.

About the artists
Rocío de Frutos and Manuel Vilas have worked together in collaboration with Musica Ficta, Grande Chapelle, Al Ayre Español, and the Baroque Orchestra of Seville. The Sevillian Rocío de Frutos has developed an international career under the direction of Jordi Savall, Leonardo García Alarcón and Raúl Mallavibarrena, among others. Founder of the groups Alla Vera Spagnola and Vandalia, she has also been a Professor of music research at the University of Seville since 2009.
Manuel Vilas is the founder of Ars Atlántica and collaborates regularly with other ensembles such as Les Musiciens du Louvre, Capilla Jerónimo de Carrión, and Capela de Ministrers, Ensemble Elyma, Camerata Iberia, La Danserye, la Hispanoflamenca, la Galania, Ars Longa, La Trulla de vozes, Vandalia, National Choir of Spain, Ensemble la Chimera, and Harmonia del Parnàs.
Program
AVE MARIS STELLA-QOLLANAN MARIA
          Music and text in Latin: Codex Cathedral de La Plata
          18th century-text in Quechua: traditional hymn of Huamanga
HIMNO A MARÍA MAGDALENA
Hymn to Mary Magdalene
          Hymnal of the Cathedral de La Plata, 18th century
ZARABANDA
           Martin and Coll, Spain, 18th century
LETRA AL SANTÍSIMO-JESÚS RURACCNÍ
Letter to the Holy Jesus Ruraccni
          Traditional Quechua. Compiled by José Pacífico Jorge, 18th-19th centuries
DIOS TE SALVE MARÍA
May God save you, Mary / Hail Mary
          Diego Fernández de Huete, Spain, 17th -18th centuries
          Text in Quechua: Jerónimo de Oré, Lima, 1598
TONADA DEL CHIMO
Chimo's Tune
          Indian ritual in mochica language.
          Compiled by Baltasar Martínez Compañón, Trujillo, Peru, 18th century
OBRA DE OCTAVO TONO
Eight Tone Work
          Juan Bermudo, 1510-1565
ET IN TERRA PAX (MISSE DE BEATA VIRGINE)
Peace on Earth (Mass of the Blessed Virgin)
          Cristóbal de Morales, 1500-1553, Cuzco Cathedral
MARIONAS
          Lucas Ruiz de Ribayaz, Spain, Peru, 18th century
CONJURO O ROGATIVA PARA PEDIR AGUA
Spell or Supplication to ask for water
          Spain, 16th century
TODO EL MUNDO EN GENERAL
All the world in general
          Bernardo del Toro, 17th century. Verses of the Immaculate Conception, Sevilla-Potosí
HIMNO ADVENTUS NATIVITATES
Hymn for the arrival of birth
          Hymnal of La Plata
SACRIS SOLEMNIS
Sacred Ritual
          Gregorian Hymn
SACRIS SOLEMNIS
Sacred Ritual
          Luis Venegas de Henestrosa, Alcalá de Henares, 1557
CAPAC ETERNO DIOS
Eternal, generous God
          To the tone of the Sacred Ritual. Jerónimo de Oré, Lima, 1598
TE MATREM DEI
Mother of God
          Venegas de Henestrosa - Pablo del Prado, Lima, 1650
HANACPACHAP CUSSICUINIM
          Andahuaylillas, Cuzco, 18th century
KANAN PAKAS PURINGAYTA
I'm Leaving tonight
          Traditional love song of Jauja
TRISTE DE XORXE, CANARY ISLANDS
          Diego Fernández de Huete
IMA SUMAKK YAWARI
Blood of Jesus
          Traditional Cuzco Catholic anthem compiled by Lira and Farfán
¡QUÉ NIÑO TAL LINDO!
What a cute boy!
          Popular carol, "The Weeping child," collected in Huamanga by Juan Mayorga
*Program subject to change
In collaboration with: