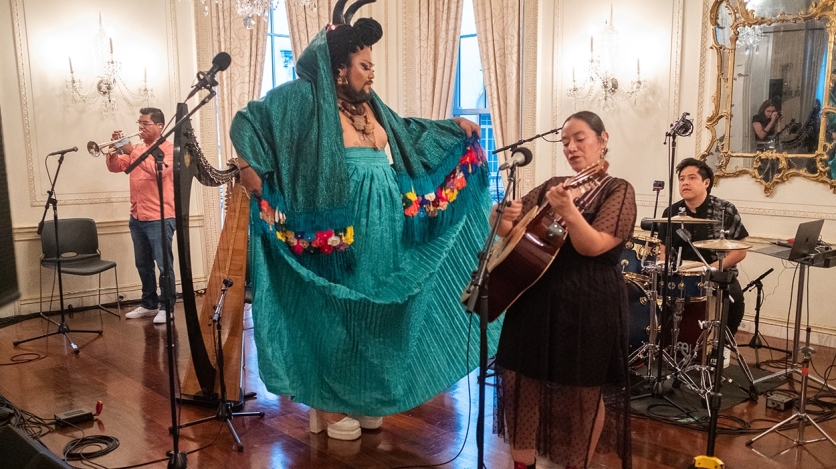 La Bruja de Texcoco at Americas Society. (Image: Roey Yohai Studios)
La Bruja de Texcoco: Music of the Americas Debut
Overview
On July 10, we will host this concert in person, and tickets are free. 
Registration is CLOSED for this event as tickets are SOLD OUT.  
Video of the concert will be released at a later date. Remember to follow us to watch this and other exciting performances. 
 
From Mexico City, La Bruja de Texcoco is in love with trans-femininity and Mexican traditions. She was born in Texcoco among rituals, armadillo shells, and the night. La Bruja De Texcoco is a performance project born from rejecting the toxic masculinity of Mexican music, creating extravagant situations full of huipiles, masks, and sequin.
La Bruja presents her Music of the Americas debut with José Carlos de la Rosa, Monica Chico, Fernando Rodríguez, and José Luis Tolentino.
Funders
The MetLife Foundation Music of the Americas concert series is made possible by the generous support of Presenting Sponsor MetLife Foundation.
The Spring 2023 Music program is also supported, in part, by the Howard Gilman Foundation, and by public funds from the New York City Department of Cultural Affairs in partnership with the City Council and from the New York State Council on the Arts with the support of the Office of the Governor and the New York State Legislature.
Additional support comes from the National Endowment for the Arts, the Association of Performing Arts Professionals' ArtsForward program, made possible through support from The Andrew W. Mellon Foundation, New Music USA's Organizational Development Fund in 2022-23, the Alice M. Ditson Fund of Columbia University, The Aaron Copland Fund for Music, and The Amphion Foundation, Inc.