7:00 p.m.

Live broadcast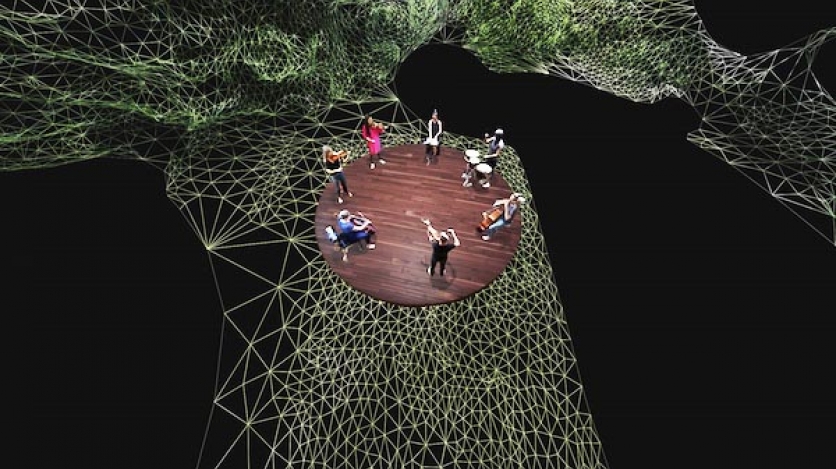 Image via Americas Society video. 
k'uKu
Music of the Americas presents k'uKu, a composition that Americas Society commissioned from Peruvian artist Pauchi Sasaki.
Overview
Admission: This event has been moved online and will be webcast on this page. No registration is required to watch. 
Enjoying our programs? Not yet a member? Learn how to become an Americas Society member to support this and our many other events.
k'uKu World Premiere and Conversation (English)
Video of k'uKu World Premiere and Conversation
with Audio Description (English)
 
k'uKu World Premiere and Conversation (Spanish)
Video of k'uKu World Premiere and Conversation
with Audio Description (Spanish)
k'uKu World Premiere
Video of k'uKu with Audio Description (English)
Video of k'uKu with Audio Description (Spanish)
Music of the Americas presents the online world premiere of k'uKu, a composition for string quintet, percussion, voice, electronics, and video, with music by Pauchi Sasaki and video by Juan Carlos Yanaura, commissioned by Americas Society. Shot during the COVID confinement in cities across the US and in Lima, the source video material is 3D scans made by the musicians with their phones in their homes and studios. These images become figures and environments that are in constant dialogue.
Commissioned by Americas Society, k'uKu ('Unripe Fruit' in Quechua) was originally conceived as a site-specific multimedia performance to take place in New York's Central Park, and became a site-specific place for the virtual space created by Sasaki and Yanaura. The online event will include a conversation between the artists and Music Director Sebastián Zubieta, and also feature Sasaki's earlier work Borealis, giving the audience a broader context to appreciate their collaboration. Performers will include members of the orchestral collective The Knights alongside percussionist Haruka Fujii and Sasaki herself on voice.
Audio description in English and Spanish provided by Art Spark Texas.
Artists
Pauchi Sasaki: composer, voice, and electronics
Juan Carlos Yanaura: video artist
Haruka Fujii: percussion
Emily Daggett Smith: violin*
Nanae Iwata: violin*
Kyle Armbrust: viola*
Jane Cords-O'Hara: cello*
Logan Coale: bass*
*Musicians from The Knights
 
About the Artists
Pauchi Sasaki
Facebook, Twitter, Instagram
Described by The Wire as an artist "unafraid of working within different disciplines and stylistic constraints" (2015), Pauchi Sasaki's interdisciplinary approach integrates musical composition with the design of multimedia performances and the application of new technologies. k'uKu represents a deepening of her artistic practice. The performance explores the early stages of the creative process – this moment when an unripe fruit begins to produce an explosion of colors and flavors.
The Knights
Facebook, Twitter, Instagram
The Knights are an orchestral collective, flexible in size and repertory, dedicated to transforming the concert experience. 
Juan Carlos Yanaura
Facebook, YouTube
Based in Peru, Juan Carlos Yanaura is a video designer for staged theater, musicals, contemporary dance, music concerts, and many other live events. His works have been seen in major houses in Peru (Ballet Nacional, Teatro Nacional) as well as prestigious festivals throughout the US (Phillip Glass Days and Nights Festival), and Europe (Rolex Arts Weekend in Berlin, Les Créatives Festival in Geneva).
Funders
The MetLife Foundation Music of the Americas concert series is made possible by the generous support of Presenting Sponsor MetLife Foundation.
The program is supported in part by the National Endowment for the Arts and by public funds from the New York City Department of Cultural Affairs, in partnership with the City Council. It is also made possible, in part, by the New York State Council on the Arts with the support of Governor Andrew M. Cuomo and the New York State Legislature, and by the Sorel Organization.