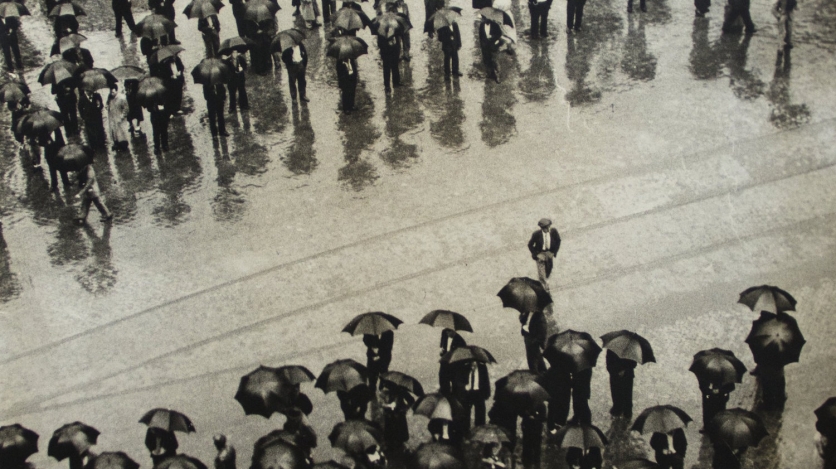 Kati Horna and Women Photographers in Exile 
Join us for a panel discussion on the work of Kati Horna and other female photographers in exile. 
Overview
This event is free and open to the public but registration is required.
New York University's Institute of Fine Arts will cohost a panel discussion with Americas Society on Kati Horna's photographic practice and the work of other female photographers from the perspective of mobility and exile. Edward J. Sullivan, Helen Gould Sheppard Professor in the History of Art, Institute of Fine Arts and College of Arts and Sciences, will moderate this panel with presentations by: Jennifer Josten, assistant professor of modern and contemporary art in the History of Art and Architecture Department at the University of Pittsburgh; Christina L. De León, independent curator and PhD candidate at Bard Graduate Center; Jordana Mendelson, associate professor in the Spanish and Portuguese Department, New York University; Michel Otayek, art historian and PhD candidate at New York University's Spanish and Portuguese Department.
Jennifer Josten is assistant professor of modern and contemporary art in the History of Art and Architecture Department at the University of Pittsburgh. Her research on art and architecture in Mexico since the 1940s has been supported by fellowships from the Getty Research Institute and the Fulbright-Hays Program, and has been included in recent publications such as El retorno de la serpiente: Mathias Goeritz y la invención de la Arquitectura emocional (Museo Nacional Centro de Arte Reina Sofía) and Desafío a la estabilidad: Procesos artísticos en México, 1952–1967 (Museo Universitario de Arte Contemporáneo, UNAM).
Christina L. De León is a doctoral candidate at the Bard Graduate Center: Decorative Arts, Design History, Material Culture. From 2010 to 2016 she was the associate curator at Americas Society where she worked on modern and contemporary art exhibitions and publications. She co-curated the shows For Rent: Marc Latamie (2012), Cristóbal Lehyt: Iris Sheets (2013), and Told and Untold: The Photo Stories of Kati Horna in the Illustrated Press (2016). She contributed to the catalogue Moderno: Design for Living in Brazil, Mexico, and Venezuela 1940–1978 and has written articles for Review and Americas Quarterly periodicals. De León held previous positions at the Metropolitan Museum of Art and the Cloisters Museum and Gardens. She holds an M.A. from New York University and a B.A. from Hobart and William Smith Colleges.
Jordana Mendelson is an associate professor in the department of Spanish and Portuguese at New York University. She is the author of essays on Spanish modern art, photography, and the illustrated press and curator or co-curator of several exhibitions including: Margaret Michaelis: Photography, Vanguard and Politics in Republican Barcelona (1998), Magazines and War 1936–1939 (2007), Other Weapons: Photography and Print Culture during the Spanish Civil War (2008), and Encounters with the 1930s (2012). She is the author of Documenting Spain: Artists, Exhibition Culture, and the Modern Nation 1929–1939 (2005) and co-editor of Postcards: Ephemeral Histories of Modernity (2010).
Michel Otayek is an art historian and doctoral candidate at New York University's Department of Spanish and Portuguese. He holds a degree in Law from the Universidad Católica Andrés Bello in Caracas, and an M.A. in art history from Hunter College in New York. Otayek's research addresses the role of practices of visual culture, including photography, in the articulation of discourse. His work is particularly concerned with collaboratively produced cultural artifacts such as illustrated periodicals and photobooks. Currently in progress, Mr. Otayek's dissertation undertakes a comparative analysis of the work in exile of photographers Kati Horna in Mexico and Grete Stern in Argentina. As part of his interest in foreign female photographers active in Latin America during the postwar period, he is also at work in research projects pertaining the work of Bárbara Brändli and Thea Segall in Venezuela.
This event is cosponsored by The Institute of Fine Arts and The Institute for Studies on Latin American Art (ISLAA). Free admission.
Learn more about the exhibition of Kati Horna's work.
Follow the discussion on Twitter: #ToldUntold | @ASCOA
Event Information: Veronica Flom | vflom@as-coa.org | 1-212-277-8367
Press Inquiries: Adriana La Rotta | mediarelations@as-coa.org | 1-212-277-8384
---
Image: Kati Horna, Rally at Via Durruti, Barcelona, Gelatin silver print, 1937. Private collection, Mexico City. © 2005 Ana María Norah Horna y Fernández.
In partnership with: