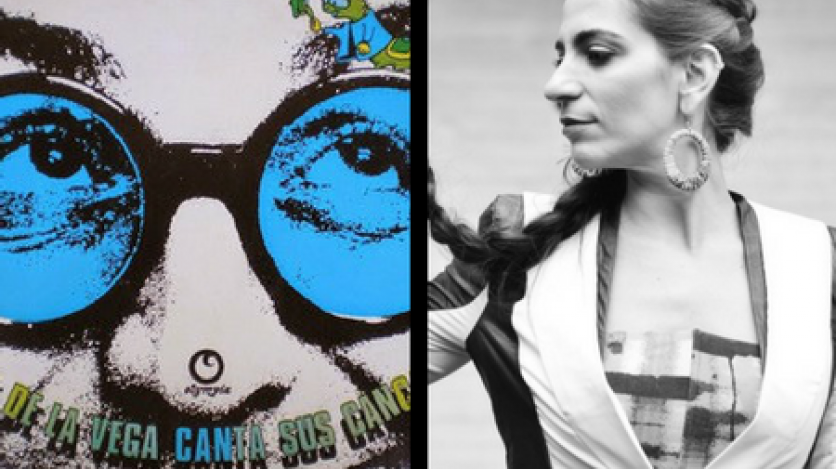 Jorge de la Vega album cover; Sofia Rei (courtesy of the artist).
Jorge de la Vega: El Gusanito en persona
Argentine vocalist Sofía Rei and Colombian-Venezuelan guitarist Juancho Herrera team up to celebrate iconic Argentine "Nueva Figuración" artist Jorge de la Vega's original music.
Overview
Pre-registration for this event is now closed. Box office will open at 6:15 PM in the lobby of the building.
Admission: FREE for AS and YPA Members, and Hunter College students; $20 for non-members. (No additional fees will be charged when purchasing online.) $10 tickets will be available for purchase at the door for students and seniors with ID.
Not yet a member? Learn how to become a Cultural Circle member to access this event.
Argentine vocalist Sofía Rei and Colombian-Venezuelan guitarist Juancho Herrera team up to celebrate iconic Argentine artist Jorge de la Vega's original music. De la Vega (1930–1971), a legendary visual artist, composer, and graphic designer, was active in the Nueva Figuración art movement and lived in Paris and New York before returning to Buenos Aires in 1968. His witty and melancholic songs—all from a single album, El Gusanito en persona (Olympia, 1968)—achieved cult status in Argentina.
With Sofia Rei, vocals and charango; Juancho Herrera, guitar and vocals; Bambam Rodriguez, bass; and Franco Pinna, percussion.
Jorge de la Vega, "Proximidad" from El Gusanito en persona (1968).
About Jorge de la Vega
Jorge de la Vega (1930–1971) was an Argentine painter, graphic artist, draftsman, singer, and songwriter. De la Vega studied architecture in Buenos Aires for six years, and then became a self-taught painter. From 1961 to 1965 he was a member of the art movement called Nueva Figuración, during which he became a member of the Otra Figuración group. In the final years of his career and life, he wrote and sang popular protest songs that expressed his humorous view of the world. In addition to museums in Argentina, his works hang in the Phoenix Art Museum, the Museu de Arte Moderna do Rio de Janeiro, and the Art Museum of the Americas at the Organization of American States in Washington, DC.
About the performers
Award-winning Argentine vocalist, songwriter, and arranger Sofía Rei draws from multiple musical sources, from South American folkloric styles to jazz, contemporary music and electronic sounds. She has collaborated with such artists as John Zorn, Maria Schneider, Bobby McFerrin, the Klezmatics, Myra Melford, Pedrito Martinez, Lionel Loueke, Guillermo Klein, and Geoffrey Keezer. She is on faculty at Berklee College of Music and New England Conservatory. Rei's third album, De Tierra Y Oro, received two independent Music Awards in the World Beat category for Best Album and Best Song in 2013. Her latest album, El Gavilán (April 2017), is a tribute to South American folklore icon Violeta Parra, recorded in duo with eclectic and adventurous guitarist Marc Ribot, with guest musician Angel Parra, Violeta's grandson. Rei's work has been featured on CNN, NPR's Tiny Desk, WNYC's Soundcheck, The New York Times, and many more.
Guitarist, vocalist, and songwriter Juancho Herrera has carved a name for himself in the New York Latin and world music scenes. Drawing from his South American roots and the influence of jazz and blues, Herrera has created an extensive repertoire of original songs and unique renditions of Latin American music. Born in Colombia and raised in Venezuela, Herrera graduated from Boston's Berklee College of Music in 1997 and established himself in New York over the next few years. Herrera has been an essential collaborator with some of the era's definitive voices in jazz and world music, including Chilean vocalist Claudia Acuña, Colombian singer/songwriter Marta Gomez, Oaxacan-American vocalist Lila Downs, and Rei. He has performed and recorded with such luminaries as Mercedes Sosa, The Chieftains, Branford Marsalis, Ryuichi Sakamoto, Alejandro Sanz, Idan Raichel, and Johnny Pacheco.