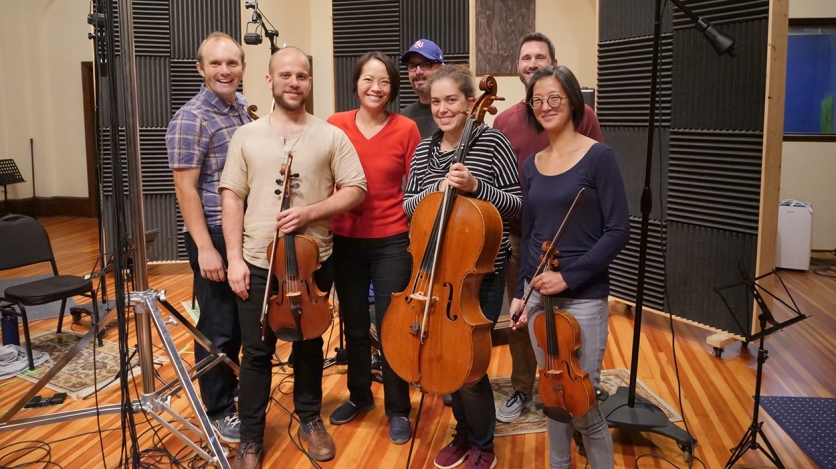 Jasper String Quartet, Vivian Fung, and the recording team in the studio. (Image courtesy of the artist)
Jasper Quartet: "Insects and Machines," Music by Vivian Fung
The extraordinary quartet launches its latest album with music by the Canadian composer. 
Overview
On October 16, we will host this concert in person, and tickets are free. 

Registration for this concert has been CLOSED but walk-ins are welcome as seats may still be available.

Video of the concert will be released at a later date. Remember to follow us to watch this and other exciting performances. 
JUNO Award-winning composer Vivian Fung is renowned for her virtuosic and arresting compositions. The Jasper String Quartet released an album of Fung's string quartets this fall, spanning her career. The first quartet was completed in 2003, shortly after Fung completed her doctoral degree at the Juilliard School, and the fourth was completed in 2019. Though there is a clear compositional evolution in Fung's four quartets, her fearlessness and mastery of string writing are on display in each work. The four string quartets together in one program showcase a totality of her experiences, from mystery and anguish to unbridled and wild joy.
Celebrating its seventeenth anniversary in 2023, the Jasper String Quartet is recognized as one of the leading American string quartets on the performance stage today. A recipient of Chamber Music America's prestigious Cleveland Quartet Award, the Jasper String Quartet has been hailed as "sonically delightful and expressively compelling." Gramophone described the Jasper String Quartet as "flawless in ensemble and intonation, expressively assured and beautifully balanced." The New York Times named their album Unbound as one of the 25 Best Classical Recordings of 2017. The Jasper String Quartet is the Professional Quartet-in-Residence at Temple University's Center for Gifted Young Musicians. In addition, the Jasper String Quartet is the Founder and Artistic Director of Jasper Chamber Concerts. The Jasper String Quartet is committed to celebrating the diverse array of compositional voices writing for string quartet in every program.
Program: 
Vivian Fung (b. 1975): String Quartet No. 1 
I. Animato 
Alfred Schnittke (1934-1998): String Quartet No. 3 
I. Andante 
Fung: String Quartet No. 2 
I. Introduction 
II. Of the Wind 
III. Of Birds and Insects 
Fung: Excerpt from Songs for the Next Generation (new commission) 
Béla Barók (1881-1945): String Quartet No. 5 
I. Allegro 
Fung: String Quartet No. 4, Insects and Machines 
Jasper String Quartet 
J Freivogel and Karen Kim, violins
Andrew Gonzalez, viola
Rachel Henderson Freivogel, cello
 
About the Program
Vivian Fung has long been a friend and admired composer of the Jasper String Quartet. The Quartet first performed one of her works in 2019, and we were immediately captivated by the visceral energy and impeccable craft of her writing. Vivian's String Quartets Nos. 1–4 span eighteen years of her career and reflect a remarkable journey of absorbing, integrating, and synthesizing a unique spectrum of influences into her compositional voice. Unwavering in all of the works is a fierce heart, instrumental fearlessness, and an amazing instinct for texture. We are incredibly grateful to have recorded these works with Vivian in the studio and for the growth we experienced in the process. – Jasper String Quartet 
This album is a testimonial to my lifelong adoration of strings, dating back to my beginning cello studies as a middle school student. My cello teacher introduced me to a wide-ranging repertoire and opened up my sonic world with the sound of string quartets, concerti, and Baroque instruments. The string quartet format, in particular, has gripped my imagination since writing Pizzicato, which I originally wrote as a standalone work and later incorporated as the third movement of String Quartet No. 1 and continues to be one of my most performed pieces. Many thanks to the Jasper String Quartet for their dedication to this CD project; to my husband, son, and parents for their support; and to everyone at Sono Luminus for producing this wonderful album. – Vivian Fung
Funders
The MetLife Foundation Music of the Americas concert series is made possible by the generous support of Presenting Sponsor MetLife Foundation. 
The Fall 2023 Music program is also supported, in part, by the Howard Gilman Foundation, by public funds from the New York City Department of Cultural Affairs in partnership with the City Council, by the New York State Council on the Arts with the support of the Office of the Governor and the New York State Legislature, and by The Fan Fox and Leslie R. Samuels Foundation.
Additional support for this concert comes from the Alice M. Ditson Fund of Columbia University.