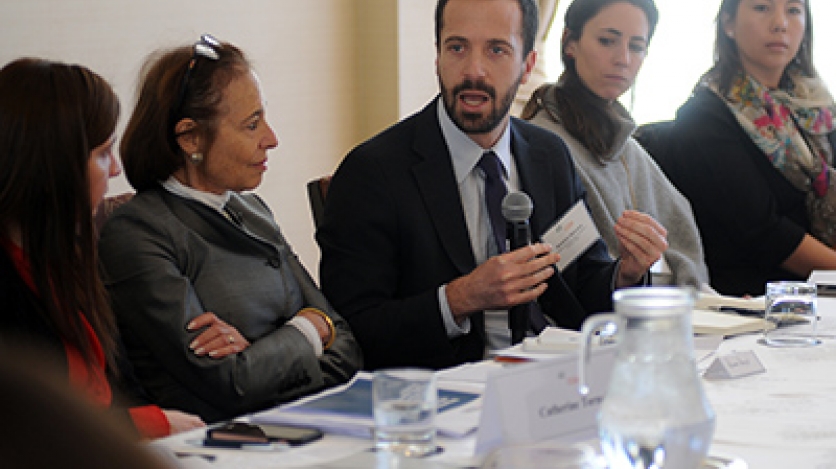 Image: courtesy of the artists.
Ithaca College Contemporary Ensemble
Americas Society will host a concert by the Ithaca College Contemporary Ensemble.
Overview
Americas Society will host a concert by the Ithaca College Contemporary Ensemble (ICCE).
Registration for this event is now closed. Tickets will be available for purchase at the door beginning at 6:15 PM.
Program:
Lukas Foss - Thirteen Ways of Looking at a Blackbird
Celso Garrido Lecca (Peru) - Trio para un nuevo tiempo 
Sang Mi Ahn - Convergence
Jorge Villavicencio Grossmann (Peru) - Whistling Vessels
Gordon Stout - Rumble Strips
Mario Davidovsky (Argentina) - Synchronisms 1
Ensemble
Ithaca College Contemporary Ensemble:
Jorge Villavicencio Grossman, conductor
Wendy Mehne, flute
Jessica Peltz, flute*
Paige Morgan, oboe, English horn
Laura Hill, clarinet*
Steven Mauk, alto sax
Keegan Sheehy, percussion*
William Alderman, percussion*
Nathan Hess, piano
Carolyn Grossmann, piano
Patrice Pastore, soprano
Emily Fredrick, violin
Eric Perreault, cello*
Susan Waterbury, violin**
Elizabeth Simkin, cello**
Jennifer Hayghe, piano**
* Ithaca College student
** members of the Sheherazade Trio
About the ensemble
Comprised of both faculty and students, the Ensemble focuses on music of our time as well as classics of the twentieth century. Currently under the direction of Jorge Grossmann and Jeffery Meyer, ICCE provides a uniquely formative and intense performance experience for Ithaca College students. The ensemble performs two concerts a year; its programs also include music by Ithaca College composition faculty and students, alumni, and guest composers. The 2013-14 season will focus on Latin American music and will feature chamber works by composers Carlos Sánchez-Gutiérrez and Ricardo Zohn-Muldoon (Karel Husa Visiting Professors of Composition).
In past seasons, ICCE has performed works such as Schoenberg's Pierrot Lunaire and Five Pieces for Orchestra (chamber version); Ligeti's Chamber Concerto, as well as works by Elliott Carter, Lukas Foss, Pierre Boulez, Sophia Gubaidulina, Karel Husa, Steven Stucky, among others. In 2008, ICCE—previously known as "Kulmusik"—performed at the 20th International New Music Festival "Sound Ways" in St. Petersburg, Russia. The concert took place at Glinka Hall of the Philharmonic, one of St. Petersburg's most beautiful and prestigious halls.