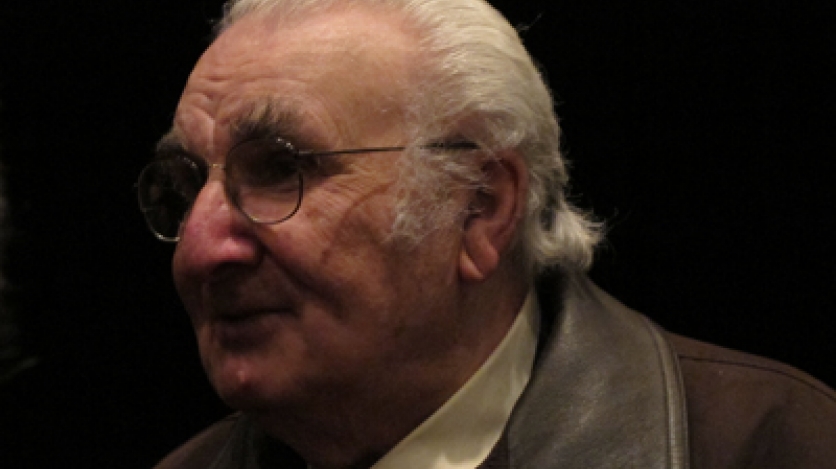 (Image: Courtesy James Primosch)
International Contemporary Ensemble: Mario Davidovsky
The International Contemporary Ensemble will celebrate the music of Argentine composer Mario Davidovsky.
Overview
Pre-registration for this event is now closed. The box office will open at 6:15 PM.
Admission: FREE for AS and YPA Members; $20 for non-members. No additional fees will be charged when purchasing online. $10 tickets will be available for purchase at the door for students with ID. YPA members who wish to register for this event should email Martha Cargo at mcargo@as-coa.org.
Not yet an AS Member? Join NOW!
International Contemporary Ensemble (ICE) returns to Music of the Americas in a performance celebrating the chamber music of Argentine composer Mario Davidovsky, including the world premiere of Divertimento for 8: Ambiguous Symmetries, commissioned by Americas Society. 
Program
| | |
| --- | --- |
| Chacona | Miranda Cuckson, Michael Nicolas, Cory Smythe |
| Romancero | Tony Arnold, soprano |
| Synchronisms no. 9 | David Bowlin, violin |
| Divertimento for 8 "Ambiguous Symmetries"*  | World premiere, Americas Society commission |
*
The commission of this new piece by Mario Davidovsky has been made possible by the Chamber Music America Classical Commissioning Program, with generous funding provided by The Andrew W. Mellon Foundation, and the Chamber Music America Endowment Fund.
Personnel
| | |
| --- | --- |
| Alice Teyssier | flute |
| Campbell MacDonald | clarinet |
| David Bowlin, Erik Carlson, Miranda Cuckson | violin/viola |
| Michael Nicolas | cello |
| Randall Zigler | bass |
| Cory Smythe | piano |
| Nathan Davis | percussion |
| Tony Arnold | soprano |
| David Fulmer | conductor |
ICE performs Davidovsky's Festino with Dan Lippel, guitar soloist.
About the composer
Mario Davidovsky (b. 1934, Medanos, Buenos Aires, Argentina) began his composition studies with Guillermo Graetzer, and in 1958 was invited to participate in the summer session at Tanglewood, where he studied with Aaron Copland. His interest in electronic music—a fringe field of new music at the time—was encouraged by Milton Babbitt, a faculty member at Tanglewood that year, and he joined the Columbia-Princeton Music Center in 1959, later becoming the Center's director. Davidovsky is widely recognized for his seminal contributions to electroacoustic composition. His Synchronism no. 6, for piano and tape, won the Pulitzer Prize in 1971. He has received commissions from the Philadelphia Orchestra, the San Francisco Symphony, Orpheus Chamber Orchestra, the Juilliard and Emerson String Quartets, NYNME, and Chamber Society of Lincoln Center, to name a few. His awards include Guggenheim and Rockefeller Fellowships, the Naumburg Award, and the Kaske Prize (Germany). Davidovsky is the Fanny P. Mason Professor Emeritus at Harvard University, former MacDowell Professor of Music at Columbia, and director of the Composers Conference and Chamber Music Center at Wellesley College. He is a member of the American Academy of Arts and Letters, the American Academy of Arts and Sciences, and the Academia Nacional de Bellas Artes (Argentina). His music has been recorded on Columbia Records, CRI, New World, Wergo, Nonesurch, Bridge, and Albany, and his works have been published by C.F. Peters, E.B. Marks, and McGinnes & Marx. Ensemble Nunc recently profiled Davidovsky at 80 at the Teatro Colón (Argentina).
About the ensemble
With a flexible roster of 33 leading instrumentalists performing in forces ranging from solos to large ensembles, the International Contemporary Ensemble (ICE) functions as performer, presenter, and educator, advancing the music of our time by developing innovative new works and pursuing groundbreaking strategies for audience engagement. In an era of radical change, ICE redefines concert music as it brings together new work and new listeners.
Since its founding in 2001, ICE has premiered over 500 compositions, the bulk of them by emerging composers, in venues ranging from New York's Lincoln Center and Chicago's Museum of Contemporary Art to galleries, bars, clubs, and schools around the world. The ensemble has released acclaimed albums on the Bridge, Naxos, Tzadik, and New Focus labels, with forthcoming releases on Nonesuch, Kairos, and Mode.