Registration: 9:00 a.m. to 9:30 a.m. 
Panel and Discussion: 9:30 a.m. to 11...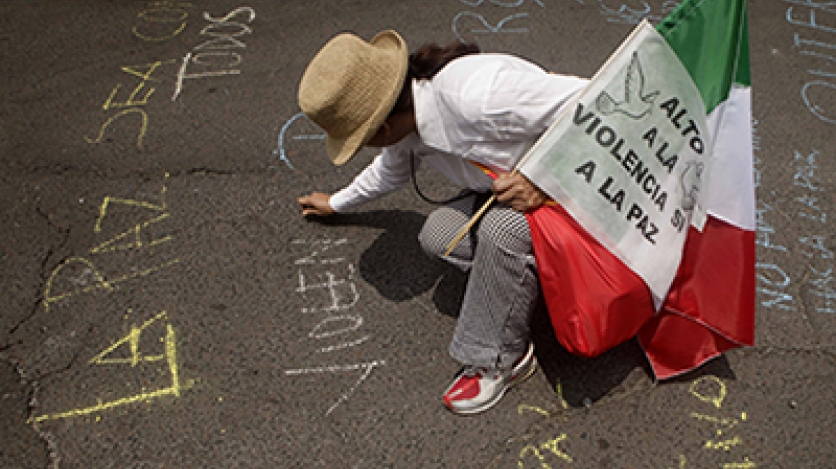 (AP)
How to Reduce Homicide in Mexico: Lessons from around Latin America
This August 9 event will convene local and international experts to discuss practical solutions for violence reduction.
Overview
After a record 29,000 murders in 2017, President-elect Andrés Manuel López Obrador has a historic opportunity to reduce violence in Mexico when he takes office in December. How best to do it? Experiences elsewhere in Latin America show progress is possible, and that the private sector and civil society must also play a role. Join Americas Quarterly in Mexico City as we convene local and international experts to discuss practical solutions.
This event will be in Spanish.
Registration: This event is complimentary for all registrants.
Prior registration is required.
El 2017 vio un récord de muertes violentas en México con más de 29 mil homicidios. Ahora, el presidente electo Andrés Manuel López Obrador tiene una oportunidad histórica para reducir la violencia en el país. ¿Cuál es la mejor forma de hacerlo? Otras experiencias en Latinoamérica han demostrado que el progreso es posible y que tanto el sector privado como la sociedad civil deben participar. Únase a la convocatoria de expertos locales e internacionales que Americas Quarterly celebrará en la Ciudad de México donde se llevará a cabo una conversación acerca del grave problema que enfrenta dicho país y las estrategias viables que podrían ayudar a resolverlo.
Este evento se llevará a cabo en español.
Registro: Este evento es complementario.
Se requiere registro previo.
Speakers:
Lisa Sánchez, Director General, México Unido Contra la Delincuencia @lismarybaby
Renato Roseno de Oliveira, State Congressman, Ceará, Brazil @renatoroseno
Manuel Cardona Zapata, ANTAD
Alejandro Gertz Manero, Consejo Asesor para garantizar la Paz 
Brian Winter, Editor-in-Chief of Americas Quarterly; Vice President of Policy at AS/COA @BrazilBrian
Karla Zabludovsky, Mexico bureau chief and Latin America correspondent, BuzzFeed News (moderator) @karlazabs
Event Information: Leani García Torres | lgarcia@as-coa.org | 1-212-277-8380
Sponsorship Opportunities: Sarah Bons | sbons@as-coa.org | 1-212-277-8392
Press: mediarelations@as-coa.org
Cancellation: Please contact Jennifer Javier at jjavier@as-coa.org  before 3:00 p.m. on Wednesday, August 8.