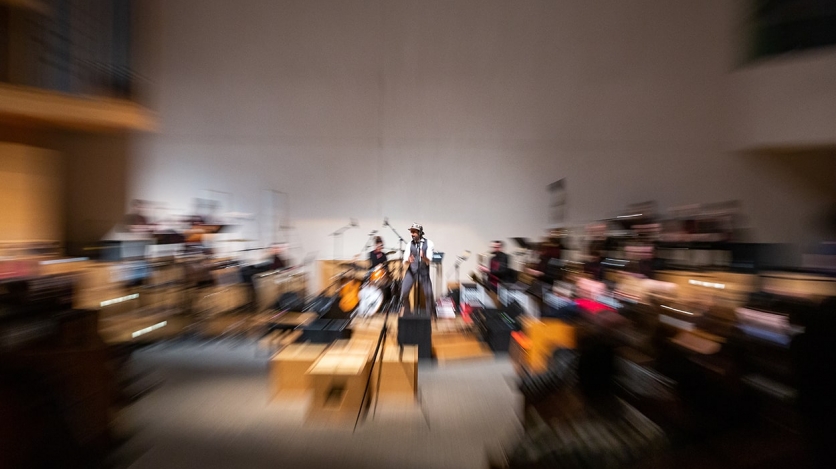 Gregorio Uribe Big Band (Image: Roey Yohai Studios)
Gregorio Uribe Big Band: Nueva York
Gregorio Uribe Big Band will highlight the work of Latin American musicians living in New York.
Overview
Pre-registration is now closed. Tickets will be available at the door beginning at 6:15 PM.
Admission: FREE for AS Members and YPA Members. $20 suggested donation. For those COA members interested in this event, please email Mila Fontana to secure free tickets (View a list of corporate members).
Not a member yet? Learn how to become an Americas Society member to access this event.
Gregorio Uribe Big Band is a New York-based 16-piece orchestra that blends cumbia and other Colombian rhythms with a powerful big-band sound. Highlighting Latin American musicians and contributions in the US in a program entitled "Nueva York," the band is joined by special guests Paquito D'Rivera, Jorge Glem, Magos Herrera, JP Jofre, Solange Prat, and George Saenz in Uribe's own compositions, as well as new arrangements of works by Latin American immigrant composers.
This event is part of Carnegie Hall's Migrations: The Making of America festival.  
About the artists:
An established singer, songwriter, accordionist, and big band leader, Gregorio Uribe was born in Bogotá, Colombia, and is currently based in New York City. Emerging as a graduate from the Berklee College of Music in Boston, Uribe has made a name for himself in the Latin music scene of both New York City and Boston. Uribe released Cumbia Universal (Zoho Music) featuring Latin music icon Rubén Blades in October 2015. Upon its release the debut album for the big band hit the Billboard charts and received widespread critical acclaim with performances at Jazz at Lincoln Center in New York, Villa Victoria Center for the Arts in Boston, and Teatro Colón in Bogotá. Uribe has been a guest artist with Carlos Vives on several occasions, most recently at Madison Square Garden Theater in New York. He was also named by the government of Colombia as one of the 100 Most Successful Colombians Abroad. He has been an artist-in-residence at Dartmouth College and a commissioned composer for Arturo O'Farrill and The Afro Latin Jazz Orchestra.
In collaboration with:
Funders