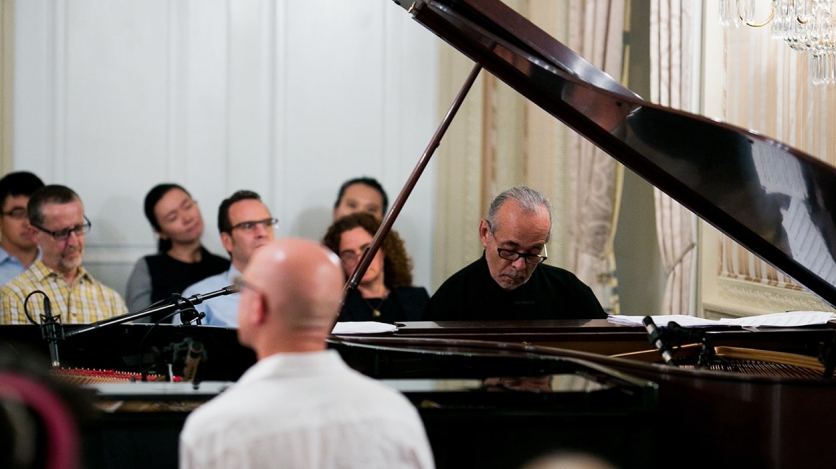 Cliff Korman and Gilson Peranzzetta at Americas Society. (Image: Roey Yohai Studios)
Gilson Peranzzetta and Cliff Korman: Duo
In collaboration with Savassi Festival NY, Music of the Americas presents pianists Gilson Peranzzetta and Cliff Korman in a rare duo setting. 
Overview
Pre-registration for this event is now closed. Box office will open beginning at 6:15 PM.
Not yet a member? Learn how to become an AS member or a YPA member to access this event.
Music of the Americas presents Brazilian pianist and Grammy Award-winning arranger Gilson Peranzzetta alongside Cliff Korman, who has devoted his career to Brazilian jazz, as part of the 2015 Savassi Festival NY.
About the artists
One of the most requested contemporary arrangers and pianists of Música Popular Brasileira (MPB), Gilson Peranzzetta had classical training from a young age and was heavily influenced by jazz and Brazilian instrumental music. As a composer, he has had his songs recorded by such renowned artists as Djavan, Edu Lobo, Leny Andrade, Sarah Vaughan, George Benson, Dianne Schurr, Quincy Jones, Toots Thielemans, and Shirley Horn, among many others. He has toured throughout the United States, Europe, and Japan. His most significant classical compositions include the suites Miragem (for piano and orchestra) and Metamorfose (for piano and string quartet). In the '60s, Peranzzetta was a member of the ensemble Samba Jazz and performed frequently with Taiguara. He toured Europe with Central do Brasil, and was Ivan Lins' arranger and pianist for several years. His longtime collaboration with guitarist Sebastião Tapajós culminated in the critically acclaimed album Afinidades.
Cliff Korman is a pianist, arranger, composer, producer, and educator whose 20 years of immersion in the musical universe of Brazil shed a different light on the way he looks at American jazz. He toured with vocalist Astrud Gilberto from 1989 to 1994, and participated in "Tribute to Antonio Carlos Jobim" at Carnegie Hall under the direction of Cesar Camargo Mariano and a two-piano production with Wagner Tiso and Milton Nascimento at the International Festival of MPB (São Paulo). His recording Migrations (Planet Arts, 2004) documents the mark Brazil has made on his compositions and improvisational language. His collaborative record Mood Ingênuo: The Dream of Pixinguinha and Duke Ellington (Jazzheads, 1999) with Paulo Moura represents one of the first cross-cultural explorations of jazz and choro. Their subsequent 2000 recording Gafieira Dance Brasil pays homage to the dance roots of the instrumental and improvisational tradition of Brazilian music.
In collaboration with: