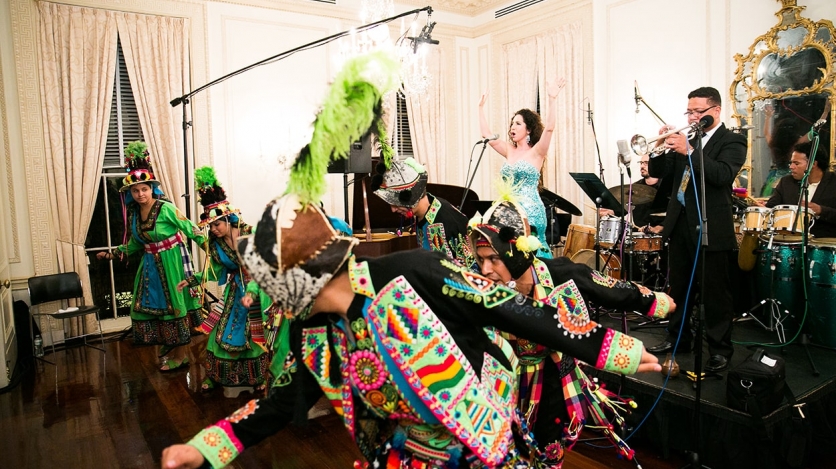 Gian-Carla Tisera at Americas Society. (Image: Roey Yohai Studios)
Gian-Carla Tisera: Nora la Bella
Music of the Americas presents New York-based Bolivian soprano Gian-Carla Tisera celebrating the release of her debut solo album Nora la Bella
Overview
Registration for this event is now closed. AS or YPA Members who wish to register for tonight's event should call Felipe Marin in Membership at (212) 277-8342. The box office will open at 6:15 PM for non-members and students.
Admission: FREE for AS and YPA Members; $20 for non-members. No additional fees will be charged when purchasing online. $10 student tickets will be available for purchase at the door with ID. 
Not yet a member? Join NOW! For more information on YPA Membership, click here.
Music of the Americas presents New York-based Bolivian soprano Gian-Carla Tisera in a performance celebrating the release of her debut solo album Nora la Bella​.
As a Bolivian-American artist trained in the opera and theater world, Tisera's subversive musical prowess is the result of two worlds colliding to create a powerful, dynamic, and groundbreaking fusion of opera, Bolivian folk music, and Latin jazz. "Son Montuno" embraces operatic Verdi melodies, Bolivian, and Latin American songs, which explode with symphonic passion and spoken word and are embraced in a fury of sounds and textures. Tisera's debut album Nora la Bella is a ravishing musical feat in which she is joined by twice Grammy-nominated Elio Villafranca as her co-producer and by some of the best talent in the Latin jazz industry. All About Jazz's Geannine Reid describes Nora la Bella as "a striking musical journey worth taking" - read the complete review. Read a recent feature in Los Tiempos (in Spanish) and a feature on the Latin Jazz Network (Canada).
This event is part of "The Americas in New York" series.
Read more in the printed program (PDF).
The ensemble
Gian-Carla Tisera, vocals
Elio Villafranca, piano
Franco Pinna, drums
Carlos Mena, bass
Reinaldo de Jesús, percussion
Manuel Junior Romero, trumpet
Members of Fraternidad Cultural Incallajta New York, dancers
Members of Fraternidad Folclórica Cultural Caporales, Universitarios de San Simón Bloque New York, dancers
About Gian-Carla Tisera
Hailed by TimeOFF magazine as "a performer with stunning power and warmth," Gian-Carla Tisera has performed as a soloist in many of the world's greatest concert halls, including London's Wigmore Hall, the Amsterdam Concertgebouw, the Vienna Konzerthaus, LA's Walt Disney Concert Hall, and New York's Carnegie Hall. She has become a vanguardist singer, producer and performer, as well as a creator of progressive projects and collaborations. She currently lives and performs in New York City, where her collaborations have allowed her to pursue innovative approaches to operatic singing and performance. In 2012, Tisera recorded her debut album, which was co-produced by Grammy-nominated Steinway jazz pianist and composer Elio Villafranca. The album features her arrangements of opera arias and Latin American songs, spotlighting her fusion of operatic vocal training and virtuosic jazz improvisations.
Born to a Bolivian mother and Italo-Argentine father, she was raised in Cochabamba, Bolivia, where as a child she studied at El Instituto de Educación Integral y Formación Musical "Eduardo Laredo." She later relocated to Los Angeles, where she completed her Masters in Opera Performance at University of Southern California. As a classical singer, she has performed with the LA Philharmonic, the Orquesta Sinfonica Nacional de Bolivia, the Pasadena Symphony, and the acclaimed British early music ensemble Florilegium, among others.
In 2004 she recorded Bolivian Baroque with Florilegium under the Dutch label Channel Classics, which won the Editor's Choice Award, the People's Choice Award, and the Early Music Award (Europe). Tisera was one of four Bolivian singers featured on this ground-breaking album, and subsequently performed on its world tours at many major concert halls. Of her performance at the Edinburgh International Music Festival (2010), Scotsman.com raved: "Gian-Carla [sung] with thrilling yet superbly refined emotion."
Through her music, Tisera strives to challenge the perceptions that delineate artists, communities, and countries with a larger vision of the equal and beautiful musical language of all people.