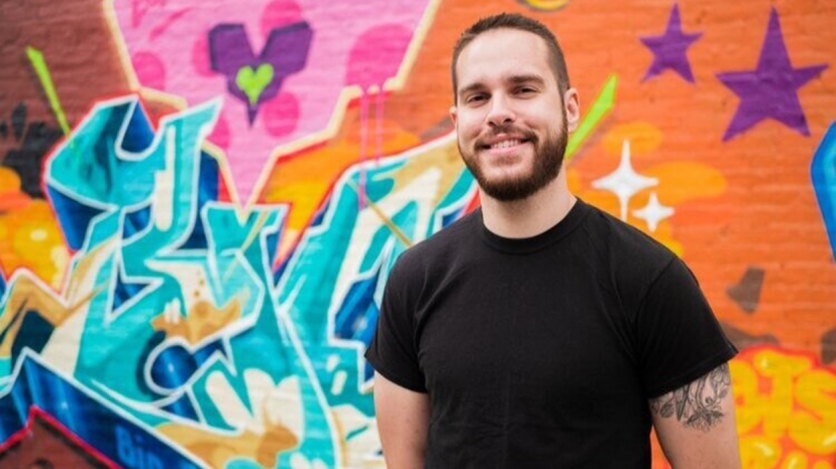 Gabriel Bouche Caro. (Image courtesy of the artist)
Gabriel Bouche Caro: Que tus ojos no se cansen de brillar
We premiere a new vocal chamber piece by the Puerto Rican composer, commissioned by Americas Society.
Overview
On December 9, we will host this concert in person, and tickets are free. Please register here to reserve your seat. 
Video of the concert will be released at a later date. Remember to follow us to watch this and other exciting performances. 
This concert features a new vocal/instrumental piece commissioned by Americas Society from Gabriel Bouche Caro. 
Program
Gabriel Bouche Caro
Que tus ojos no se cansen de brillar
for soprano, clarinet, sax, electric guitar, violin, viola, and cello
Musicians
Aliana de la Guardia, soprano
Gleb Kanasevich, clarinet
Thomas Giles, sax
Jay Sorce, guitar
Marina Kifferstein, violin
Carrie Frey, viola
Jessica Tsang, percussion
Program Notes
Que tus ojos no  se cansen de brillar
Puerto Rican composer Gabriel Bouche Caro composed a new song cycle for clarinet, violin, flute, cello, percussion, piano, and voice (soprano). In the words of the composer, "this song cycle, featuring texts by Giannina Braschi (selected by the composer) and other Puerto Rican authors (selected by Braschi), will focus on the idea of "puertorriqueñidad" (what makes one Puerto Rican) and identity in exile.
The composer writes about the piece:
"The evening-long work aims to explore the idea of a non-traditional sound world to represent the issue of identity. The style of the music is, at its core, influenced by traditional Puerto Rican music, but it purposefully does not portray these elements clearly. It includes tonal and atonal elements, a variety of textures, and a rich rhythmic structure. The idea behind my work is to represent the wide cultural variety that exists inside the Puerto Rican and Caribbean experience. In this project, it will be evident because of the sonic qualities of the work and also through the variety of styles in text. The text will deal with themes of the history of Puerto Rico, such as colonialism, exile, the beauty of and love for the island, and individual struggle. In the field of "art music" from Puerto Rico, there are not many (if any) evening-long vocal works (excluding opera) that deal with the issue of identity through the lens of colonialism and exile, especially not ones that venture outside the tonal language and evident folk styles. I want to not only expand the vocal repertoire but to broaden the artistic representation of my generation, who has been faced with the culmination of more than half a millennium of colonialism and oppression—to speak for myself and a generation that has felt excluded, abandoned, and even forcibly ousted and to make something that can give back to where we I come from. This piece is an extension of my desire to become more connected with my home and wanting to highlight the issues we face to an audience that may be familiar with them at a base level but has probably never really listened to those that suffer through it. My collaboration with Braschi is also an ongoing one that has allowed me to see some of my ideas about identity clearly represented in text. This has led to a series of compositions (both vocal and instrumental) based on her work."
Born in Puerto Rico, Gabriel Bouche Caro is based in New York City, where he is a PhD candidate at the CUNY Graduate Center. Gabriel explores concepts and perceptions of personal and musical identity through language and the experience of life as part of a colonized people and society. Identity, authenticity in a non-native environment, and foreignness are all tints that color the artistic conception and eventual discourse that is communicated in his work. His music has been performed in North America, South America, the Caribbean, Europe, and Asia. Gabriel's music has been featured in the Havana Contemporary Music festival, sound SCAPE, and New Music on the Point festivals. He has been commissioned by the Baltimore Classical Guitar Society, the Canva sounds Collective, and the Massachusetts International Festival of the Arts. He has also written music for the renowned soprano Ah Young Hong. His music has been performed by various ensembles and soloists including the JACK Quartet and Evan Runyon. He is the recipient of the Randolph S. Rothschild Award in Composition (Peabody Institute) and the Augusto Rodriguez Prize for musical achievement (University of Puerto Rico). Gabriel holds an MM in Composition from the Peabody Conservatory and a BA in Music from the University of Puerto Rico.
Aliana de la Guardia is a multifaceted Cuban-American artist. She is a soprano vocalist specializing in new music and new opera, an opera producer, an arts leader, as well as a voice teacher and coach. She is an ensemble member, co-founder and Artistic Director of Guerilla Opera, a Boston-based experimental opera ensemble, with which she has produced and performed in many new operas over sixteen years of programming. She also oversees a virtual performance series, professional development programs for artists, and community outreach. As a new music and operatic soprano, she has enjoyed collaborations with Beth Morrison Projects, Center for Contemporary Opera, Boston Modern Orchestra Project, Boston New Music Festival, Dinosaur Annex, Enigma Chamber Opera, Ludovico Ensemble, Monadnock Music, New Gallery Concert Series, Transient Canvas, Winsor Music, and can be heard on comercial releases on Navona and Ravello Records, BMOP Sound and independent labels. She has additionally collaborated on interdisciplinary and genre-bending works with Mountain Time Arts and Atlas UNLIMITED, and can be seen on ABC's "Body of Proof." As an arts leader she was selected to participate in the 2022 Nonprofit Learning Institute (Philanthropy Massachusetts), 2022 Creative County Initiative Changemakers (Essex County Community Foundation), 2020 Mentorship for Women in Opera (OPERA America), 2020 Double Edge Theatre Mentorship, supported by a Public Art Learning Fund Grant award (New England Foundation for the Arts), and is a member of OPERA America's Membership council. She is an active voice teacher and coach, the owner of the Dirty Paloma Voice Studio, and was treasurer of the Granite State chapter of the National Association of Teachers of Singing (2019-2022). She has also been a guest artist/lecturer at Harvard University, Lawrence Conservatory, Vermont College of Fine Arts, Universities of Maine and Memphis, and the New England Foundation for the Arts Regional Dance Development Initiative, with speaking engagements at Washington National Opera, Boston Lyric Opera, Boston Singers Resource, and Classical Singer and National Opera Association conventions.
Thomas Giles is a saxophonist working at the intersection of contemporary music, improvisation, and interdisciplinary collaborations. Giles keenly enjoys close work with composers and collaborators on the most imaginative new music for his instrument. He has premiered more than 200 new works, many of which are dedicated to him, and performed in over 30 states and 10 countries, including venues such as Carnegie Hall, Lincoln Center, Constellation (Chicago), SFJAZZ (San Francisco), Princeton Sound Kitchen, Harvard University, and internationally at Bachfest Leipzig, Szczecin International Saxophone Festival, Utrecht Bartholomeus Gasthuis, and the Citè de la Musique de Strasbourg.
Gleb Kanasevich is a clarinetist, composer, and noise/drone musician. He works a lot with feedback and modified instruments, while exploring expressive possibilities in very simple electronic processing. He works often as a soloist and collaborates with composers, chamber music groups, improvisers, noise musicians, death metal bands, and many more types of artists. Since 2013, Kanasevich has been a core member of Ensemble Cantata Profana – a group based in New York City. In the 2022/23 season, he took on the duties of the ensemble's Artistic Director for the ensemble's final season. From 2016 until Spring, 2019, he worked as a curator/video maker for the online new music database and audio/video/score resource ScoreFollower/Incipitsify. In March 2021, he founded Unknown Tapes, a small recording artist community/label dedicated to showcasing work by artists with unique approaches to spontaneous music making, regardless of genre. As of July, 2022, he is also a permanent member of Hub New Music.
A guitarist noted for his unique blend of refinement, intensity, and virtuosic technique, Jay Sorce has performed nationally and internationally as soloist and chamber musician. Jay is a founding member Hypercube, an ensemble of guitar, piano, percussion, and saxophone, and of Sorce/Lodge Duo, a piano and guitar duo. Jay is committed to expanding the role of guitar as a chamber instrument and champions the music of living composers. He has premiered/commissioned hundreds of new works by composers including Eric Wubbels, Nicholas Deyoe, Alexandre Lunsqui, Michael Fiday and Juan Trigos among many others. Recent projects include ensemble residencies with Columbia University, NYU Steinhardt and Bowling Green State University, concerts with Hypercube and the International Contemporary Ensemble, and appearances at the Dimenna Center (NYC) and the Johnstone Fund for New Music (Columbus, OH). Jay's concerto appearances include Luca Francesconi's A Fuoco (Ensemble/Parallax), Malcolm Arnorld's Guitar Concerto (Symphony Orchestra of Guanajuato) a Mexican premiere, and Juan Trigos' Ricercare VI (Stony Brook Contemporary Chamber Players). Jay's creative work includes solo works for guitar as well as collaborative projects with electronic musician Drake Andersen and the electric guitar duo, KillDry, with composer/guitarist Nicholas Deyoe. Jay is a recipient of the Toccata Award from the Aaron Brock Foundation, the Manhattan School of Music Excellence Award, as well as full-tuition scholarships from the University of Arizona, and Stony Brook University. Jay is a graduate of Manhattan School of Music, University of Arizona, and Stony Brook University, where he completed his Doctor of Musical Arts degree. He is a faculty member at Adelphi University.
Marina Kifferstein is a violinist and generative artist based in NYC. Equally comfortable in major international halls and intimate DIY venues, she enjoys a diverse career with a focus on contemporary chamber music. Marina is a founding member of TAK ensemble and The Rhythm Method string quartet, and is a principal member and curator with the Lucerne Festival Contemporary Orchestra. She is on faculty at the United Nations International School and the Composers Conference, and with TAK, they are currently serving as the Long-Term Ensemble-in-Residence at the University of Pennsylvania.
Carrie Frey is a violist, teacher, improviser, and composer based in New York City. Frey is the violist of the Rhythm Method ("a group of individuals with distinct compositional voices and a collective vision for the future of the string quartet" - I Care If You Listen) and a founding member of string trio Chartreuse and string quartet Desdemona. She has performed with many of New York City's notable new music groups, including Wet Ink Large Ensemble, AMOC, Talea Ensemble, and International Contemporary Ensemble. As an improviser, Frey is a member of Simone Baron's genre-bending Arco Belo ensemble and records with electroacoustic trio Hierophant. Her compositions, described as "a moldering compost heap" (I Care if You Listen), have been performed by the Rhythm Method, Arco Belo, Adrianne Munden-Dixon, and Kallie Sugatski.
Jess Tsang is a percussionist, researcher, and improviser dedicated to the creation of new interdisciplinary works. She is endlessly examining how objects shape our lives, and how that might be translated into music. A founding member of guitar and percussion duo party of one, Jess is also the founder of listenbeer, a series of multi-sensory concert experiences merging craft beer with experimental music. She has appeared in performances throughout North America, Europe, Asia, and Australia and was a 2018 Eighth Blackbird Creative Lab Fellow and a 2019 OneBeat Fellow. Jess has participated in residencies at the Banff Centre, The Hambidge Center, and Residência São João. Her debut album, sound shadows, was released with madefor Records in 2021. Jess completed her graduate studies at McGill University, under the guidance of Aiyun Huang. She holds a B.M. from The New School. www.jesstsang.net 
Funders
The MetLife Foundation Music of the Americas concert series is made possible by the generous support of Presenting Sponsor MetLife Foundation. The Fall 2022 Music program is also supported, in part, by public funds from the New York City Department of Cultural Affairs in partnership with the City Council, by the New York State Council on the Arts with the support of the Office of the Governor and the New York State Legislature, and by the Howard Gilman Foundation. 
Additional support comes from the Association of Performing Arts Professionals' ArtsForward program, made possible through support from The Andrew W. Mellon Foundation, the National Endowment for the Arts, New Music USA's Organizational Development Fund in 2022-23, the Alice M. Ditson Fund of Columbia University, The Aaron Copland Fund for Music, and The Amphion Foundation, Inc.