Exhibition Opening: Moderno: Design for Living in Brazil, Mexico, and Venezuela, 1940–1978
Americas Society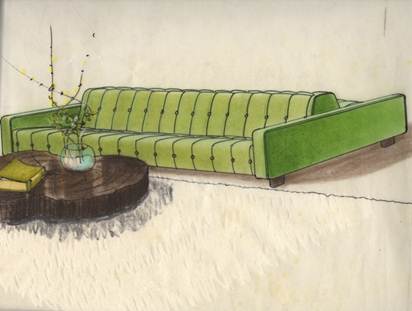 Admission is open to the public free of charge.
Join us for the opening of Moderno: Design for Living in Brazil, Mexico, and Venezuela, 1940–1978. This groundbreaking exhibition uniquely features domestic design and household objects from Latin America, that collectively speak to the period of widespread political and cultural change in which they were created.
Moderno is guest curated by Jorge Rivas, Ana Elena Mallet, and Maria Cecilia Loschiavo dos Santos.
View abstracts from the event's presenters.
Event Information: Nuria Mendoza | nmendoza@as-coa.org
Image: Joaquim Tenreiro (Brazilian, 1906–92); Drawing, c. 1945; Graphite and gouache on paper; 25 x 32 cm (10 x 13 in.); Courtesy of Zesty Meyers and Evan Snyderman, R & Company, New York