Exhibition Opening: The Metropolis in Latin America, 1830–1930
Americas Society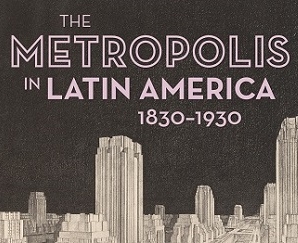 Due to inclement weather, the exhibition opening has been rescheduled from March 21 to Monday, March 26, 6–8 p.m. We apologize for the inconvenience. Please be sure to share the information with any of your guests. We hope to see you next week.
Admission is open to the public and free of charge. Kindly register.
Follow the discussion on Twitter: #MetropolisLatAm | @ASCOA
Americas Society invites you to the exhibition opening of The Metropolis in Latin America, 1830–1930. Over the course of a century, rapid urban growth, sociopolitical upheavals and cultural transitions reshaped the architectural landscapes of major cities in Latin America. Focusing on six capitals—Buenos Aires, Havana, Lima, Mexico City, Rio de Janeiro, and Santiago de Chile—The Metropolis in Latin America, 1830–1930, presents the colonial city as a terrain shaped by Iberian urban regulations, and the republican city as an arena of negotiation of previously imposed and newly imported models, which were later challenged by waves of indigenous revivals. Photographs, prints, plans, and maps depict the urban impact of key societal and economic transformations, including the emergence of a bourgeois elite, and extensive infrastructure projects, rapid industrialization, and commercialization.
This exhibition is cocurated by Idurre Alonso and Maristella Casciato and organized by the Getty Research Institute in Los Angeles.
Learn more about the exhibition The Metropolis in Latin America, 1830–1930.
Event Information: Veronica Flom | vflom@as-coa.org | 1-212-277-8367
Media Relations: mediarelations@as-coa.org | 1-212-277-8333
Membership Information: as-coa.org/CulturalCircle | membership@as-coa.org
---
Image: The Getty Research Institute