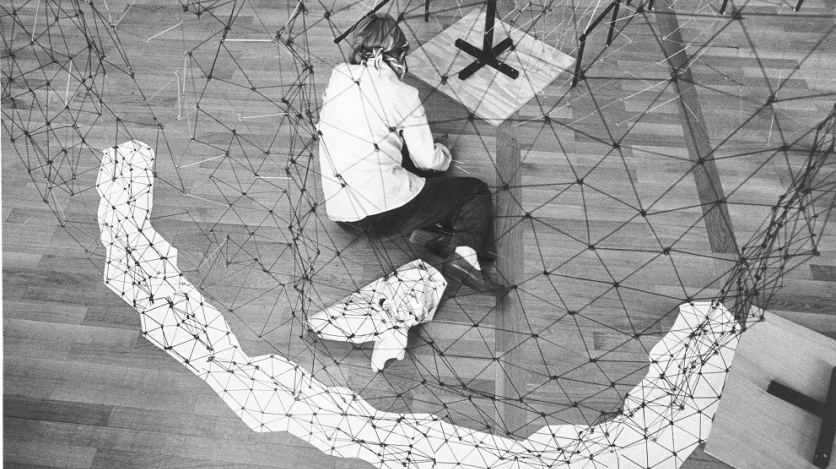 Gego installing Reticulárea at the Center for Inter- American Relations in 1969. (Americas Society archives)
Exhibition Opening - Gego: Origin and Encounter, Mastering the Space
Americas Society will open its new exhibition to commemorate the hundredth anniversary of acclaimed Venezuelan artist Gertrud Goldschmidt, known as Gego.
Overview
Americas Society co-presents an exhibition with Sala Mendoza and Fundación Gego, Caracas to commemorate the hundredth anniversary of acclaimed artist Gertrud Goldschmidt. Widely known as Gego, the Venezuelan artist is considered one of the most important Latin American modernists of the twentieth century.
This exhibition features a significant group of works on paper, preparatory drawings, photographs, manuscripts, sketches, and three-dimensional works that attest to the artist's journey from colorful landscapes and street scenes through to abstraction. As one of the very few venues where the in situ Reticulárea was recreated, Americas Society is proud to examine Gego's innovative and groundbreaking command of space.
The title takes from Gego's writings on art that she identified as sabiduras, in which she developed aphoristic and fragmentary meditations about her work and personal interests. The exhibition delves into Gego's intimate writing to unfold the points of departure of her artistic research as well as to examine intricate paths undertaken by the German-born Venezuelan artist that reflected a process that lead her "to mastering the space that reason dominates (or tries to)."
Assuming that drawing is the main way to approach Gego's mature work in all its manifestations, the exhibition focuses on the early stages of her artistic investigation beginning in the 1950s. The exhibition focuses on the process for making the environmental piece Reticulárea in 1969 and features a comprehensive selection of initial gouache and crayon compositions through to more complex drawings and graphic works. A special section is dedicated to preparatory sketches which were tested by Gego to weave the wire and mesh structures of the various Reticuláreas made in Caracas, New York, and Frankfurt.
Read more about the exhibition.
No registration required.