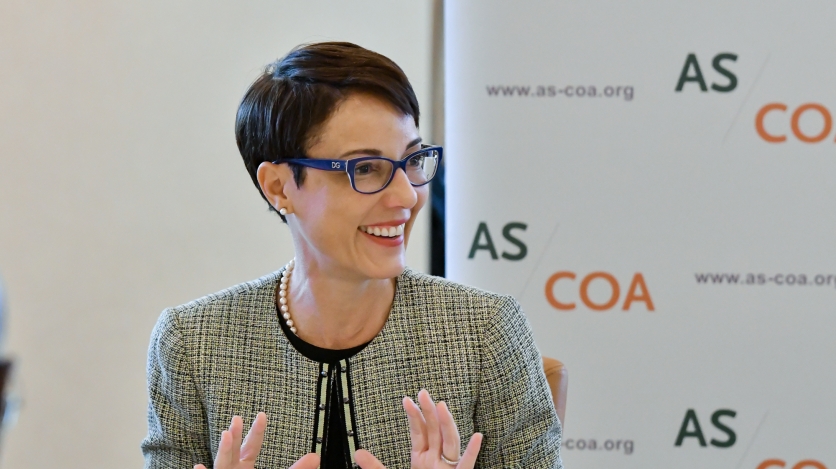 Photo courtesy of the artist.
An Evening of Carlos Guastavino Featuring  Brenda Feliciano, Virginia Herrera, and Pablo Zinger
Please join us for an evening celebrating the music of Argentine composer Carlos Guastavino.
Overview
Admission Fee: FREE for AS Members; $20.00 for non-members.No additional fees will be charged when purchasing online.
Not yet a member? JOIN NOW!
Carlos Guastavino was arguably the most important art song composer in Latin America. He wrote using neoclassical, romantic, and nationalistic styles, without ever losing his musical integrity in the face of changing musical fashions, always striving for simplicity and emotional communication. In commemoration of his centennial, Music of the Americas presents an evening of Guastavino's songs featuring sopranos Brenda Feliciano and Virginia Herrera with pianist Pablo Zinger.
PROGRAM
Cuatro canciones argentinas
Desde que te conocí
Viniendo de Chilecito
En los surcos del amor
Mi garganta no es de palo
Siete canciones de Rafael Alberti
Jardín de amores
A volar
Nana del niño malo
La novia
Geografía física
¡Al puente de la golondrina!
Elegía
Elegía para un gorrión
Piececitos
Se equivocó la paloma
Los ríos de la mano
Plancha
Dedal
Acerico
Escuadra
Horquilla
Garlopín
Plomada
Tijera
Destornillador
Carretilla de madera
Cuatro canciones coloniales
Cuando acaba de llover
Prestame tu pañuelito
Ya me voy a retirar
Las puertas de la mañana
La rosa y el sauce
Pueblito mi pueblo
Brenda Feliciano, soprano
Virginia Herrera-Crilly, soprano
Pablo Zinger, pianist
Guastavino was born in Santa Fe, Argentina in 1912. After studying engineering, he received a provincial government scholarship that enabled him to study music in Buenos Aires, where he entered the National Conservatory in 1938 as a student of Athos Palma. He continued his studies in Europe in the years after the war. His compositions include songs, song-cycles, and piano pieces. The 1942 ballet Once Upon A Time and the 1952 Suite Argentina are notable among his orchestral works. In style, he relies heavily on Argentinian traditional dance rhythms and melodies.
Uruguayan-born New Yorker Pablo Zinger is widely known as a conductor, pianist, writer, composer, arranger, lecturer, and narrator, specializing in the music of Astor Piazzolla, tango, Spanish zarzuela, and Latin American vocal and instrumental music. He has conducted and played with orchestras, singers, and chamber groups throughout the Americas and in Germany, Greece, Hong Kong, Japan, Korea, Norway, Poland, Russia, Slovenia, South Africa, and Spain.
Zinger has accompanied Plácido Domingo at Constitution Hall, and conducted the closing of Paquito D'Rivera's Carnegie Hall Fiftieth Anniversary Concert. He played and conducted the Moscow première of Piazzolla's María de Buenos Aires,and  narrated Piazzolla's Pueblo Joven at Tokyo's Opera City. He also accompanied Sarita Montiel at the Cervantes Institute in New York City.
In addition, Zinger's Uruguayan murga musical "Las tentaciones de González" premiered in New York in May 2012. In 2011, he conducted La Bohème  in Anchorage, Alaska and played a concert in Tokyo two days after the earthquake. Zinger tours and records frequently with the Zinger Septet in Valencia, Spain.
Soprano Brenda Feliciano most recently performed at the Jazz @ Lincoln Center Rose Theatre as soloist with the Lincoln Center Jazz Orchestra. Ms. Feliciano likes the challenge of performing jazz and classical music, and has quite an extensive repertoire that takes her from Gershwin's My Man's Gone Now, Wagner's Mild und Leise to Bachianas Brasileiras No 5 by Villalobos, to Spanish art songs, including the leid of her native Puerto Rico, and also of Cuba. In the year 2000, she received a Latin Grammy nomination as Best Classical recording, on a project Music of Two Worlds with Paquito D'Rivera on clarinet and Aldo Antonazzi on piano, performing Schubert and Guastavino, and she is also a 2007 Grammy winner as a jazz producer Paquito D'Rivera – Funk Tango. Ms. Feliciano has performed as soloist with many orchestras including the National Symphony Orchestra conducted with Leonard Slatkin conducting, the Milwaukee Symphony, the Simon Bolivar Orchestra, the Costa Rica Symphony, the Houston Symphony, the Xalapa Symphony Orchestra, the National Symphony Orchestra of Mexico, the Louisiana Philharmonic Orchestra, and has worked under the direction of Maestro Carlos Miguel Prieto.
Soprano Virginia Herrera has earned a reputation as a complete artist combining effortless vocal technique with sensitive affecting interpretation. She studied voice in México, Italy, at OMTI with Jerome Hines and at the Center for Opera Performance in New York City with Franco Iglesias. Her many roles on the opera stage include Nedda, Rosina, Liu, Suor Angelica, Mimi, Musetta, Marguerite, Antonia, Despina and Pamina to name a few. A strong proponent of zarzuela, Ms. Herrera has performed roles in this genre including, Susana, Reina, Elena, Marola, Luisa Fernanda, Carolina and Marquesita in major houses throughout the United States, including Town Hall in NYC and Teatro Nuevo Mexico in Santa Fe and Albuquerque, New Mexico. Ms. Herrera has collaborated with notable conductors such as Pablo Zinger, Johannes Somary, Will Crutchfield, Greg Scimé, Per Brevig and Manfred Knoop. She has been featured at Weill Hall, Bergen Performing Arts Center, Merkin Hall, Town Hall, PNC Arts Center, Rich Forum, Symphony Hall, National Hispanic Cultural Center and the Lensik Theater in New Mexico.