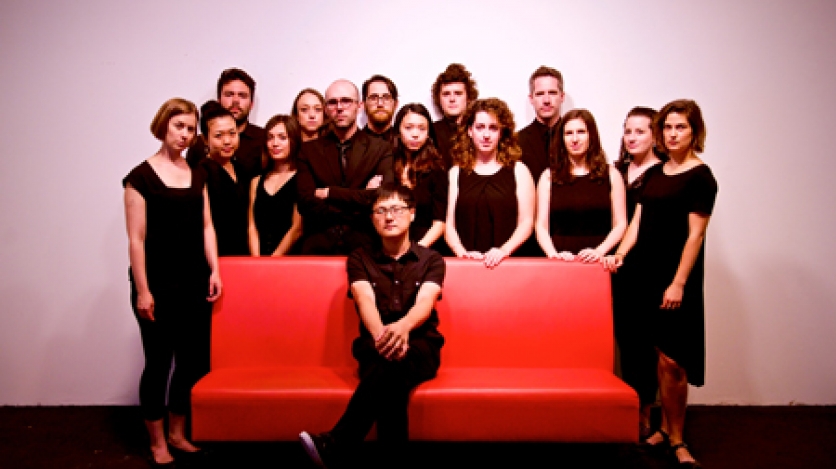 ensemble mise-en (Image courtesy of the artists)
ensemble mise-en: Portrait of Claude Vivier
New York-based ensemble mise-en presents a portrait of Canadian composer Claude Vivier at Americas Society.
Overview
Pre-registration for this event is now closed. Box office opens this evening at 6:15 PM.
Admission: FREE for AS and YPA Members; $20 for non-members. No additional fees will be charged when purchasing online. $10 tickets will be available for purchase at the door for students and seniors with ID.
Not yet a member? Learn how to become an AS member or a YPA member to access this event.
Music of the Americas presents New York-based ensemble mise-en in a portrait of Canadian composer Claude Vivier. 
Repertoire
| | |
| --- | --- |
| Lettura di Dante  (1974) | Soprano, oboe, clarinet, bassoon, trumpet, trombone, percussion, viola |
| Et je reverrai cette ville étrange (1981) | Trumpet, 2 percussion, viola, cello, bass, piano |
| Greeting Music (1978) | Flute, oboe, cello, percussion, piano |
| Pour guitare (1975) | Solo guitar |
Personnel
| | |
| --- | --- |
| Sharon Harms | soprano |
| Maria Johnson | flute |
| Hsuan-Fong Chen | oboe |
| Carlos Cordeiro, Tony Lee Park | clarinet |
| Pierre Lidar | bassoon |
| Sam Nester, Hugh Ash | trumpet |
| Mark Broschinsky | trombone |
| Yumi Suehiro | piano |
| Carrie Frey, Hannah Selin | viola |
| Alexandra Jones, Adele Mori | cello |
| Evan Runyon | double bass |
| Robby Bowen, Maiko Hosoda, Clara Warnaar | percussion |
| Vilian Ivantchev | guitar |
| Moon Young Ha | conductor |
Listen to a BBC Radio 3 broadcast on Vivier's Lonely child with host Barbara Hannigan.
About the Composer
Born in Montreal in 1943, Claude Vivier grew up in a working-class part of the city. As an adolescent he attended a boarding school run by the Marist Brothers that prepared pupils for life in the priesthood. There, the young Claude discovered music while singing in a midnight mass and he began to compose. He was advised to leave the seminary at the age of 18 due to his "sensitive and excitable temperament." He studied composition at the Conservatoire de Musique du Québec (Montreal) with Gilles Tremblay, and spent a few years in Europe at the Institute of Sonology (The Hague) and Hochschule für Musik (Cologne), where he had the opportunity to study with Stockhausen. He also traveled to Japan, Thailand, and Indonesia, whose culture and rhythms had a deep effect on his compositional output. After encountering spectral compositions of Gérard Grisey and Tristan Murail, Vivier traveled to Paris in 1982, where he was murdered. Many of his compositions were not heard during his lifetime, and he remains a tragic figure in the canon of 20th-century music.
About ensemble mise-en
ensemble mise-en is a chamber orchestra and music collective founded in 2011 by composer Moon Young Ha that seeks to present large­-scale composition projects. The ensemble has premiered several dozen works by underperformed composers, alongside such established names in the contemporary scene as Bent Sørensen, Wolfgang Mitterer, Hans Abrahamsen, and Lasse Thoresen. The ensemble also focuses on re­examining problematic and influential works of the 20th century, including two concert collaborations with the Italian Academy at Columbia University: a Franco Donatoni Portrait and a Luciano Berio program focused on works the composer wrote during his time in New York. The second annual mise-­en music festival, held in summer 2015, included a collaboration with Iktus Percussion and a new music marathon. This past fall, the ensemble toured eastern Europe and Scandanavia.
Vivier's Pour guitare (1975) performed by Nolan Krell.
ensemble mise-en performs Sebastian Hilli's Kohta.