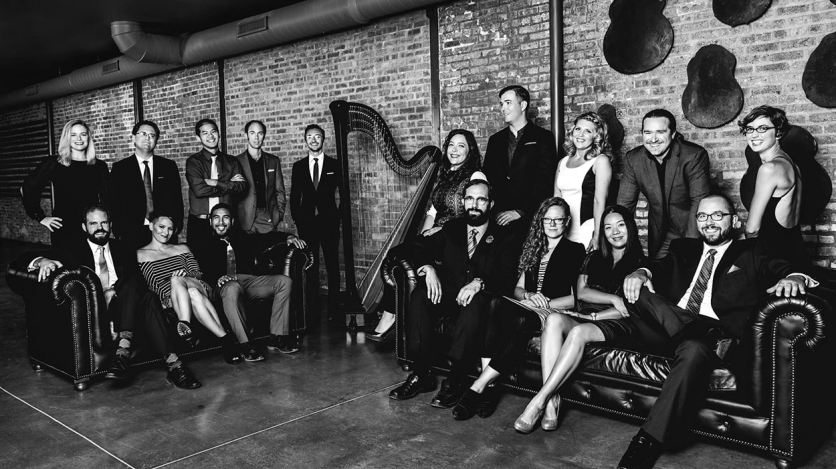 Ensemble Dal Niente. (Image: Aleks Karjaka)
Ensemble Dal Niente
Dal Niente plays music by Julián Carrillo, Tania León, and Tomás Gueglio. 
Overview
Ensemble Dal Niente performs new and experimental chamber music with dedication, virtuosity, and an exploratory spirit. Dal Niente's roster of 23 musicians presents a broad range of contemporary music, guiding listeners towards music that transforms existing ideas and subverts convention. 
Now in its second decade, Ensemble Dal Niente has performed concerts across Europe and the Americas, including appearances at The Metropolitan Museum of Art in NYC, The Foro Internacional de Música Nueva in Mexico City, MusicArte Festival in Panama City, The Library of Congress in Washington, D.C., the Art Institute of Chicago, and the Darmstadt Summer Courses in Germany, where it was the first-ever ensemble to win the Kranichstein prize for interpretation in 2012. 
The group has recordings available on the New World, New Amsterdam, New Focus, Navona, Parlour Tapes+, and Carrier labels; has held residencies at The University of Chicago, Harvard University, Stanford University, Brown University, Brandeis University, and Northwestern University, among others; and collaborated with a wide range of composers, from Enno Poppe to George Lewis to Erin Gee to Greg Saunier and Deerhoof.
Dal Niente's Music of the Americas debut is dedicated to Latin American music and includes one premiere by Argentine composer Tomás Gueglio. 
Program
Julián Carrillo Preludio a Colón, for soprano, flute, guitar, and violin, violin, viola, cello, harp
Tomás Gueglio Lamarque Songs, for soprano, flute, guitar, viola and percussion
Hilda Paredes Siphonophore, for flute, clarinet, piano, violin, viola, cello, piano
Melissa Vargas Es casi como el inicio…y comienza, voice, guitar, clarinet, percussion
Tania León piano work TBD
Funders
The MetLife Foundation Music of the Americas concert series is made possible by the generous support of Presenting Sponsor MetLife Foundation. The Fall 2020 Music program is also supported, in part, by public funds from the New York City Department of Cultural Affairs in partnership with the City Council. Additional support for this concert comes from The Amphion Foundation, Inc., the Aaron Copland Fund for Music, and the Alice M. Ditson Fund.