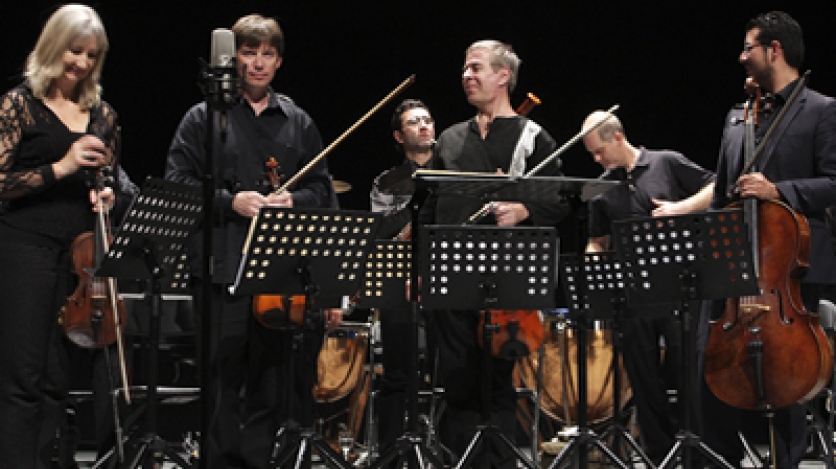 Image: courtesy of the artists. 
Ensemble CEPROMUSIC: New Music from Mexico
In its Music of the Americas debut, Ensemble CEPROMUSIC will present new music by Mexican composers.
Overview
Registration for this event is now closed. This event is confirmed and will take place as planned.
Free tickets will be available to the general public starting at 6:15pm on Monday, February 3. Americas Society members, please click here to register.
Not yet a member? JOIN NOW!
Responding to the need to support the remarkable vitality of contemporary music creation in Mexico, Mexico's National Institute of Fine Arts (INBA) created the Centro de Experimentación y Producción de Música Contemporánea (CEPROMUSIC) as a venue dedicated to the creation, performance, and dissemination of new music and sound experimentation. Ensamble CEPROMUSIC is the center's first project and responds to the need for a professional, full-time group for new music. Led by José Luis Castillo, the 20-member professional ensemble had its debut in November 2012 in a program of music by Manuel Enríquez and György Ligeti. In its Music of the Americas debut, Ensemble CEPROMUSIC will present new music by Mexican composers.
PROGRAM:
Georgina Derbéz | For those who secretly listen
Ignacio Baca Lobera | Estudio de Resonancia III
Victor Ibarra | Estudio sobre el gris y el verde
Javier Álvarez | Temazcal
Jorge Torres | Los crisantemos se incorporan etéreos tras el chubasco
Julio Estrada | YUUNOHUI
Ricardo Zohn | Páramo
CEPROMUSIC
José Luis Castillo, conductor
Diego Morábito, flute
Diego Cajas, clarinet
Luis Mora, clarinet and bass clarinet
Ventsislav Spirov, bassoon
Orlando Aguilar, percussion
Juan Gabriel Hernández, percussion
Gonzalo Gutiérrez, piano
Rafael Machado, violin
Roxana Mendoza, cello
Juan José García, double bass
The Composers Now Festival celebrates living composers, the diversity of their voices and the significance of their musical contributions to our society. During the month of February, the Festival brings together dozens of performances presented by venues, ensembles, orchestras, opera companies, dance companies and many other innovative events throughout New York City. Experience the sounds and get to know the creators behind the music. From jazz to indie, from classical to electronic and beyond, join us on a sonic journey through the landscape of the arts of our time. Composers will be in attendance at all events and will be interacting with audiences. Composers Now is a project partner of The Fund for the City of New York. We gratefully acknowledge the support of the ASCAP Foundation, the Cheswatyr Foundation and the Ann and Gordon Getty Foundation.
In collaboration with: