7:00 p.m.
Members reception to follow.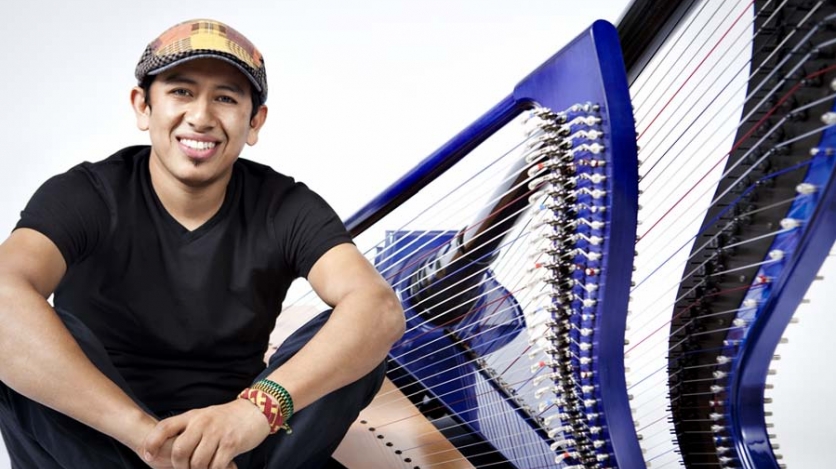 Image: Diana Bejarano
Edmar Castañeda
Acclaimed Colombian-American harpist Edmar Castañeda will present his third of three concerts at the Americas Society on November 26.
Overview
Due to the overwhelming response, we are currently sold out. Any pre-sold tickets not claimed by start of show this evening will be considered cancelled and will be re-sold to the general public. After start of show any unclaimed tickets will be sold first-come first-served - limit two per person.
Cash and all major credit cards will be accepted and the cost per ticket is $20.
Not yet a member? JOIN NOW!
Featuring the Edmar Castaneda Trio:
Edmar Castañeda, harp
Shlomi Cohen, soprano sax
Dave Silliman, drums-percussion
With Special Guest:
Jorge Glem, cuatro
Edmar Castañeda was born in 1978 in Bogotá. Since his move to the United States in 1994, Castañeda has taken New York and the world stage by storm with the sheer force of his virtuosic command of the harp—revolutionizing the way audiences and critics alike consider an instrument commonly relegated to the "unusual category." A master at realizing beautiful complexities of time while skillfully drawing out lush colors and dynamic spirit, The New York Times characterized Castañeda as "almost a world unto himself."
The son of a musician and a mother who nurtured young Castañeda's natural talents, he embraced the folkloric traditions of his native land early on. The joropo dance classes which he and his sister regularly attended became a masterclass in movement accompanied by the harp. Castañeda's new disc, Entre Cuerdas, caught the attention of reviewers and his burgeoning legion of fans. This new recording features Marshall Gilkes (trombone) and Dave Silliman (drums, percussion) as well as special guests Joe Locke (vibes), John Scofield (guitar), Andrea Tierra (vocals), and Samuel Torres (cajon). Castañeda's residencies have included a week-long initiative and performance at The Banff Centre with fellow faculty member Dave Douglas and other jazz luminaries and an interactive workshop at the Berklee College of Music. This event focused on Latin culture and culminated in a full-on tribute to the late great Mambo King, Israel "Cachao" López.
His acclaimed performing career as an instrumentalist includes performances at D'Rivera's Carnegie Hall tribute, the DC Jazz Festival (formerly the Duke Ellington Jazz Festival), Jazz at Lincoln Center, The John F. Kennedy Center for the Performing Arts, the Tanglewood Jazz Festival, the 10th Annual World Harp Congress, and numerous appearances with artists such as D'Rivera, Wynton Marsalis and the Jazz at Lincoln Center Orchestra, John Scofield, Chico O'Farrill's Afro-Cuban Jazz Big Band, and John Patitucci.
Press Inquiries: Please contact Adriana La Rotta at alarotta@as-coa.org or 1-212-277-8384.