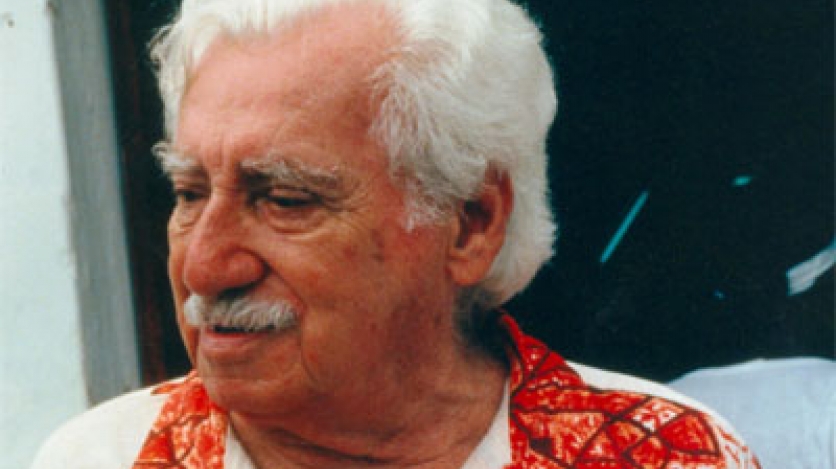 Author Jorge Amado.
Discussion and Book Presentation: Penguin Classics - Jorge Amado 100th Anniversary Event
Join legendary translator Gregory Rabassa and author Rivka Galchen in a lively discussion and reading that will celebrate Brazilian author Jorge Amados's hundredth birthday.
Overview
Admission Fee: FREE for AS and QSSI Members; $10.00 for non-members.
SPECIAL OFFER: Attend the program and get copies of the two Jorge Amado books published by Penguin Classics at a discounted price. For further details, click here (Americas Society members) or here (non-members).
Join legendary translator Gregory Rabassa and award-winning novelist Rivka Galchen in a lively discussion and reading that celebrates what would have been the Brazilian author's one-hundredth birthday and the publication, by Penguin Classics, of two new translations of Amado's masterworks: The Double Death of Quincas Water-Bray and The Discovery of America by the Turks. The program will include a clip from a documentary on Jorge Amado by João Moreira Salles. The program will include a clip from João Moreira Salles's documentary Jorge Amado (1995). Watch a preview here.
The Double Death of Quincas Water-Bray, newly translated by the dean of Portuguese-language translators, is widely considered the greatest work by the twentieth century's foremost Brazilian author. It tells the story of Joaquim Soares da Cunha, who drops dead after abandoning his upstanding life to assume the identity of Quincas Water-Bray, a "champion drunk" who is whisked along on a postmortem journey that climaxes in his loss at sea. The Discovery of America by the Turks, published for the first time in English in Rabassa's brilliant translation, is a whimsical Brazilian take on The Taming of the Shrew that will remind readers why Jorge Amado is to Portuguese-language literature what Jorge Luis Borges is to Spanish-language literature.
Presented by the Americas Society, the Queen Sofía Spanish Institute, and Penguin Classics. Additional collaboration with the Brazilian Endowment for the Arts and the Consulate General of Brazil in New York. In English. 
Press Inquiries: Please contact Adriana La Rotta at alarotta@as-coa.org or 1-212-277-8384.
---
Jorge Amado was born in 1912 in Ferradas, in the state of Bahia, Brazil. He published his first novel, O Pais do Carnaval (The Country of Carnival) in 1931. Despite imprisonment and exile for leftist political activities, he continued to produce novels, many of which were banned in Brazil and Portugal.  Later works preserve Amado's political attitude through more subtle satire. His work has been translated into nearly 50 languages, and many of his books have been adapted for film and TV, most notably, Gabriela, Cravo e Canela (1958; Gabriela, Clove and Cinnamon, 1962) and Dona Flor e Seus Dois Maridos (1966; Dona Flor and Her Two Husbands, 1969).  Amado's work reflects the image of a mestizo Brazil and is marked by religious syncretism.  He occupied the twenty-third chair of the Brazilian Academy of Letters from 1961 until his death in 2001.
Gregory Rabassa, considered the greatest of all translators from Spanish and Portuguese, is professor emeritus of romance languages and comparative literature at Queens College and the Graduate School, CUNY.  He has translated some forty works including novels by Jorge Amado, Clarice Lispector, Machado de Assis, Julio Cortázar, Gabriel García Márquez, and Luis Rafael Sánchez. In addition to receiving a National Book Award and other literary honors, he was awarded the National Medal of Arts and holds the Order of Rio Branco (Brazil), the Order of San Carlos (Colombia), and the Croce al Merito di Guerra (Italy). He lives in New York with his wife, Clementine.
Rivka Galchen, who was born in Canada and presently lives in New York, is one of The New Yorker's "20 Under 40" fiction writers. Her first novel, Atmospheric Disturbances (2008), was awarded the William Saroyan International Prize for Writing and has been translated into more than 20 languages.