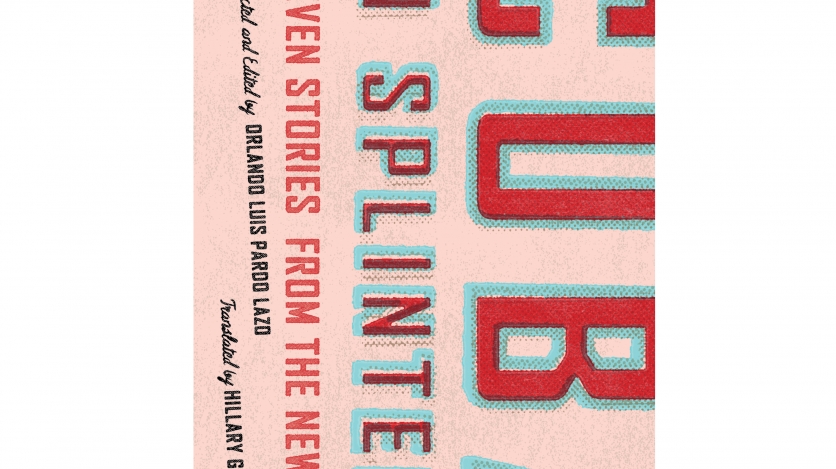 Cuba in Splinters: Eleven Stories from the New Cuba
The event will feature a discussion on new Cuban literature with the anthology's editor Orlando Luis Pardo Lazo.
Overview
Tonight's program will take place as scheduled. ​Online registration is currently closed but members may arrive before the event and pick up tickets. Non-members may pay at the door. Please email jnegroni@as-coa.org with questions.
YPA members: email José Negroni at jnegroni@as-coa.org to register.
CCCNY members: email Lisbeth Craig-Fernández at cccofny@aol.com.
Join us for our opening Literature event in Spring 2015, a presentation of Cuba in Splinters: Eleven Stories from the New Cuba (OR Books, 2014), with Orlando Luis Pardo Lazo, the anthology's editor, and fellow author Lizabel Mónica and translator Hillary Gulley, all of whom will discuss Cuban literature today on the cusp of the recent changes to U.S.–Cuba policy announced by President Barack Obama in December 2014. Cuba In Splinters, translated by Gully, features electrifying stories—ones filled with stutterers and addicts, sex and knife fights, zombies, and lost literary classics, set in a Havana steeped in decay—by a new crop of Cuban writers collectively known as Generation Year Zero. These writers, while influenced by such U.S. authors as Charles Bukowski, Jack Kerouac, and Henry Miller, are 100% Cuban; they take their collective name from the early years of this millennium and the blank slate on which they create their vision of a new national literature. Co-presented with the Cuban Cultural Center of New York with the additional collaboration of OR Books.
We thank the following additional institutions for helping publicize this event:  the Center for Puerto Rican Studies, CUNY; Columbia University; the Consulate General of Argentina in New York; the Consulate General of Colombia in New York; the CUNY Dominican Studies Institute; the Hispanic New York Project; Hunter College, CUNY; Instituto Cervantes New York; InterAmericas®; The International Literary Quarterly; McNally Jackson Books; the Mexican Cultural Institute of New York; New York University; The Poetry Project at St. Mark's Church; The 92Y Unterberg Poetry Center; and Words Without Borders.
This program will be held in English.
Image: Cover of Cuba in Splinters: Eleven Stories from the New Cuba (OR Books, 2014). (Courtesy of OR Books)
---
Orlando Luis Pardo Lazo (b. Havana, Cuba, 1971) was trained as a molecular biochemist and is presently the web editor for the blogs Lunes de Post-Revolución and Boring Home Utopics. His writing has appeared in Sampsonia Way Magazine, Diario De Cuba, and many other international publications. As an editor, he has compiled two anthologies of contemporary Cuban fiction translated into English and worked for the cultural magazine Extramuros, as well as independent Cuban digital magazines including Cacharro(s), The Revolution Evening Post, and Voces. In 2012, he organized País de Píxeles, the first independent photodocumentary festival in Cuba. In 2013, his photographic work was profiled by David González of The New York Times. A resident of Havana, he visits the United States to give university lectures on social activism and Cuban civic society using new media.
Lizabel Mónica (b. Havana, Cuba, 1981) is a fiction writer, poet, art critic, and editor, who has also made her mark as a prodigious blogger. She is the coordinator of the international multifaceted project of art, writing and thinking, Desliz, as well as the digital magazine of the same name. She has edited numerous blogs, such as Cuba Fake News, Paladeo in Deleite, Revista Desliz, Broken Spanglish, and La Taza de Café. She is completing her Ph.D. at Princeton University.
Hillary Gulley (b. West Virginia, 1982) is a writer and translator. In 2012, she won a PEN/Heim Translation Fund Grant for her work on Marcelo Cohen's The End of the Same. She is the translator of Cuba in Splinters, Eleven Stories from the New Cuba, published by O/R Books in April 2014. She teaches composition, narrative and poetry at CUNY—Queens College.
In collaboration with: