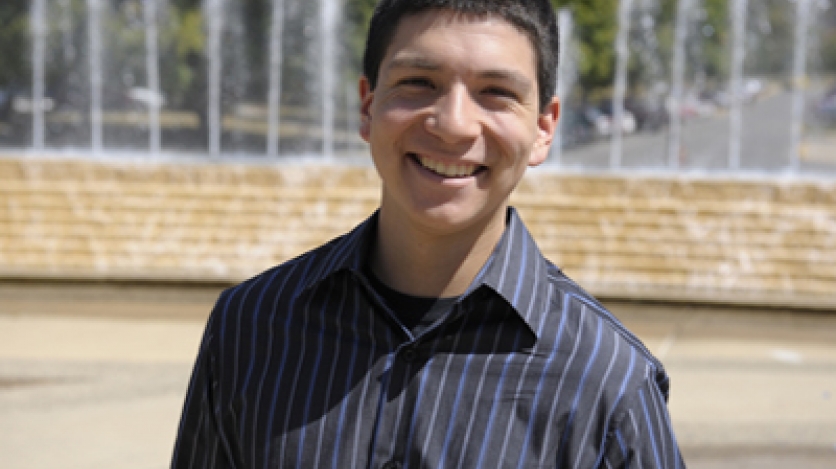 Image courtesy of Indiana University.
Concert: Nicholas Mariscal
Music of the Americas will present cellist Nicholas Mariscal in a solo recital at Americas Society. 
Overview
Registration for this event is now closed. Tickets will be available for purchase at the door beginning at 6:15 PM.
Music of the Americas presents cellist Nicholas Mariscal, winner of the third Latin American Music Recording Competition at Indiana University Jacobs School of Music's Latin American Music Center (LAMC), in a concert at Americas Society.
Mr. Mariscal will be performing works from his release Nubes bajas: A Collection of Solo Cello Music from Latin America.
| | |
| --- | --- |
| Osvaldo Golijov (Argentina) | Omaramor (1991) |
| Leo Brower (Cuba) | Sonata para violoncello solo (1960/1994) |
| Alberto Ginastera (Argentina) | Puneña no. 2, op. 45 (1976) |
| Paul Desenne (Venezuela) | Jaguar Songs (2002) |
About the artist
A native of Tucson, Arizona, 20-year-old cellist, pianist, and composer Nicholas Mariscal is pursuing a bachelor of music at Indiana University's Jacobs School of Music under the tutelage of Eric Kim, having received the Jacobs Scholarship in 2010. He has served as both principal and assistant principal of the Jacobs School of Music's Chamber Orchestra, and has also performed with the New Music Ensemble. Some of his most salient performances as a Jacob's student include Beethoven's Triple Concerto, and Sofia Gubaidulina's cello concerto "Sonnengesang" with the Jacobs School's Contemporary Vocal Ensemble. Mariscal is also an alumnus of the Interlochen Arts Camp, where he was a member of the prestigious World Youth Symphony Orchestra for two summers. He has won numerous competitions and awards, and has received numerous distinctions both as a cellist and a composer, such as the Tucson Philharmonia Youth Orchestra's Concerto Competition and the Tucson Symphony Orchestra and the Southern Arizona Symphony Orchestra concerto competitions.
About the Indiana University Latin American Music Center
Founded in 1961 by distinguished composer and musicologist Juan Orrego-Salas, the Latin American Music Center is the oldest center of its kind in the United States. The LAMC fosters the academic study, performance and research of Latin American art, as well as  popular and traditional music.  
Celebrating its jubilee year in 2011, the Center continues to expand its library and to promote exchanges between Latin American musical scholars and performers from the United States and the rest of the world in addition to recording and commissioning exemplary new works by Latin American composers. Following the retirement of Juan Orrego-Salas in 1987, composer Ricardo Lorenz became acting director between 1987 and 1992, when conductor Carmen Téllez became the Center's director. In 2012, Erick Carballo assumed the role of director.
With the LAMC Recording Competition, the IU Jacobs School of Music allows its students to explore the Latin American music repertory and award the winner with a recording, full production of an album, and a concert featuring the winner.